Since Tong launched its unique automated broccoli trimming machine in 2014, we have sold numerous broccoli trimmers throughout the UK, with more broccoli trimming projects in the pipeline!
The Tong broccoli trimmer was originally developed to automatically trim broccoli when one of our customers expressed a problem that was happening in-store where shoppers were breaking the stalks from loose-sold broccoli to reduce the weight of the product, for a cheaper price.
To overcome this issue of in-store waste, our customer needed a broccoli trimming machine that would cut the stalks consistently to eliminate the problem for their customer, whilst making the cutting process safer by replacing the manual cutting processes they currently had in place.
Automated Brocolli Trimming
We've said it before, but we thrive on listening to our customer's handling requirements and designing a solution that not only solves their current problem, but also adds extra efficiencies in the process! So, our expert design engineers got to work to develop a fully-automated broccoli trimming machine that not only cuts broccoli stalks at a consistent length, but also features a fully-concealed cutting blade that cuts broccoli at high throughputs of up to 80 heads per minute with one operator.
Several installations later and the Tong broccoli trimming machine's advanced and fully automated design is bringing broccoli growers and processors noticeable benefits that are streamlining the broccoli handling process in more ways than one.
With this in mind, we thought we would outline the four key reasons why automated broccoli trimming is becoming the number one choice for growers and processors looking to improve the efficiency and safety of this traditionally manual process.
Automated Broccoli Trimming is FAST
Tong's automated broccoli trimmer offers vast improvements in throughput when compared to manual broccoli cutting. With just one operator placing broccoli heads onto the machine's crop belt, the broccoli trimmer can cut up to 80 heads of broccoli per minute. That's pretty impressive right? And that's 80 heads per minute for every minute of operation… the machine doesn't tire like the manual cutting process!
Automated Broccoli Trimming is CONSISTENT
With a heavy duty crop belt featuring evenly spaced crop location holes, and an adjustable blade height set to suit your specific broccoli trimming requirements, each and every broccoli stalk is trimmed to the same length, with an exceptionally clean-cut finish. This means there is no variation in stalk length once the crop reaches stores.

Automated Broccoli Trimming is SAFE
The blade within Tong's broccoli trimmer is fully guarded at all times – the broccoli trimming machine's control unit features a unique blade changing and maintenance programme which ensures complete operator safety – the user cannot come into contact with the moving blade at any time unless the machine is in a 'safety-stopped' condition. Even then, to remove the blade, the main machine guards must be opened and a blade-guard must be fitted before the blade can be removed from the machine, meaning any access within the cutting area is exceptionally safe. The blade is only ever accessed under controlled cleaning, maintenance or blade-changing situations, and only ever by permitted users.
Automated Broccoli Trimming SAVES LABOUR
It's no secret that the vegetable industry is increasingly looking towards automated handling processes that reduce labour and its associated costs. And the broccoli trimmer certainly falls into this category! With one machine bringing the ability to cut more broccoli heads in one minute than at least 3-4 staff could achieve on a continuous basis, it's instantly obvious how much labour can be saved by implementing an automated broccoli trimming machine. With such a noticeable reduction in labour requirements, these bottom-line savings alone can bring a very quick return on investment for growers and processors investing in an automated broccoli trimmer.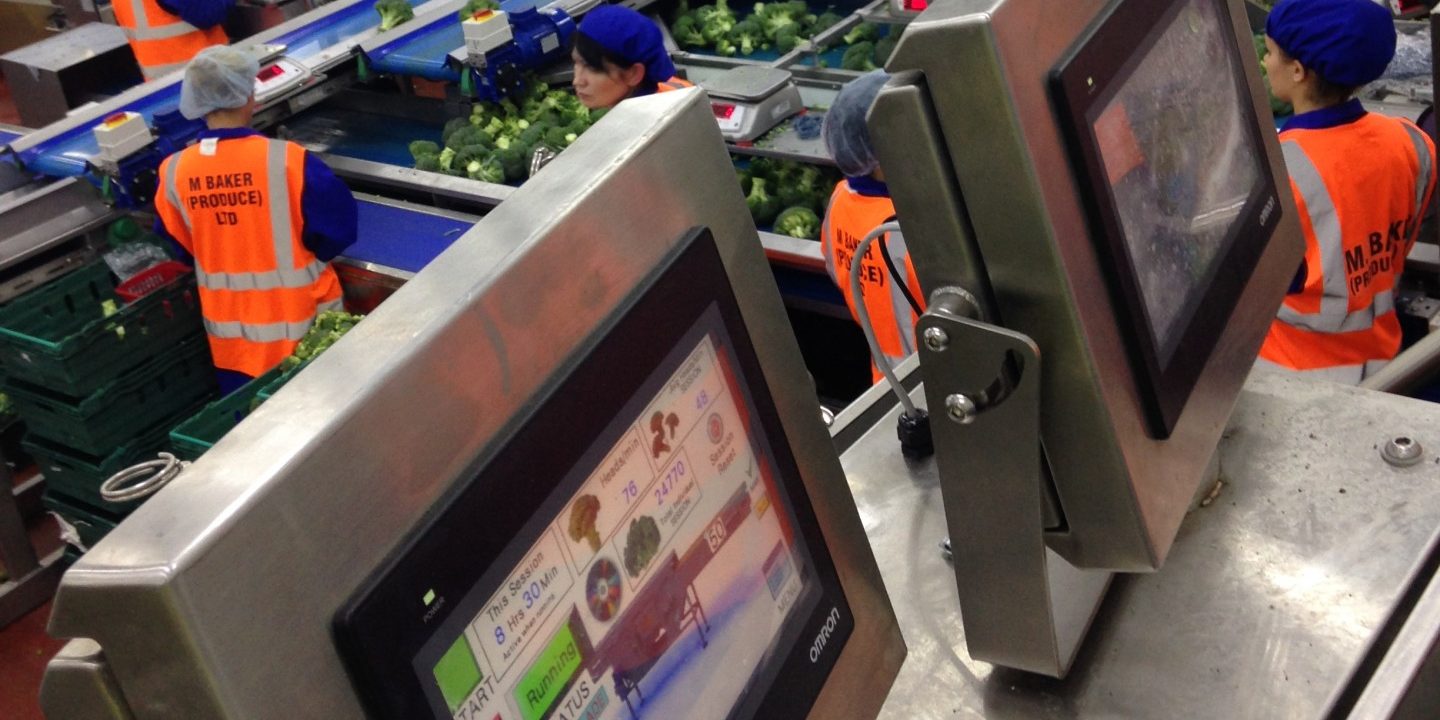 So, when we look at how broccoli cutting is done traditionally, and how it can be performed with an automated broccoli trimming machine, there are some very powerful reasons for considering an automated broccoli cutting process. On top of this, with a simple and easy-to-use HMI touch screen control unit for optimum ease of operation, as well as a low-maintenance design  for quick and easy cleaning and maintenance, automated broccoli trimming really does result in minimal downtime, maximum throughput, exceptional safety and optimum productivity.
Want to see it in action? Watch this video to see one of Tong's recent broccoli trimming and handling installations:
To read more about the Tong broccoli trimming line at M Baker (Produce) Ltd – as shown in the video above, please click here.
If you're considering upgrading your broccoli handling processes click here for more information about what we can help you achieve, and don't hesitate to give us a call on 01790 752771 to discuss your requirements further.
For more information and pictures of the Tong broccoli trimmer click here.