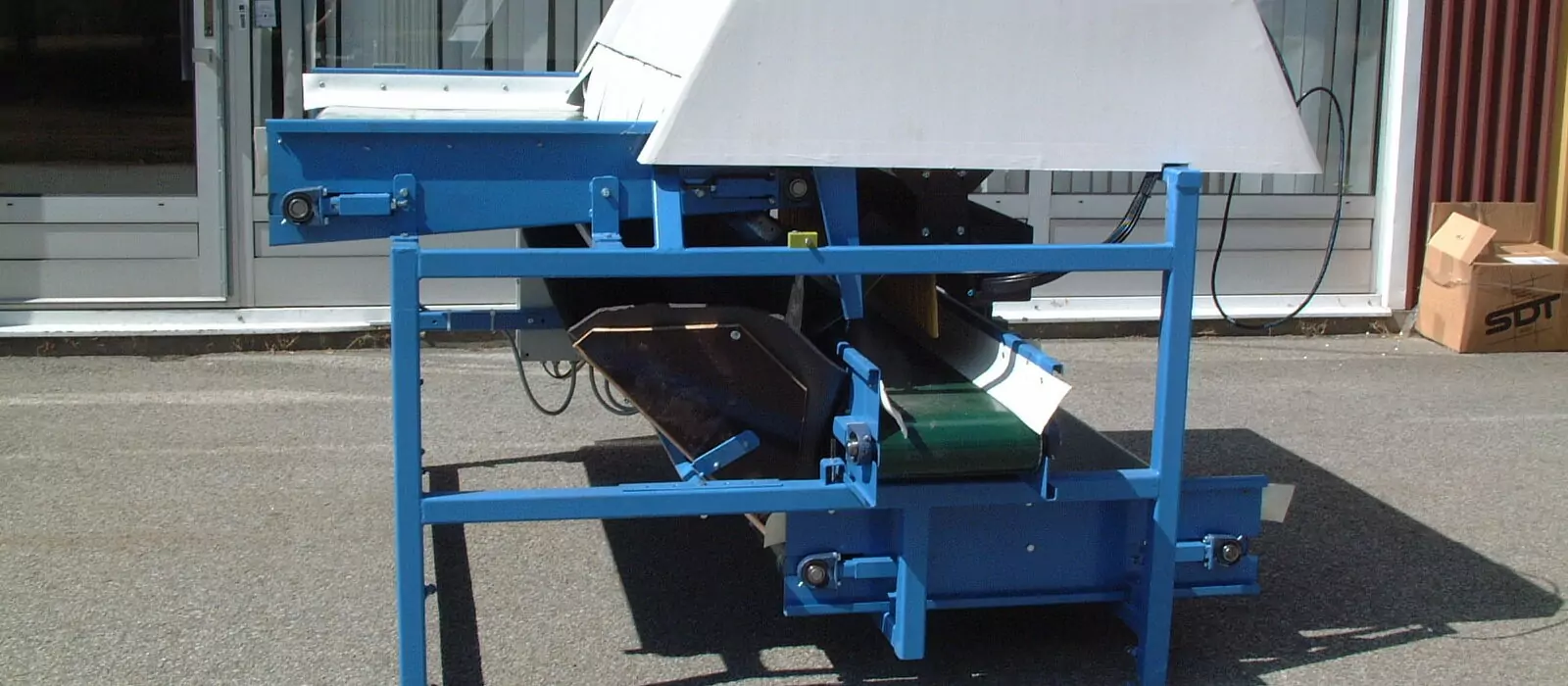 Tong Engineering, the UK's leading designer and manufacturer of grading and handling equipment for the vegetable industry, has announced its appointment as the UK distributor for Swedish firm AGEC's innovative AGRISEP stone and clod separator.
Using the latest infrared technology built into its optical scanning system, the AGRISEP detects clods, stones, wood or other inorganic material mixed up with crops during the harvesting process.
It is the latest addition to Tong's extensive product range, offering farms and pack houses a low-cost solution that effectively meets their sorting needs.
Delivering throughputs of up to 50 tonnes of potatoes per hour, the AGRISEP is also suitable for use with crops such as onions, beet, carrots and bulbs. It comes in three variants; the standard model, the Harvester machine for field use on dirty crops and the Stainless food processing machine for in-plant processing of washed crops or where food certified conveyors are required.
The AGRISEP is available to order in a range of sizes, from 0.8m to 2.4m wide, on new Tong grading lines such as the popular Caretaker Mobile Vegetable Grader, or as a retro-fit on to existing lines.
Unlike optical sorters which examine crops for defects, meaning some vegetables can be discarded, the AGRISEP determines whether each object is organic or inorganic in an instant by scanning items in transit using infrared technology
It then either retracts one of its separating fingers to allow unwanted objects to fall through, or gently delivers the crop on to a conveyor for further processing.
With high levels of accuracy throughout – between 80-98 per cent – manual labour time in the separation process is reduced.
There is also the option to adjust accuracy levels according to individual requirements, particularly suiting orders requiring the highest possible standards and where a small amount of crop rejection can be tolerated as a result.
Edward Tong, operations director at Tong Engineering, said: "We're proud to be working with AGEC to offer such a high quality and reasonably priced piece of sorting equipment.
"The AGRISEP is versatile and accurate. It works just as well with dirty crops as it does with washed crops, and the amount of work required in manual inspection areas is reduced substantially when one is installed – particularly after the EasyClean separator on a mobile handling line.
"It's available for a whole range of machine sizes, from 0.8m to 2.4m wide, and is simple to use and easy to maintain. For the price it costs, the capabilities the AGRISEP offers won't be beaten.
"We're integrating the AGRISEP, which we import direct from AGEC in Sweden, into new orders built bespoke at our Lincolnshire headquarters to suit individual requirements.
"However we've already had a number of enquiries about the retrofitted option from existing customers looking to update their existing handling lines.
"We're confident it will add a popular extra dimension to the range of handling machinery we offer, and I personally am excited about the future partnership between AGEC and Tong."
For more information about the AgriSep click here or call 01790 752771 to speak to a member of our sales team.