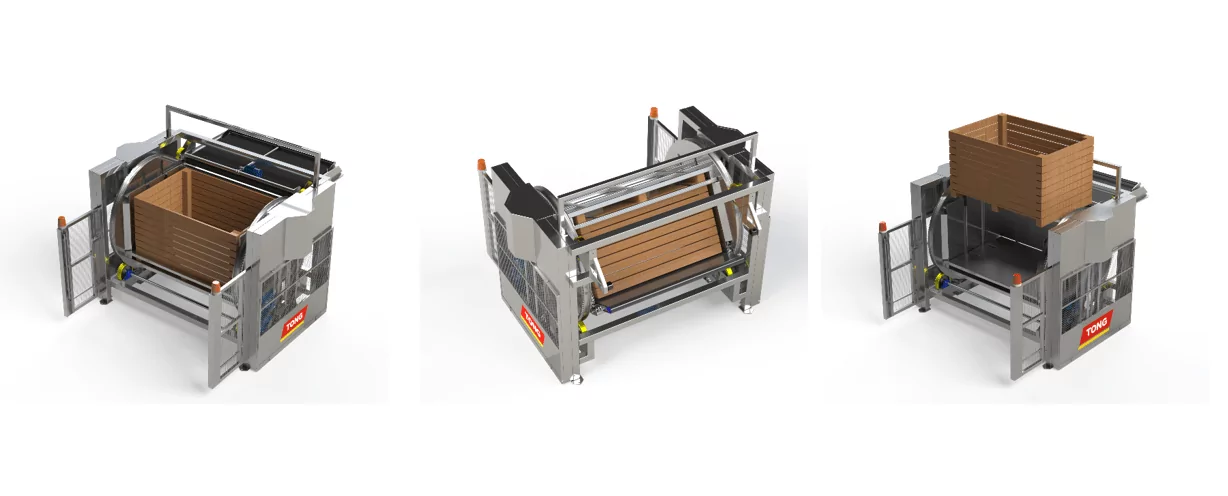 Tong Engineering has announced the latest addition to its recent series of new product developments, with the launch of a new, all-electric box tipper; the E-TIP.
The next generation E-TIP box tipper is built upon a patent-pending design which features an innovatively designed crop-retaining lid for the gentlest handling, alongside an energy-efficient all-electric drive system.
"We are very proud to offer a complete range of box handling solutions to growers and processors worldwide, all of which are designed to ensure the gentlest handling and dependable performance across a variety of applications, throughput requirements and budgets," says Edward Tong, Managing Director at Tong Engineering. "We are delighted to launch the new flagship E-TIP box tipper which delivers on our promise of the gentlest handling and combines this with the latest all-electric drive technology for an exceptionally advanced machine."
"What sets our new E-TIP box tipper apart is the way that the box is cradled throughout the tipping process, with a uniquely designed conveyor-belt lid," says Edward. "This ensures boxes are securely and gently rotated, without any friction or scuffing to crop. The sliding action of the lid ensures gentle transfer of crop from the box to the machine's forward conveyor, as well as ensuring seamless upward ejection of empty boxes for continuous operation and maximum performance."
The E-TIP box tipper replaces traditional forward pivot-tipping hydraulics with a box-rotating design, powered by Tong's Blue Inverter Technology all-electric direct-drive motors. "The fact that the new E-TIP is 100% electric-driven means that running costs are kept extremely low," says Edward. "In addition, the advanced yet simple design of the new E-TIP means that maintenance is not only minimal, but very quick and easy. The clean, food-grade construction of the machine ensures its suitability in all tipping applications, including high-care food processing environments."
Optimum safety is also a key feature of the new tipper's design, with the machine requiring much less forklift movement than traditional box tippers, resulting in a safer working environment. The more continuous loading and unloading process, coupled with fully automatic PLC controlled tipping, results in a high throughput box tipping process, which can be specified to suit a variety of box sizes, depending on requirements.
"This year, we are celebrating 90 years in business, and over time we have developed our range of handling equipment to continuously offer the most advanced solutions," says Edward. "Since our first box tipper left the Tong production line in the 1960s, the key principles of the box tipping process have remained the same, with the gentlest handling and maximum efficiency at the forefront of design. The new E-TIP box tipper upholds these fundamental principles and incorporates the latest in electrical drive systems to create our most efficient box tipper yet."
For more information on Tong's next generation All-Electric E-TIP box tipper contact us on 01790 752771 today.