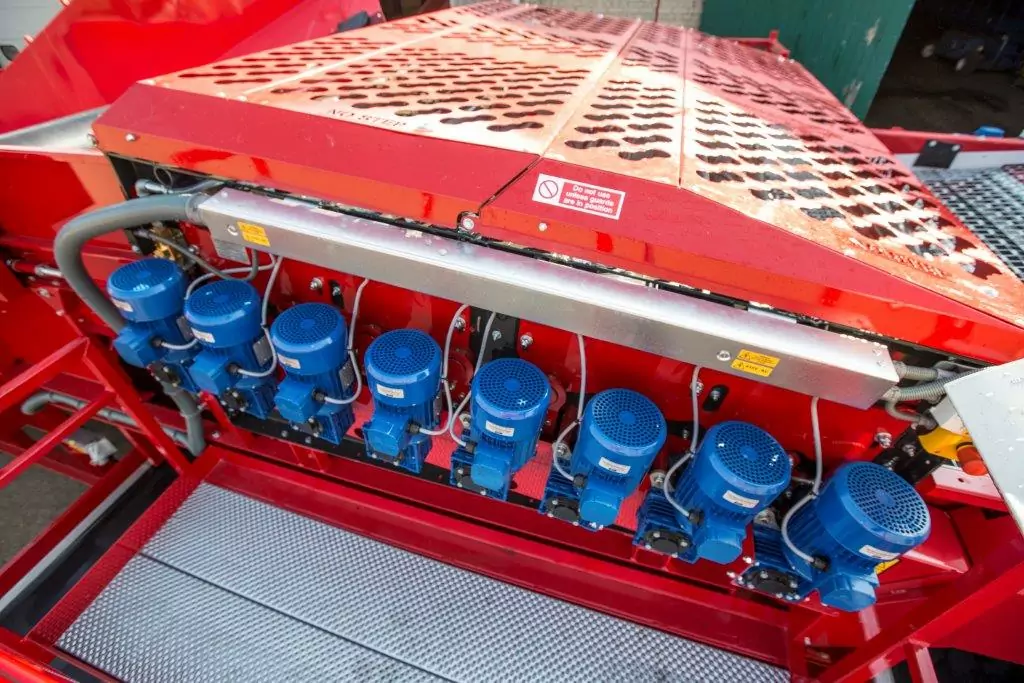 Leading vegetable handling equipment manufacturer, Tong Engineering, is once again looking forward to exhibiting at the UK's largest arable event, Cereals, to present its latest equipment range for 2016.
Exhibiting at this year's event on stand 258, Tong will have the latest model of its Storemaker hopper cleaner machine on stand, alongside the company's marquee where light refreshments will be offered to visitors to the event.
"Following on from the success of the latest models of Tong's market-leading Caretaker mobile vegetable grader, the Storemaker on show at the event has been built with all the latest technologies and features that have proved very popular on our Caretaker grader," said Nick Woodcock, Sales Manager at Tong Engineering.
Like new models of the Caretaker, the new Storemaker offers the very best energy efficiency, with Tong's all electric Blue Inverter Technology drive, as well as featuring the company's new generation EasyClean separator, with inverter direct drive motors on every shaft, ensuring minimal maintenance and refined control.
Another feature on the new Storemaker includes the option of Tong's new and advanced Pro-Series control interface, which is offered as part of its Auto-Touch HMI touch screen control. With added benefits including a new, larger display with easy to use graphical controls, the Auto –Touch HMI Pro-Series not only provides total touch-screen control of machine speed and settings, it also offers advanced diagnostics including a machine health status report, plus precise fault detection and location of any machine faults or E-stop alerts, significantly reducing downtime and maintenance. Complementing the latest EasyClean separator and Auto-Touch HMI advancements are a number of additional features on new Storemakers, including a heavy duty folding-side hopper design as standard for easy transport, as well as an upgraded drawbar and tailgate system for added strength and durability. Trailer reversing sensors for quick and easy loading into the hopper are also an option on new Storemakers, making the whole loading process even more efficient.
"As well as displaying the new Storemaker at this year's Cereals, we are also looking forward to discussing the other new product developments that Tong has introduced to the market this year, to offer even more efficiencies to the crop handling process," added Nick.
"We are very proud to be bringing a unique and exceptionally advanced optical sorting machine to the UK vegetable handling industry in the form of the Swiss-manufactured Sortop Visar Optical Sorter, which is gaining much interest for its capability to offer fully automatic optical grading of crop without the need for manual sorting. This really is giving vegetable growers and packers a new and advanced way of sorting their crop in a much more productive way," explained Nick.
"We are also set to introduce a new Cleaner Loader crop trailer for farmers and growers, which offers an in-field crop cleaning and loading solution that saves time, and makes crop loading in the field much more efficient. The Tong Fieldloader allows crop to be cleaned in the field, meaning soil is removed and kept in the field the crop was harvested from. This not only means that clean crop can then be loaded straight into bulkers at the field side, but it also significantly reduces unnecessary logistics and transport costs, whilst keeping roads cleaner and safer by keeping the excess soil in the fields and not on the roads," added Nick.
"We look forward to discussing these latest equipment developments with farmers and growers from all over the UK at this year's Cereals event, and welcome customers old and new to visit us on stand 258."