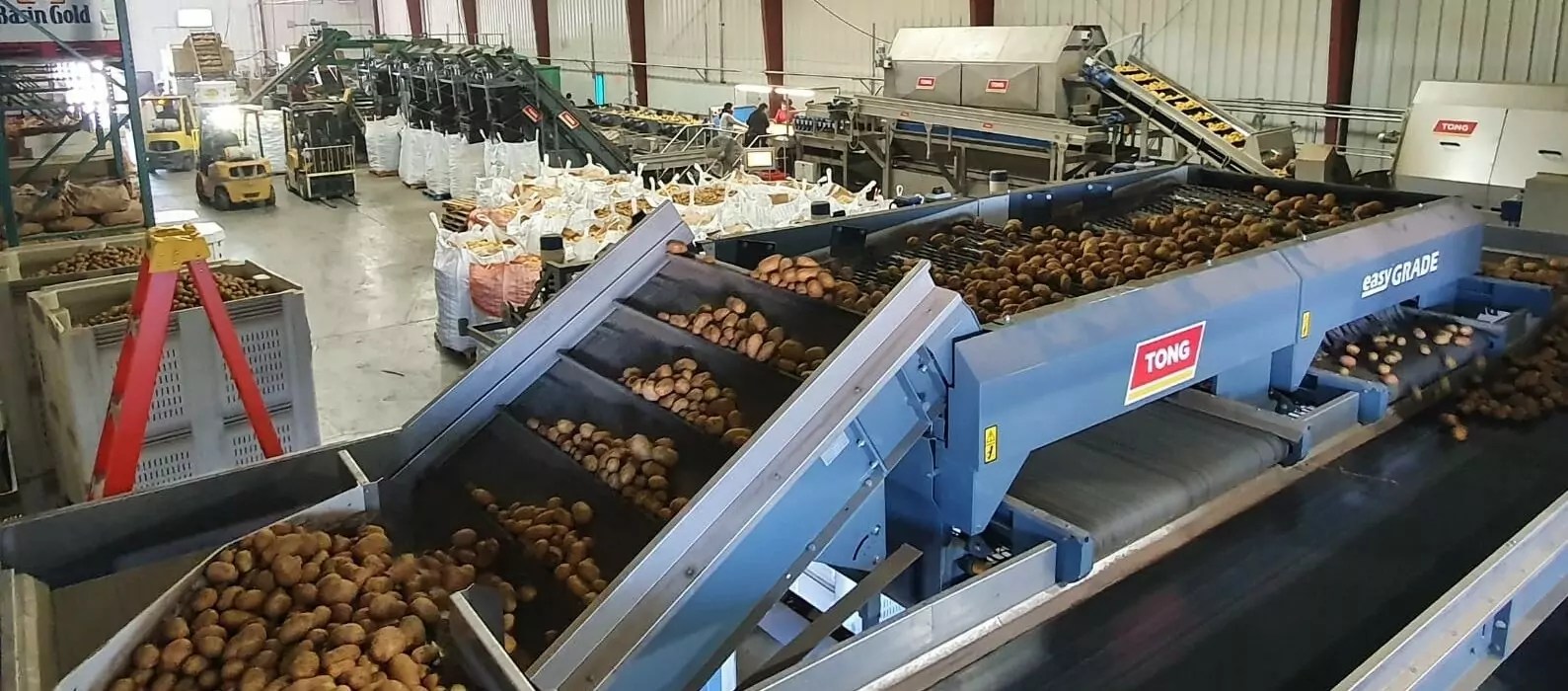 Contents
1. Why Tong Engineering was the perfect solution
2. Industry-leading EasyClean separator
2.1.Next-generation Barrel Washer
2.2. High Capacity TPS-PRO Polisher
A custom-built potato machine for grading and washing has enabled a leading US potato processor to increase sizing potential of both dirty and washed crop, whilst maximising efficiency and minimising waste across its entire potato processing operation.
Based in Warden, in Washington State, Skone & Connors Produce, Inc. grows over 2,500 acres of fresh potatoes for Basin Gold, their sales and marketing group.
Why Tong Engineering was the perfect solution
With the need to upgrade current operations in order to achieve a broader range of size grades, as well as increase throughput, control and capacity, Bart Connors, President and partner at Skone & Connors, approached Tong Engineering to advise on the most advanced and efficient potato machine for grading and washing, which could be built with all the company's current and future requirements in mind.
We initially set-out our system requirements with Tong at the US Potato Expo in San Francisco. We knew what we wanted to achieve but it was important to work with an experienced manufacturer like Tong to ensure we were aware of all the latest equipment advancements that would allow us to get to our goal with a reliable and automated system. After speaking with the Tong team it was clear that their knowledge, expertise and proven equipment design was going to bring us a very progressive solution. The concept that Tong proposed incorporated design elements that surpassed our original brief and meant that we could really get the most from our crop.
Industry-leading EasyClean separator
The new potato machine created a grading and washing line at Skone & Connors which gently handles the crop from truck to bags and boxes. Featuring a high capacity intake system, crop is transferred to a 4-row model of Tong's industry-leading EasyClean separator, complete with full Auto-Touch HMI control, for unrivalled cleaning and control. They also opted for a 20-ton capacity accumulation hopper which allows the option to simply intake, clean and hold crop in the hopper until it is called for.
Next-generation Barrel Washer
Following the accumulating hopper is a series of Tong EasyGrade screen modules for gentle and accurate grading of dirty crop. The shed can choose to grade dirty crop at this stage or bypass straight to a Tong stainless steel next-generation barrel washer, with custom-specification including an integrated destoner, power-spray booster bar, auger, sludge-scraper and floating debris remover.
High Capacity TPS-PRO Polisher
The flagship, 14-brush model of Tong's low maintenance, high capacity TPS-PRO polisher is fitted after the washer for an enhanced and polished finish. Crop is then dried as it passes over Tong's latest direct-drive sponge dryer. Both the polisher and sponge dryer feature a motor on every shaft for maximum performance and minimal maintenance. Crop inspection is carried out on a 6-man roller inspection area and washed crop can then be split into 5 sizes with another series of EasyGrade screen modules, before it is packed into bags via a series of Tong big bag and bin fillers.
"The design and equipment within the line makes the flow of crop really efficient, and the technology on the Tong line is very impressive," says Bart. "We can control the entire line including making quick and easy changes for bypass and speeds, as well as washer and polisher control at the touch of a screen, or via WiFi on our tablet, it's really user-friendly."
Charlie Rich, Export Sales Manager and Head of US Sales at Tong Engineering explains; "We worked very closely with Skone & Connors and visited their site several times to fully understand their space and requirements. We proposed an initial concept and as our relationship developed, we gained a deep insight into what Bart wanted to achieve, which allowed us to determine a final solution that really worked for the facility, bringing noticeable efficiencies and added capabilities."
"Bart and the team were very keen to not only incorporate the most advanced equipment but also the most intelligent controls and that really has paid off. The full Auto-Touch HMI package with total online support features some significantly time-saving diagnostics including isolator and inverter feed-back, E-stop detection and location as well as precise information on sensor activation and any motor trip or failures that may occur. When specifying these features, we knew that they would bring Skone & Connors next-level control, whilst allowing Tong engineers to provide comprehensive remote-support, but we could never have imagined just how invaluable these would prove to be in such unprecedented times," explains Charlie.
"The installation took place during COVID lockdown in both the UK and US, which of course had its challenges. But I am very proud to say that with remote support from the UK, alongside our local Tong USA mechanical and installation team, we ensured that the installation and delivery schedule continued with minimal disruption," emphasised Charlie.
"From our initial meeting with Tong, to their communication throughout the design process, and their true determination in ensuring delivery, installation and commissioning during a worldwide pandemic, Tong showed great dedication and attention to detail. We are delighted with the potato machine system and the real value it has added to our potato handling processes," added Bart.
For more information on Tong's wide range of potato washing equipment click here.