The revolutionary washing equipment from tong engineering
So far, 2019 has been nothing less than a bumper year for our next generation Tong Barrel Washer. A snapshot of production recently saw eight barrel washers going through the Tong factory at the same time. And that's not to mention all the other washing equipment that is produced to accompany our advanced barrel washers, including sponge dryers, our low maintenance TPS-Pro polisher, destoners, hoppers, conveyors, fillers…. the list is endless!
If you walk through the Tong factory today, alongside several hoppers, cleaners and grading systems of varying sizes, at various stages of production, you will see even more barrel washers in production; some high capacity large stainless steel process washers, and some smaller mild steel barrel washers. Whatever the washing requirement, throughput specification or the crop type, Tong manufacture an unrivalled vegetable washing solution that is built to perform.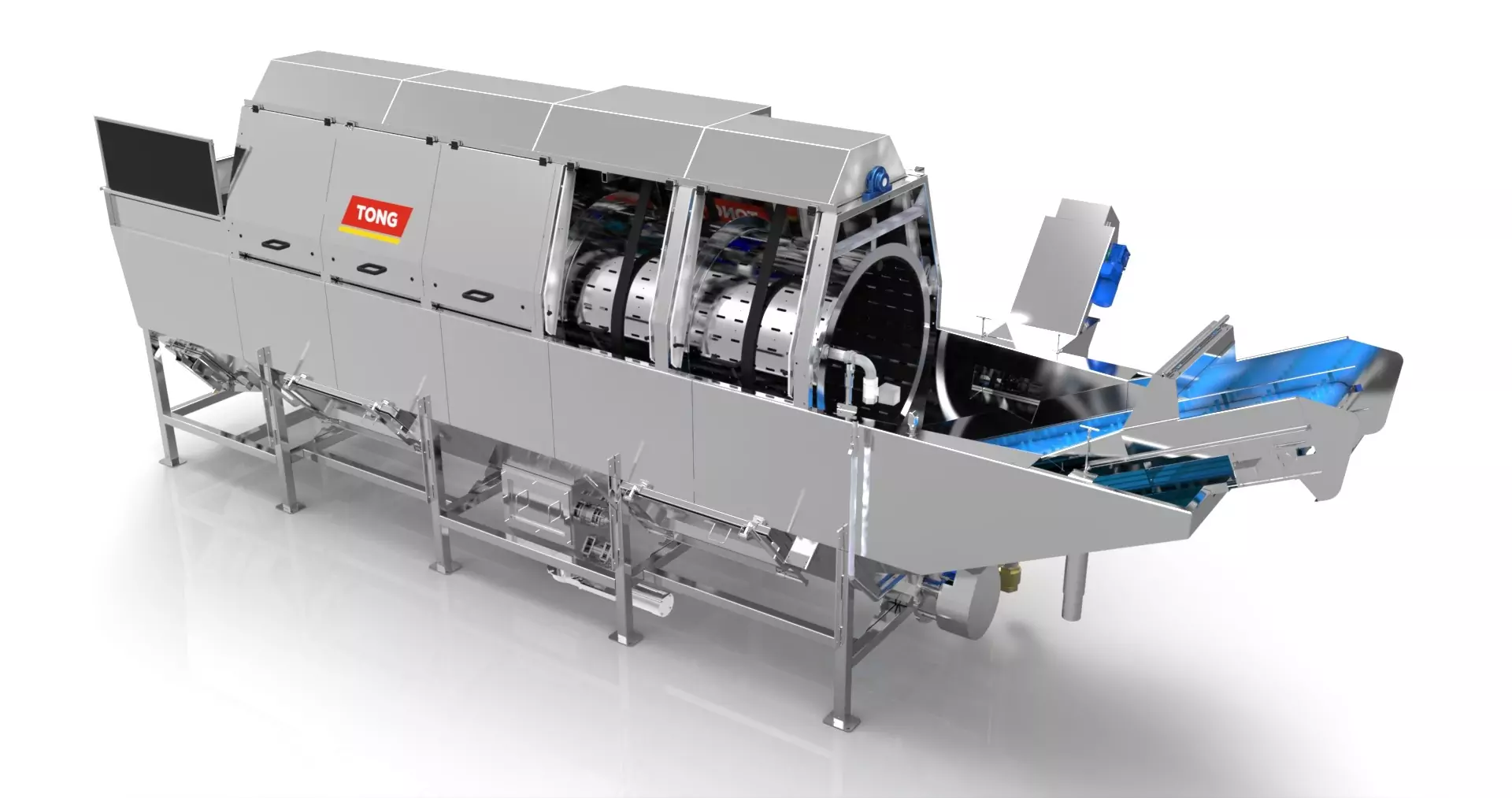 As the UK's leading vegetable equipment manufacturer we are often asked what advice we give to vegetable growers and processors when specifying new vegetable handling equipment, what are the latest advancements, and what makes for a highly efficient and reliable vegetable washing line? We were recently asked these questions by International potato processing magazine, Potato Processing International and we thought we'd elaborate on the key points for consideration right here on our blog!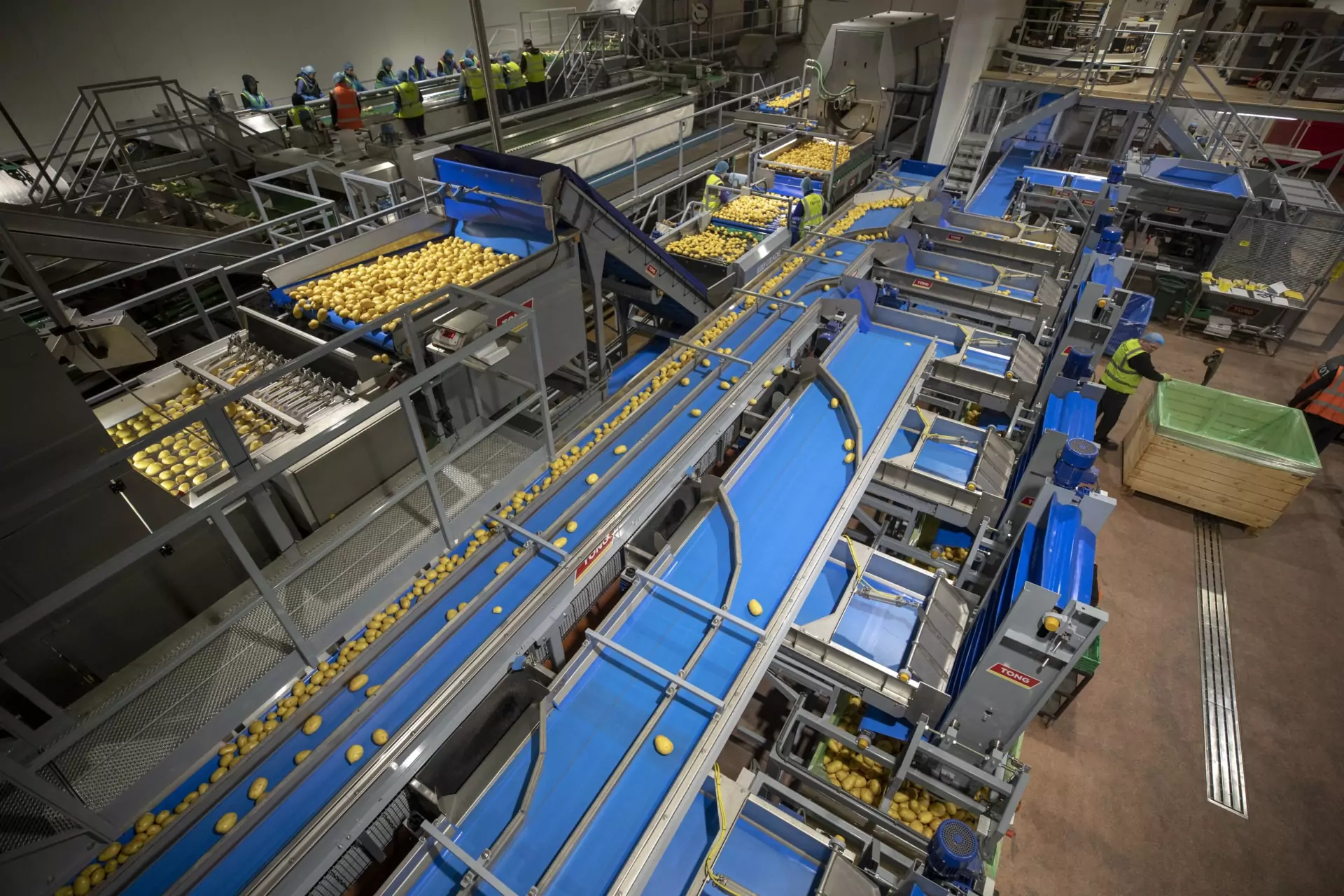 Whether you are washing carrots, potatoes, parsnips, swedes, beetroot or celeriac, the main challenges surrounding the crop washing process centre around maintaining crop quality throughout each process, as well as keeping downtime to a minimum by eliminating equipment damage and choosing low maintenance systems.
ENSURING GENTLE HANDLING
Gentle handling is paramount, and one vital process in minimising damage to crop and equipment is the removal of stones and debris from crop post-harvest and before washing.
It is important that equipment specified to separate crop from the soil, stones and debris, is designed to handle crop gently to ensure product quality. By using advanced and automated equipment, these processes can be carried out much quicker and more effectively than before, whilst maintaining the integrity, and ultimately value of the crop.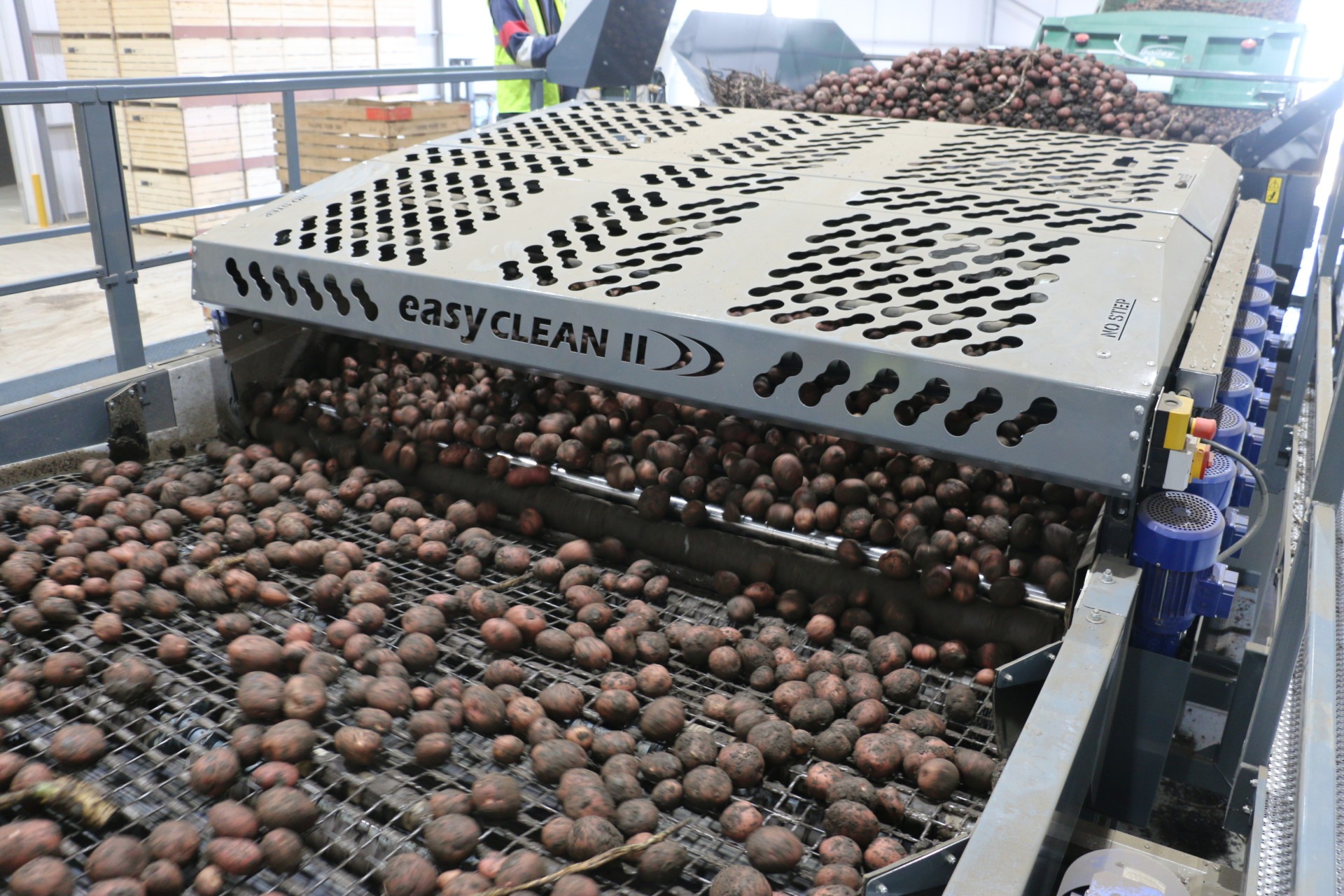 One example of this at the pre-wash stage of the vegetable washing process would be the Tong EasyClean separator, which is designed to effectively grip and remove soil, debris, roots and leaf-matter whilst being very gentle on crop. With the EasyClean the separating process is exceptionally effective, yet the quality of the crop is not compromised as crop simply and gently passes over the cleaning shafts. Tong's Auto-Touch HMI control means adjusting the machine to work in different crop conditions and on different varieties is completely automatic. The HMI controls bring greater flexibility to the machine to ensure that the extraction rollers are set correctly to perform effectively and gently in all conditions.
Alongside the EasyClean offering effective removal of soil and debris, Tong crop destoners, which are built upon a water-destoning design, are popularly integrated within the barrel washer tank to ensure all stones, large or small, are removed prior to crop passing through to the washing line. The principals of the water-destoning design means that stones sink to the bottom of the destoner's tank, where they are then removed. Upward water pressure allows crop to gently float over to the barrel washer tank. By placing a close-coupled destoner at the infeed end of the barrel washer, you can rest assured no stone is unturned (no pun intended!) in the pursuit to achieve a stone-free vegetable washing facility.
INCREASING SHELF LIFE
Maximising shelf life is also key, and maintaining product quality throughout the process is of great importance to an effective vegetable washing system. Keeping water fresh at each stage of the process, whether in destoning, soaking, washing or polishing the crop, can have a significant effect on the finished quality of crop; dirty water can contaminate crop which can result in dramatically reduced shelf-life. Therefore, water-recirculation systems which recycle water during the washing process, are increasingly being incorporated as part of advanced potato and carrot washing systems. Water recycling systems not only keep water fresher for longer by removing soil from the water, but also help to reduce water consumption and minimise wear and tear on equipment that can be caused by soil damage. Downtime is reduced as the water recycling systems continuously work to remove soil from water, meaning equipment can also run continuously without the need to stop the line and clean tanks out.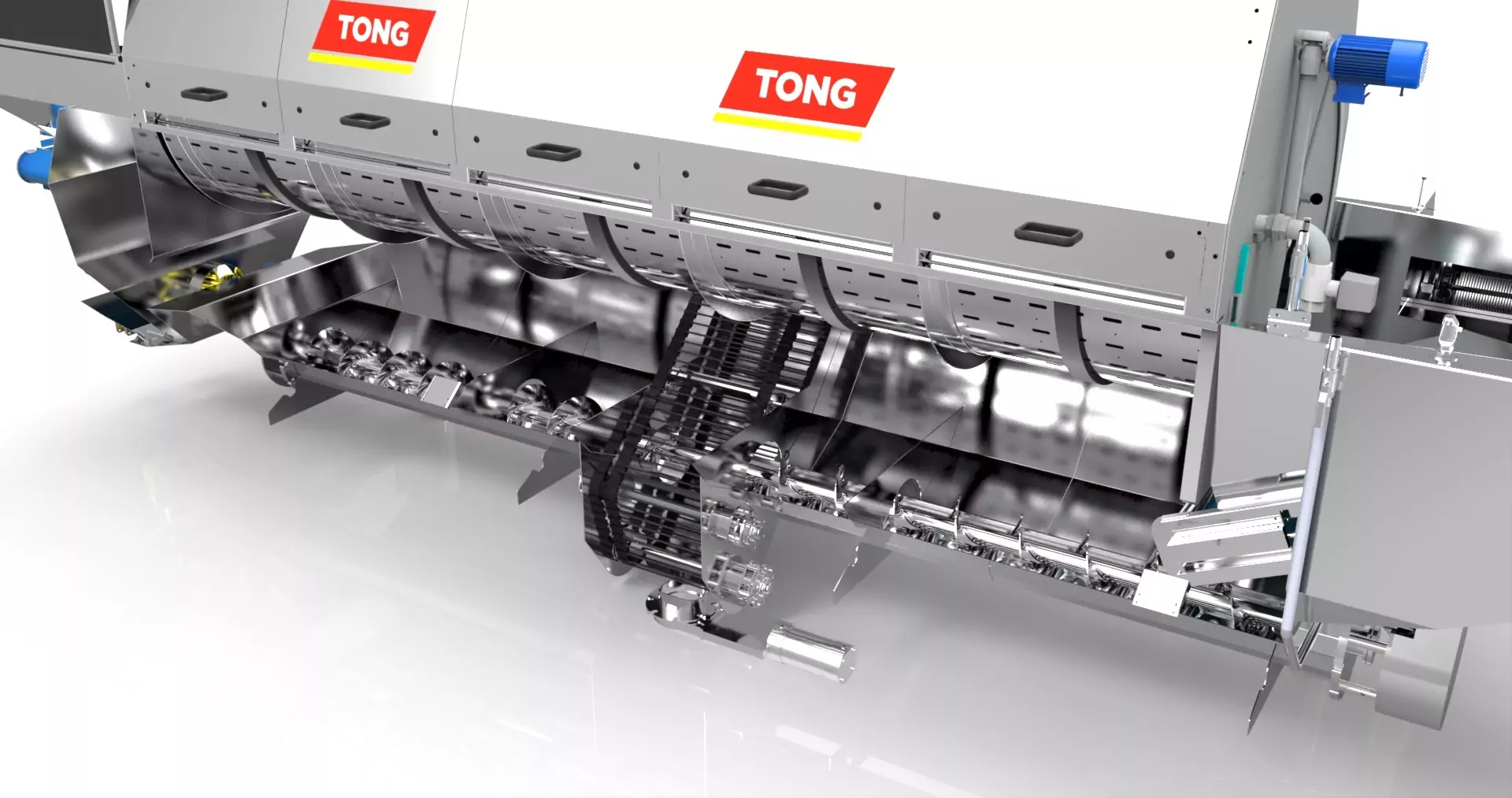 Tong washing tanks can also be fitted with a full length auger system, designed to remove mud from the barrel washer tank, extending the usage time and longevity of the water. The tank auger system is simple, requires minimal maintenance and is very effective. This feature ensures that all debris within the tank is continually accumulated for easy removal. An automatic dump sequence can also be added to Tong washing tanks to ensure continuous running of the washer whilst dirty water is removed from the tank and refilled with fresh water.
MINIMISING DOWNTIME
Vegetable washing environments are generally somewhat demanding on equipment, with the presence of water in most applications meaning a good maintenance schedule is required to ensure longevity of equipment mechanisms.  When it comes to minimising maintenance and downtime, as mentioned above, automatic water recycling and replenishment systems help to keep wear and tear caused by soil to a minimum. In addition to this, pro-active control systems are revolutionising maintenance requirements, and Tong offers a time-saving Diagnostics module as part of its industry leading pro-series Auto-Touch HMI touch screen control.
Available as an option on all equipment, Tong's pro-series controls can be specified as part of the Auto-Touch HMI control system, adding a level of control and system intelligence that brings users advanced system monitoring and reporting.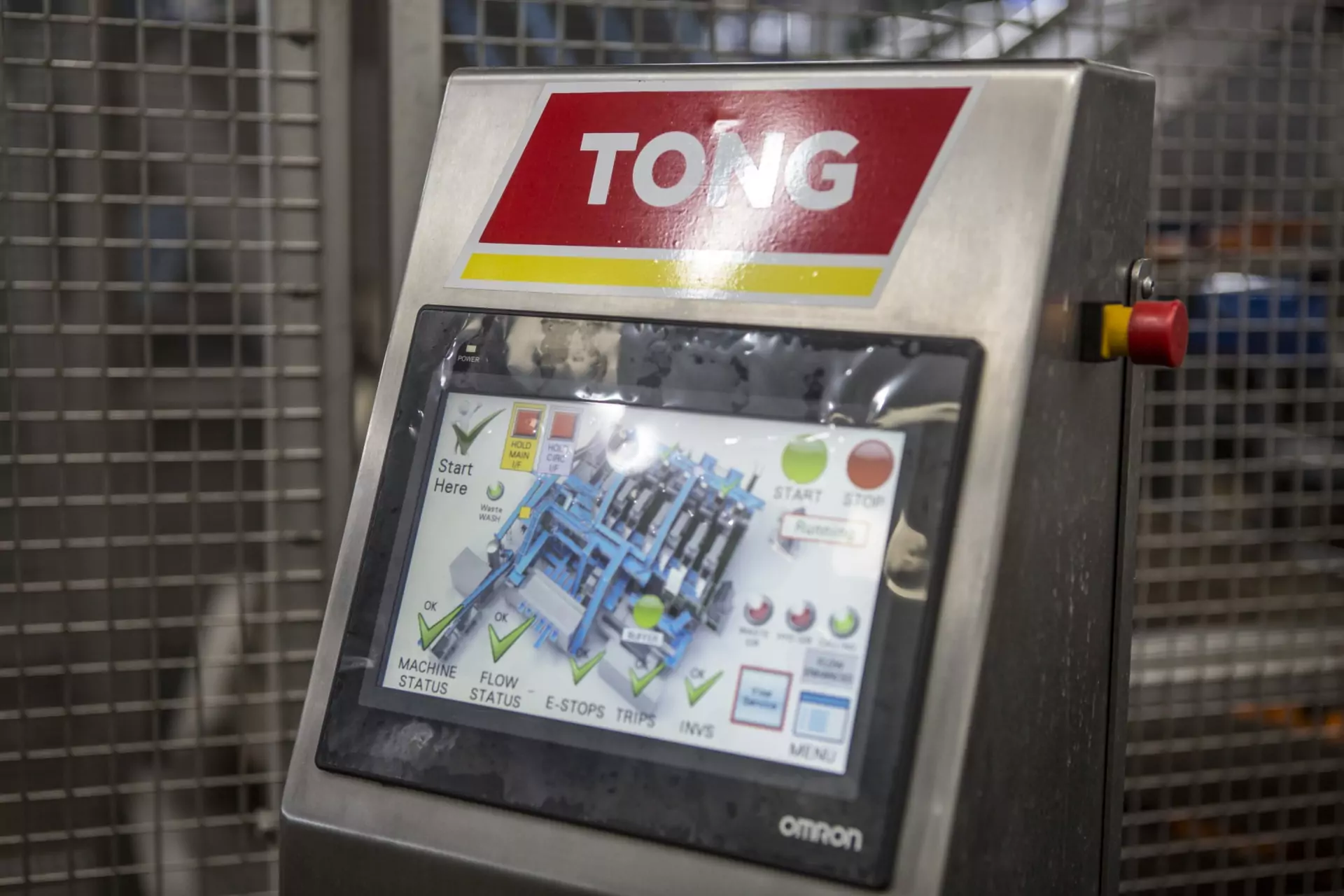 The intelligent Diagnostics module provides users with continuous status monitoring, so that in the event of an issue, the exact location is automatically pin-pointed, enabling quick and easy problem solving and resetting. This feature significantly reduces downtime, removing the guess-work on machine trips and fault-finding. It also means that in a majority of cases, such issues can be resolved without the requirement of an engineer.
Working alongside the Diagnostics module is an advanced Maintenance Schedule module, ensuring improved efficiency of maintenance by allowing users to be more pro-active in their maintenance routines, minimising wear and repair costs, whilst saving time.
"The continuous system monitoring that the Diagnostics and Maintenance modules offer, gives operators an exceptionally high level of intelligence about the status of their handling equipment at any given time," adds Edward Tong, Managing Director at Tong Engineering. "In addition, the latest safety technology that is also incorporated within these new modules, enables safe running of parts of the line whilst others are under adjustment or maintenance."
"Diagnosis and problem solving really is quicker and easier than ever before, meaning more continuous operation and increased productivity," says Edward.
Other low-maintenance features in the design and build of washing equipment can also bring great time-saving benefits and should be considered for optimum washing performance.
"By replacing the chain and sprocket drive system on our barrel washers with a new direct-driven shaft, we have really made a significant development in the simplicity, and ultimately longevity, of the machine's drive system," explains Edward. "Our Blue Inverter technology direct drive systems mean power from the motor is being used efficiently, with no reductions and fewer moving parts, resulting in a very energy efficient and low maintenance machine."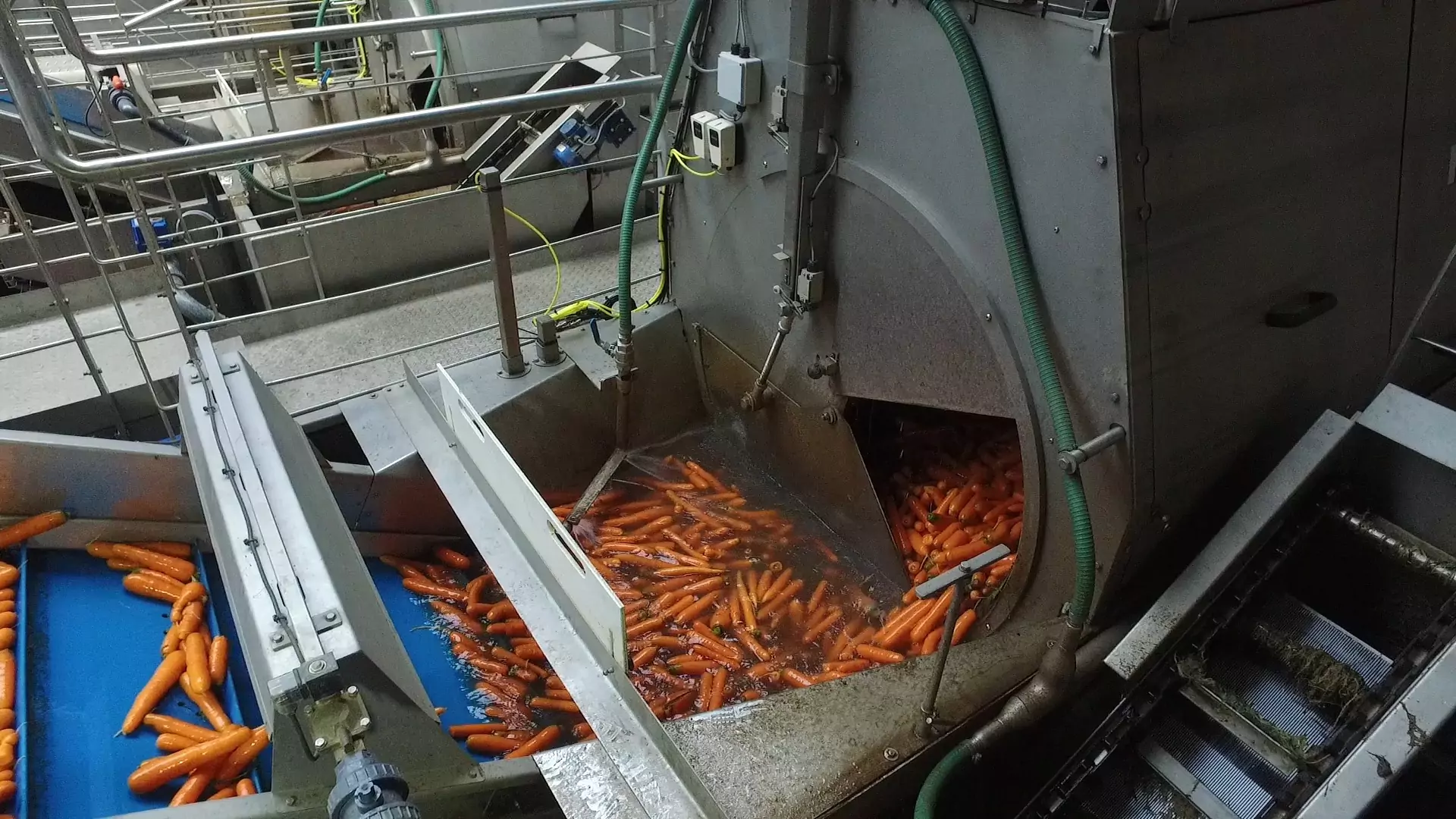 Tong's latest barrel washer can also be ordered with a number of advanced options to make maintenance even easier. A simplified top-shaft design incorporating Cooper split bearings is now available as an option to eliminate the need for shaft removal when changing bearings, making maintenance even easier. Other new features include the option of a new heavy-duty direct-driven auger, a newly designed floating-debris remover, and centralised greasing point; all with minimal maintenance and maximum performance in mind. For more details click here.
So, when it comes to specifying a new vegetable washing system, there are a number of vital elements that can ensure trouble-free operation for many years to come. When you choose Tong you can be sure that we will work closely with you to ensure that your requirements are fully achieved in the most efficient way. And as we say, Tong offers the complete handling solution from post-harvest to pack, all designed with you in mind. Increased productivity, reduced costs and reliable operation is more important than ever… and we are here to help you achieve just that.
And here's a video of one of our latest washing installations in action, for your enjoyment! To view our complete range of washing equipment click here.