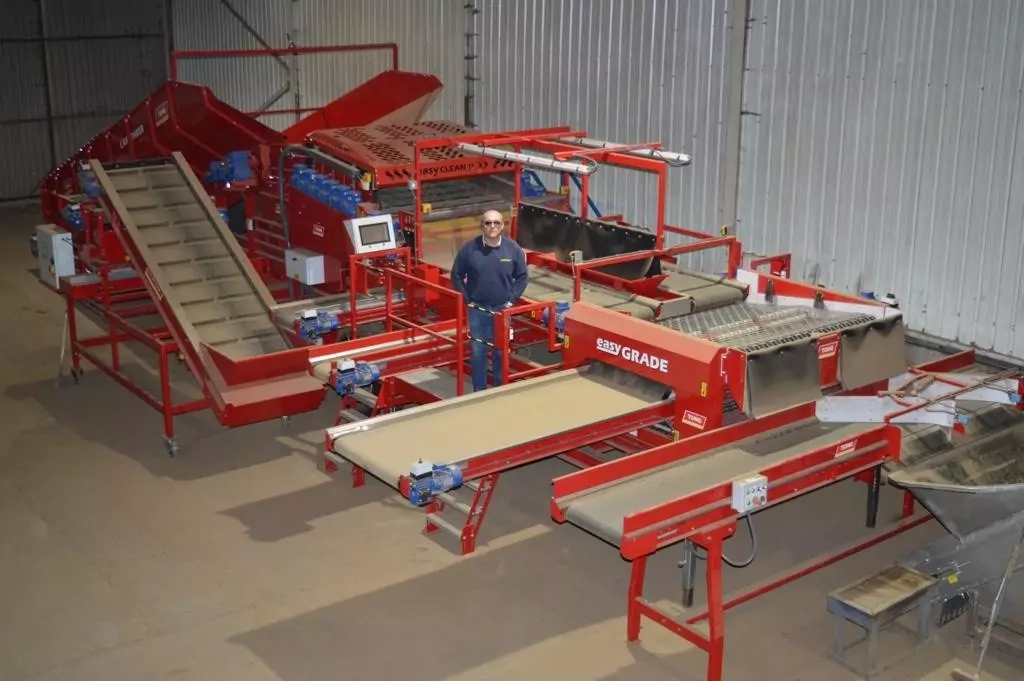 When second generation farmer Wayne Garrett, of Norfolk-based RG Produce, needed to upgrade his potato handling operations to meet ongoing market demands, he turned to Tong Engineering in order achieve increased capacity and unparalleled cleaning with the company's flagship Caretaker mobile grader.
Currently farming over 1700 acres of arable crops on owned, rented and tenanted land, R G Produce grows 500 acres of potatoes destined for the Chip Shop trade. With equipment advances including increased automation and upgraded cleaning capabilities bringing potential for significant savings in labour and costs, Mr Garrett decided to invest in the latest potato grading technologies to ensure maximum efficiencies when grading the company's own crop, as well as progressing the company's contract grading capabilities.
"Our old grading system has proved very reliable for many years, but the new equipment on the market is capable of cleaning and grading crop at much higher capacities, and notably with much greater efficiencies and better cleaning results in all conditions," explains Mr Garrett. "In order to benefit from these advancements, we decided the time had come to upgrade our grader."
"Our initial search for a new grading system started at LAMMA in 2019, where we spoke to Tong and were not only very impressed with their knowledge and expertise in manufacturing proven cleaning and grading equipment, but we also wanted to buy a quality product from a British manufacturer who we knew had a heritage of reliability that we could rely on for many years to come," said Mr Garret. "Generally, you only look to upgrade your grader every 20 years or so, so making the right decision and buying the right machine is really important. We very quickly decided that Tong was the company, and the Caretaker with EasyClean was the machine for us."
Featuring an 1800mm wide Infeed Hopper, the Caretaker grading system specified for R G Produce incorporates a 6-row model of Tong's industry leading EasyClean separator, complete with full Auto-Touch HMI control, for unrivalled cleaning and control in all conditions. An adjustable PU coil unit is fitted after the EasyClean which gently transfers crop onto a 4-Man LED-lit inspection area before it passes over an 1800mm wide Tong EasyGrade screen grading module which if fully integrated on the Caretaker's heavy duty chassis. The Caretaker is set-up to feed the company's existing bagging line or their new Tong EasyFill Box Filler with trademark doorstop belt.
"As part of the design process we visited a number of Caretaker systems in operation at other grower's sites, and we were extremely impressed with the performance of the EasyClean and the simplicity of the HMI controls," said Mr Garrett. "In dry conditions, the combination of the EasyClean followed by the PU coil unit that we have on our new machine, will give me the flexibility to transfer the crop over the cleaner in the driest of conditions, and extract small hard clods and smalls out through the coils prior to inspection. In wetter conditions, having the ability to extract on either 2, 4 or 6 Rows of the cleaner, and still having the coils to allow removal of smalls will be very effective. In addition, the HMI controls give me the ability to change the cleaner settings at the touch of the screen, which will prove invaluable to maintain capacity, whatever conditions we are faced with. That flexibility is going to be massive after a season like we have just had!"
Richard Knighton, Sales Manager at Tong Engineering comments; "It has been a real pleasure working closely with Mr Garrett to design and manufacture an advanced Caretaker grading system to his exact specification. We've been faced with such an unprecedented pandemic situation over the last few months and our manufacturing departments have had to adjust their working practices significantly to keep production on schedule. However we're very pleased to say that the new machine was complete and commissioned in time for Mr Garrett's upcoming season."
"From initial design and drawings, adjusting the configuration of our machine to suit our exact requirements, and right through the complete production process, Tong showed exceptional attention to detail, even down to the positioning of every plug and socket," added Mr Garrett. "We are delighted with the new Caretaker system."