Advancements in potato grading equipment are allowing potato growers and packers to improve the efficiency and productivity of their potato handling facilities, as well as enjoy even gentler handling. Tong has worked with AHDB Potatoes for some time to help raise awareness on the importance of gentle potato grading and handling, ensuring potato grading processes bring maximum yield and the best value from your potato crop.
The importance of gentle handling is a continuing priority for growers and packers worldwide and at Tong we're dedicated to spreading the word… and manufacturing gentle potato handling equipment too of course! (We've just added this video below to demonstrate one of our latest and most advanced potato grading installations so you can see how potato equipment is advancing.)
So, with gentle handling remaining at the top of the potato grading agenda, we thought we'd reiterate the top 8 ways to reducing potato damage during the potato grading process, originally devised by AHDB Potatoes in collaboration with Tong (Click here to view the AHDB's complete Minimising Damage guide).
Potato grading can be done straight from the field or out of store and, if not managed carefully, could potentially damage the crop.
Main Potato Grader functions:
• Separate soil, clod and stones from potatoes
• Remove reject crop
• Size grade potatoes
Before you can start reducing potato damage, it's essential to maintain your equipment; worn parts and abrasive edges need to be restored. Remember, crops differ from variety and field and your potato grader needs to be set up for the current crop type. Equally important is checking for key damage areas caused by the potato grader, the top eight areas to check are detailed here.
Potential damage points when Potato Grading and how to prevent them:
1. Bulker/trailer to hopper
Ensure that the potato hopper's rubber back traps and soft-landing rubber lining are kept in good condition to ensure cushioned landing of crop when transferred to the hopper. This also helps to prevent damage and/or wastage by crop falling onto the floor.
2. Tipping box into hopper
Use the correct type of tipper/rotator – this depends on the experience of the forklift driver, as the box should be rotated as close to the hopper bed as possible. Ideally, to further minimise the damage risk, using a box tipper feeding a droop snoop conveyor ensures minimal drop and damage to the crop.
3. Transfer of potatoes from hopper to cleaner
Maintain an even flow of crop to the cleaner to ensure it is carefully spread out from debris, minimising potential damage as well as ensuring maximum effect of the cleaner in removal of soil and potentially damaging stones.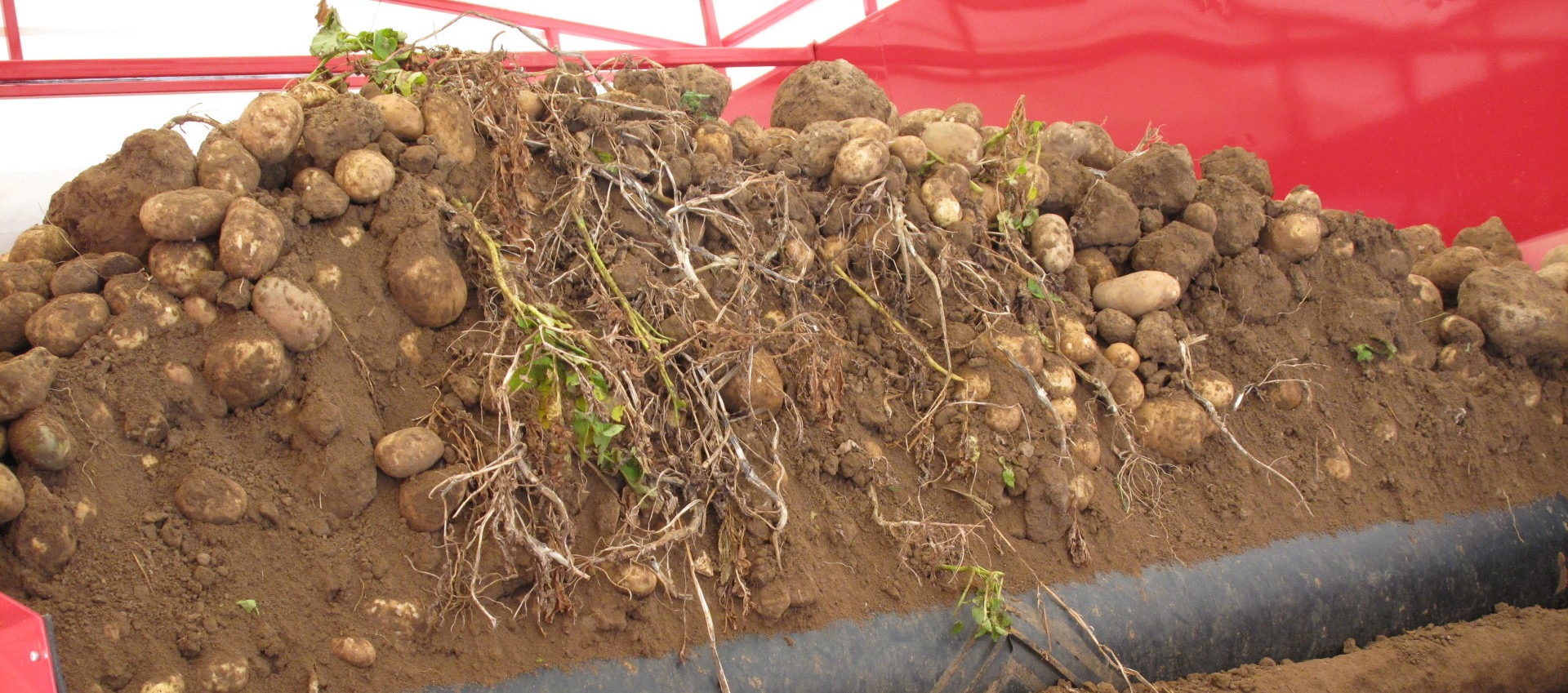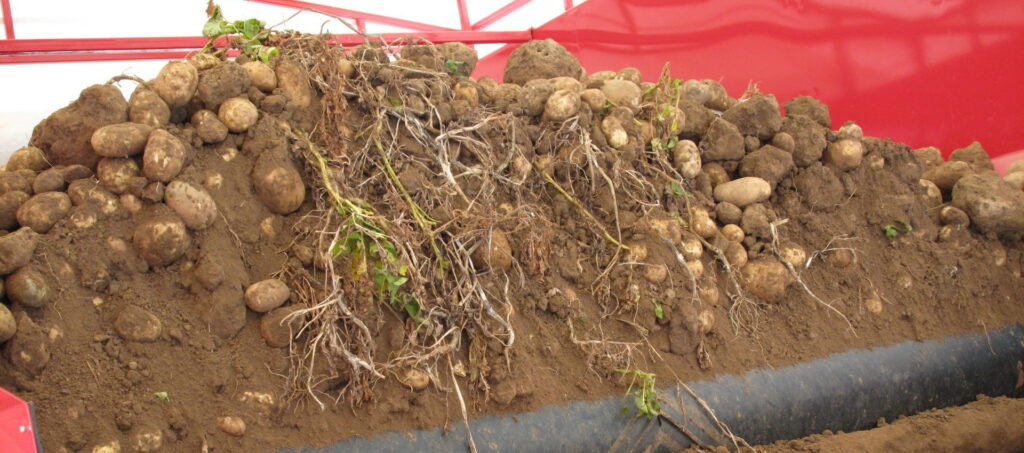 4. Potato cleaning
To ensure effective yet gentle potato cleaning, it is vital that the cleaning unit, whether spiral rollers, stars or coils, is set up to suit the crop conditions of any given load. Be aware of the right settings for the conditions you're dealing with. This will ensure the potato cleaner cleans the crop effectively without damaging it.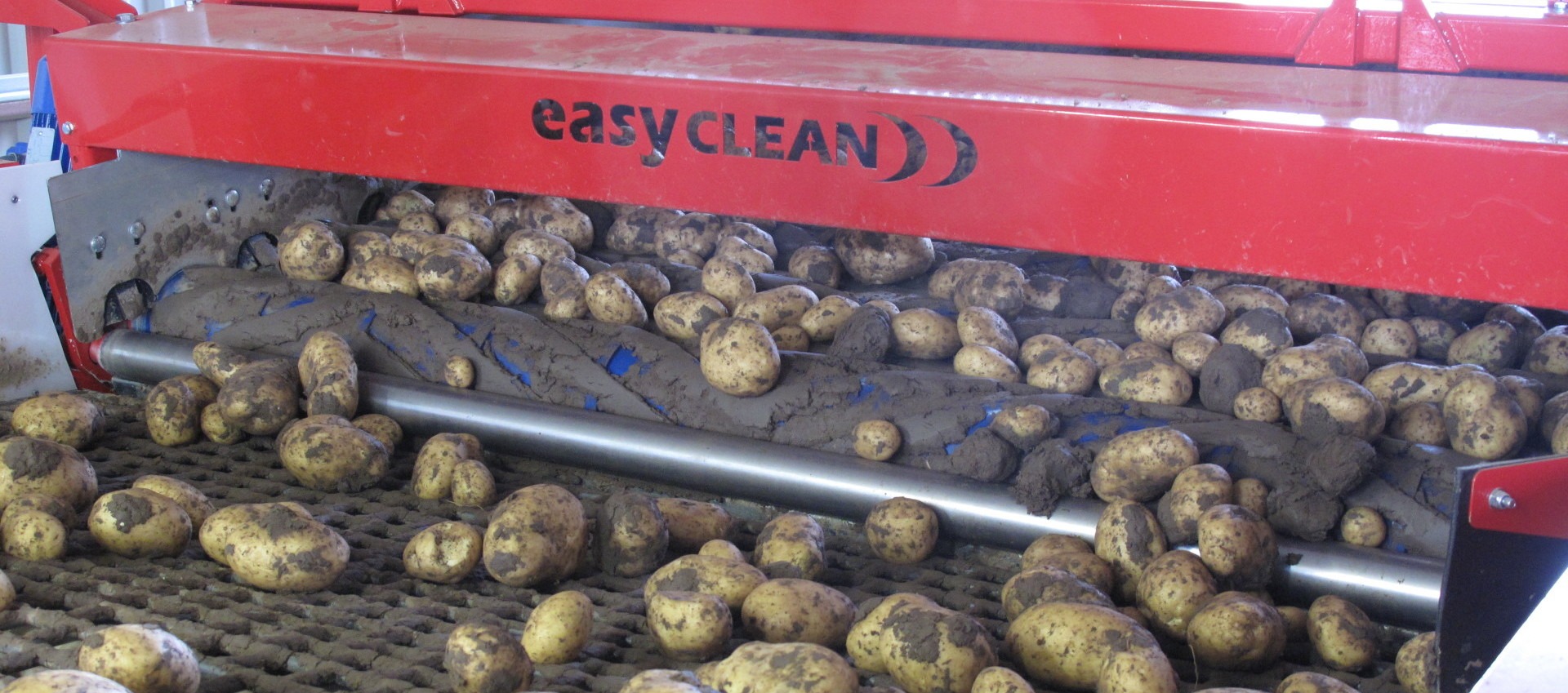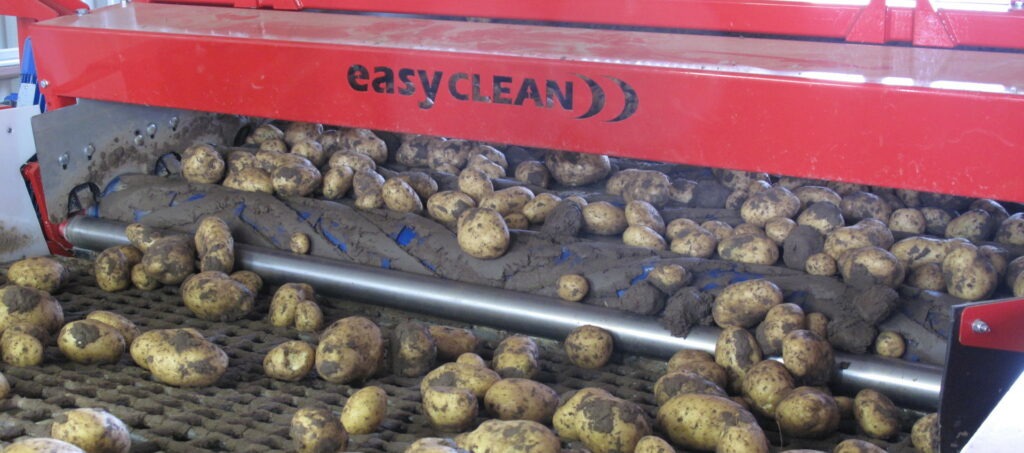 5. Potato Sizing
Check that pintle drive rollers are in good order so that the screen doesn't slip. Ensure the screen is kept in good condition, as any damage to the steel could damage the crop. Do not run agitators too fast, ensure agitator rollers are maintained in good order.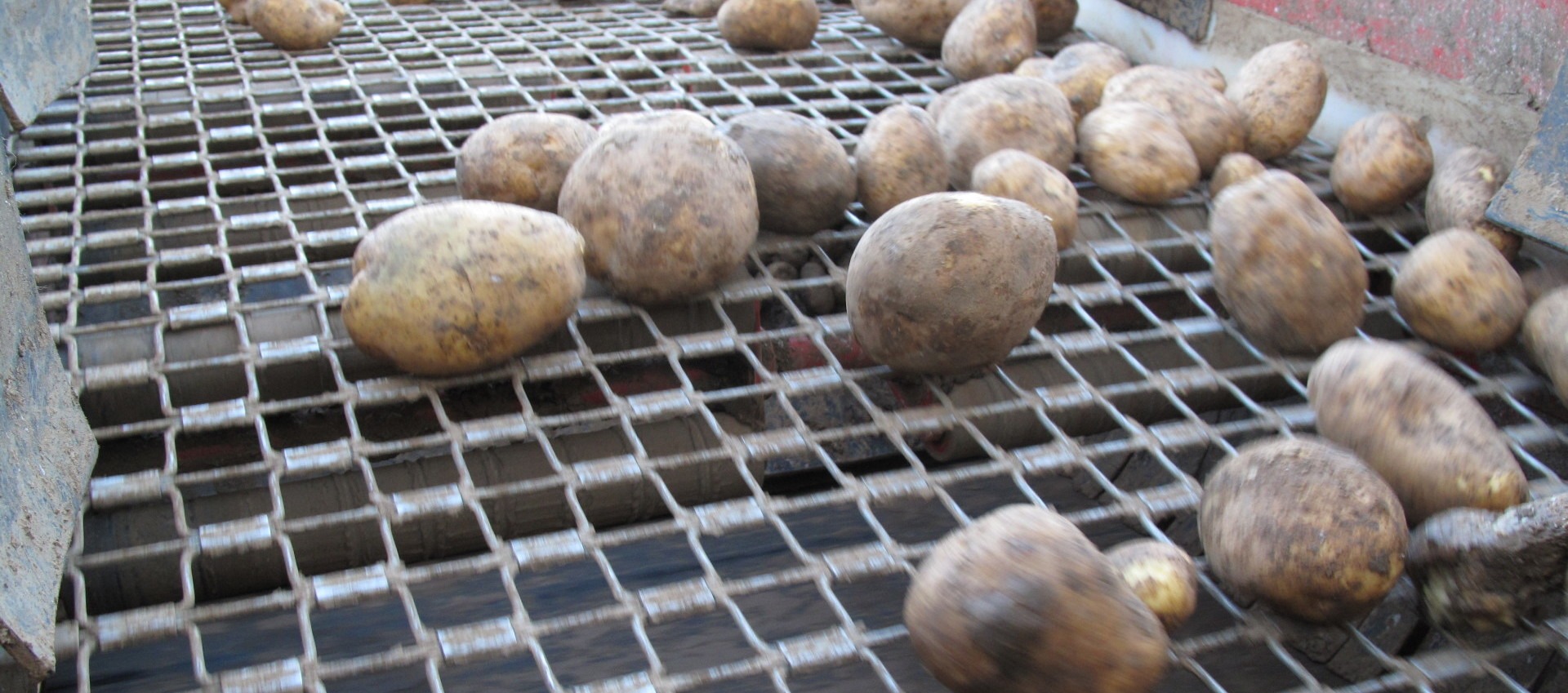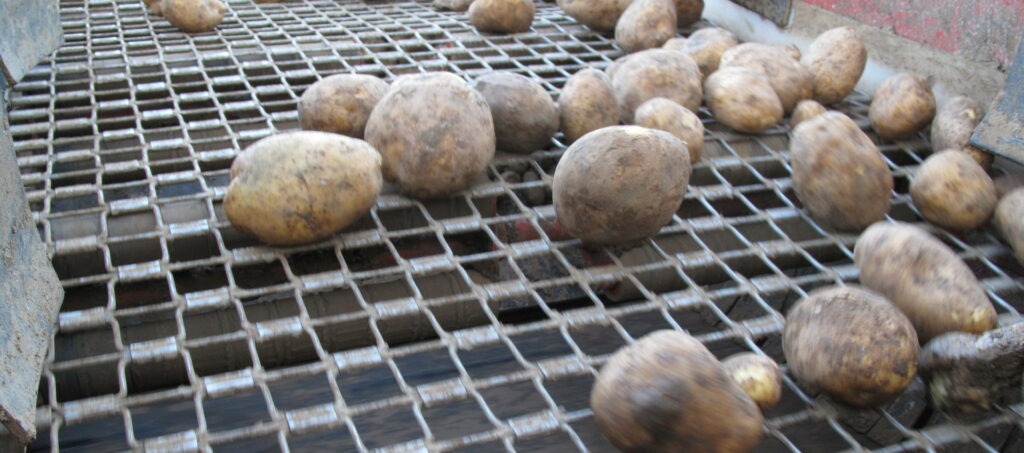 6. Potato Inspection
Check the drop from the screen to the inspection area and ensure this is kept to a minimum. Keep crop feed constant and steady, running too fast could cause damage to the crop and cause it to be missed by those inspecting. Use turn rollers on inspection belts so both sides of crop are inspected as it travels along the conveyors.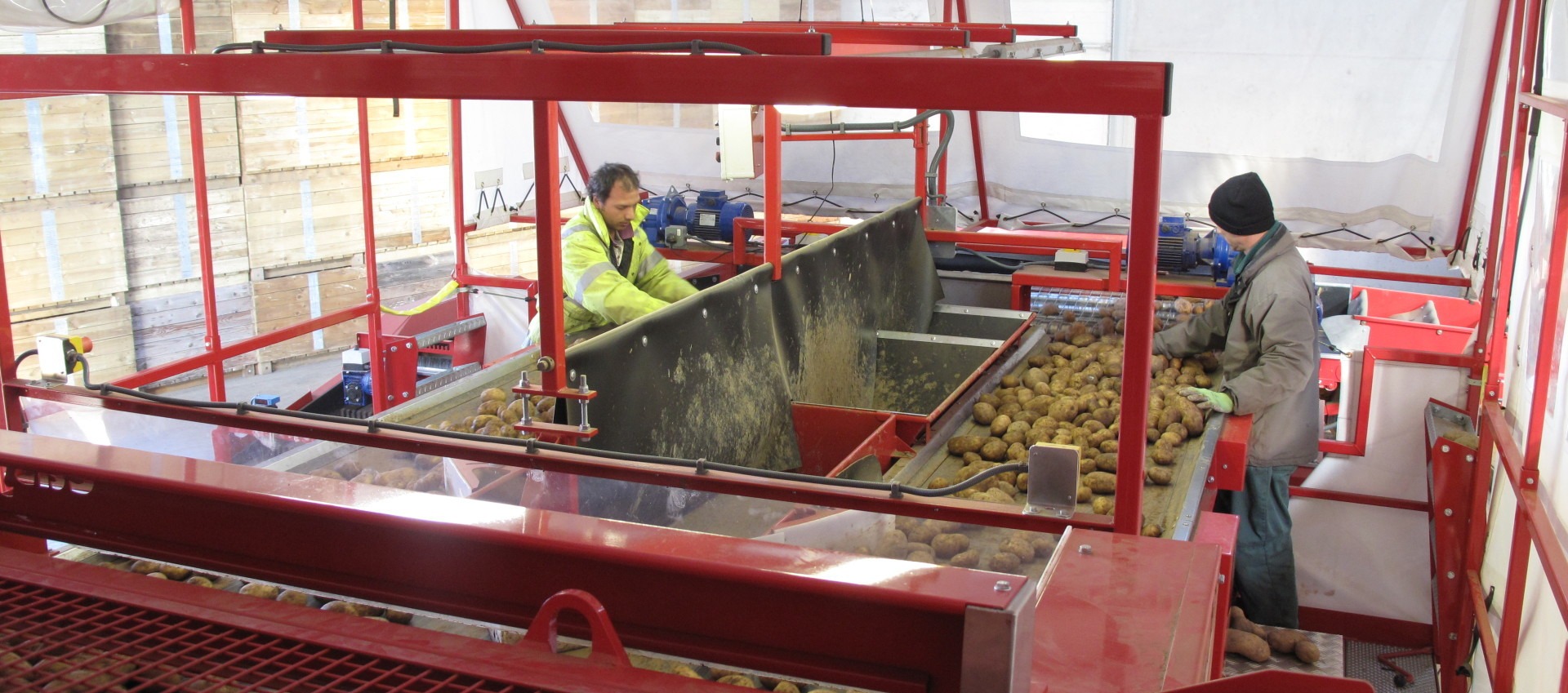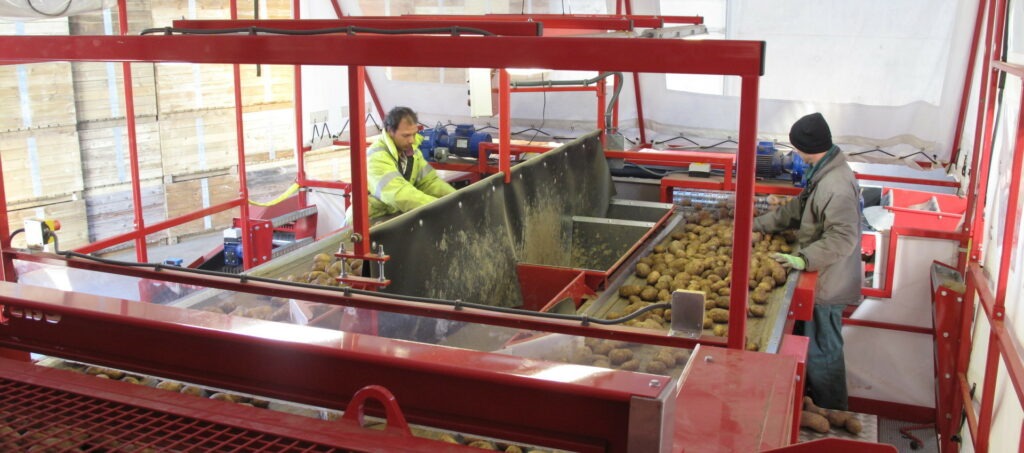 7. Transfer of potatoes to boxes
Ensure the box filling machine keeps the crop drop to a minimum. Ensure the machine belt has deep flight or doorstop fingers to gently hold the crop until it reaches the bottom of the box. This stops it falling quickly into the box. Ensure the sensors are clean, maintained and set correctly to suit your box size to ensure minimal crop damage at all times. Do not over fill boxes, forklift tines and the bottom of the box above can cause damage when stacking.
8. Transfer to bulk storage or bulker/ trailer
Ensure heights are matched between elevators and conveyors at any transfer points, to minimise drop. Keep rubber soft landing at contact points, including elevator hopper, in good condition to minimise damage. Ensure elevator head is controlled carefully so that it is placed as close to stored crop as possible for minimum drop. Match the speed of the grader conveyors and elevator to help keep the flow of crop evenly spread, minimising damage.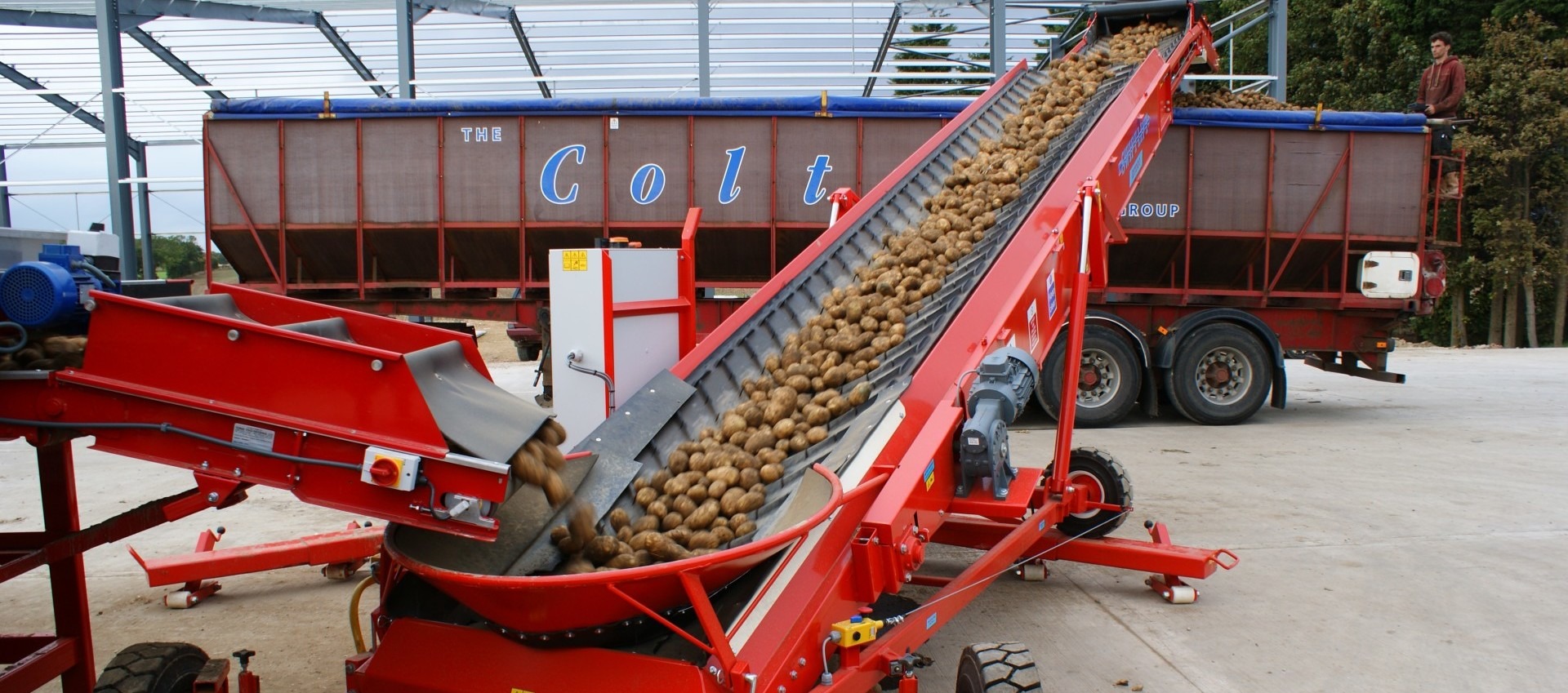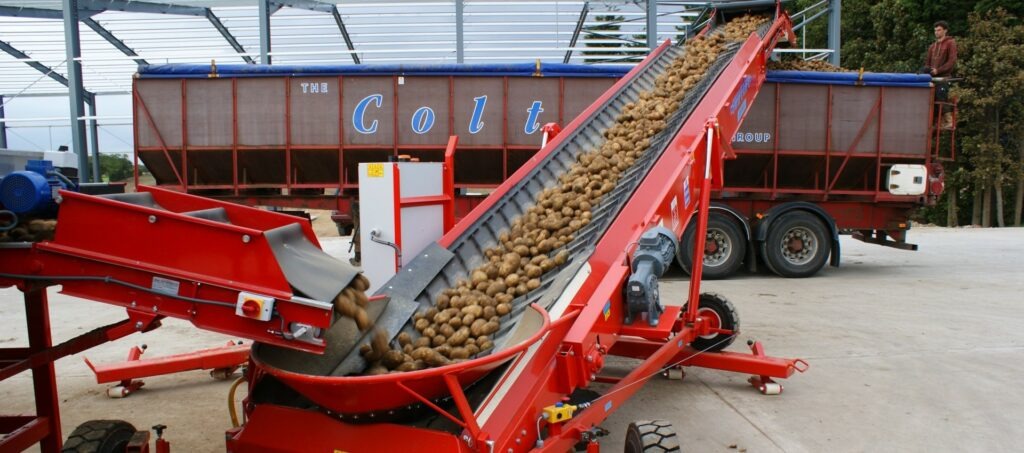 Helpful links:
To view Tong's complete range of potato grading equipment click here.
For more information on how to reduce damage to your potato crop throughout the handling process visit: http://potatoes.ahdb.org.uk/growing/bruising
You can download the AHDB Potatoes handy checklist for your potato grading team to ensure gentle handling of crop at all times here: http://potatoes.ahdb.org.uk/sites/default/files/publication_upload/GradingChecklist_English.pdf