After a very warm and dry summer in 2018, potato growers were left facing very challenging lifting conditions, a reduction in yield and variable crop quality. Whilst low volumes typically result in preferable prices in the usual supply and demand way, contract-growers in particular, have faced the subsequent challenge of keeping up with demand.
Debates surrounding climate-change are unearthing questions whether warm, dry summers may be a taste of the future, and if this will leave growers facing similar challenges long-term.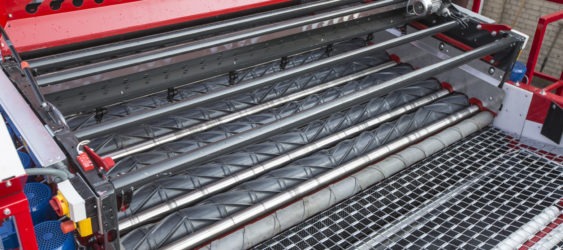 With this in mind, growers and processors are looking at ways to utilise more crop, and as always, reduce costs. This focus on keeping the handling process as efficient as possible, both in terms of minimising waste and increasing productivity, is nothing new. However, it is these key factors that continue to shape the way in which handling solutions are advancing to suit market demands.
"Talking to our customers, there is a definite emphasis on ensuring the handling process from field to pack, is both cost and labour efficient," says Edward Tong, Managing Director at Tong Engineering. "Energy efficiency and environmentally-responsible processes are also high on the agenda."
"In the field, reducing 'crop miles' and the amount of harvest-related soil on the roads is a top priority, with many growers looking at options that allow them to load crop for onward transport, at the field side," says Edward Tong, Managing Director at Tong Engineering.
One such example is a new fieldloader machine recently launched by Tong, which offers in-field and on-farm cleaning and loading of crop. The new FieldLoad PRO will receive and clean crop at high capacities straight from trailers filled by the harvester, ensuring soil and debris is removed from crop in the field, significantly reducing the need to transport crop, and soil, from field to farm.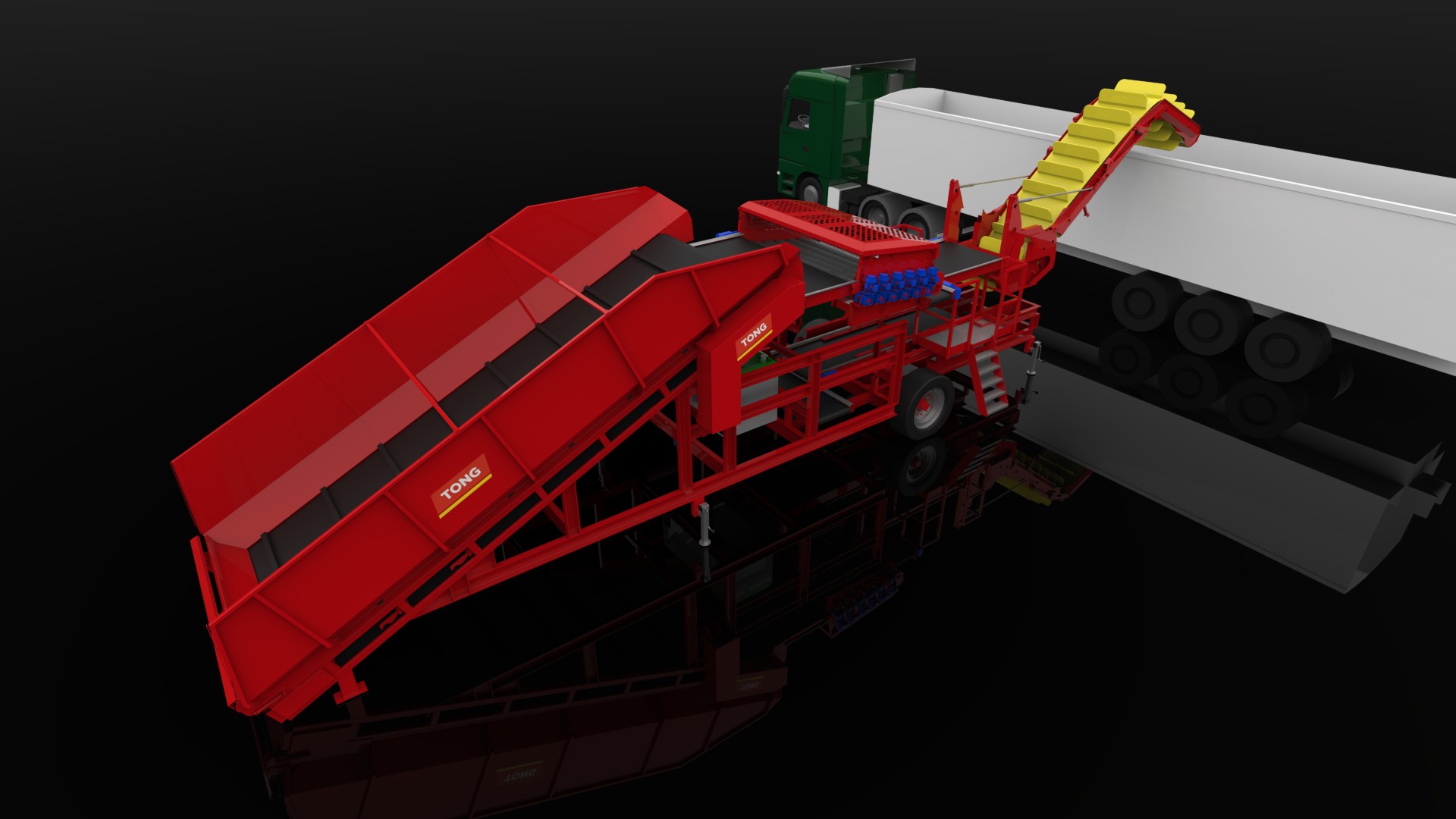 "Throughout the potato handling process, labour and its associated costs, continues to be one of the key factors that prompts a majority of equipment upgrades," explains Edward. "Reducing labour requirements has a bottom-line effect on increasing efficiency and productivity."
In most cases, a reduction in labour requirements coupled with an increase in automation, means the line can run more continuously for maximum throughput.
On a single machine level, advances in box tipping equipment for example, have allowed a more continuous flow of crop to be achieved onto the vegetable handling line, for increased throughput with minimum labour requirements. Tong's side-eject box tipper has been a popular choice over the years as it allows boxes to be reloaded into the tipping cradle before the empty box is removed, meaning more continuous operation and reduced forklift movement which is achievable with only one forklift operator.
All electric box tippers are now available on the market, like Tong's Revolver box tipper, which are designed to not only increase energy efficiency with all electric drive, but also to increase throughput and reduce forklift movement by ejecting empty boxes away from the cradle for more continuous operation.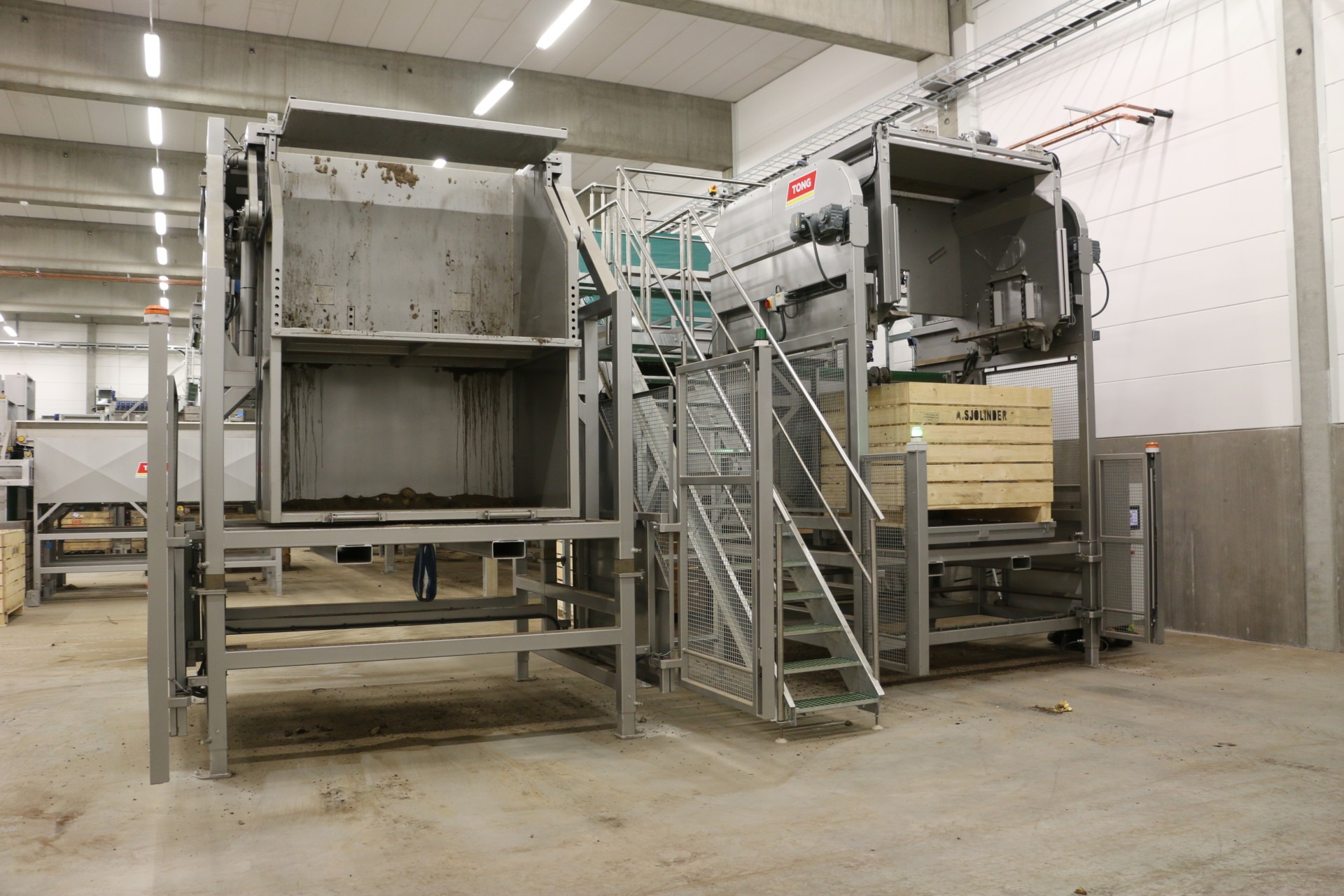 "Looking at labour savings and increased throughput on a larger scale, the technology behind optical sorting machines is advancing all the time," says Edward. "With these options, the requirement for manual sorting is significantly reduced, meaning not only a significant saving in labour costs, but also in most cases, the potential for increased accuracy and throughput."
"One recent area of advancement in optical sorting is the availability of optical sorting equipment for use on dirty crop. Whilst optical sorting of washed crop is an increasingly commonplace process, the removal of stones and clod from dirty crop still remains a largely manual process for most," says Edward.
"As official UK distributor of the Visar Sortop Optical Sorter, which was originally designed to effectively source carrots with minimal labour requirements, we are now talking to potato growers and processors about the new Visar sorter for potatoes," explains Edward. "The new model of the Sortop has been developed to bring a fully automated optical sorter to the potato industry, which can be specified for use in both washed and unwashed conditions."
Due to its intelligent software, which allows the Sortop's software to automatically and progressively learn which faults are acceptable or not, as it works, the Visar Optical sorter for potatoes removes the need for tedious adjusting and programming that is often required with other sorting machines, and most importantly, it helps to significantly reduce labour costs whilst improving yield and reducing waste.
"Following the success of Visar's optical carrot sorter, the potato model brings the same advanced optical sorting technology to the potato grading and handling industry, allowing the machine to achieve a unique and perfect 360 degree image of each and every potato that passes through, offering unrivalled potato sorting capabilities," highlights Edward. "Visar's optical potato sorter is exceptionally accurate and consistent, it allows potato growers and processors to quality sort, grade and weigh crop more efficiently and accurately with one machine, without the need for manual sorting."
Using the same HD colour vision camera as the carrot model, as well as the addition of 360 degree HD infra-red vision, the potato specification Visar can detect even the slightest defects including wireworm damage, rot, blight and scab. After the potato has passed the camera, the machine removes the need for manual sorting through a compressed air ejection system that can separate crop by size, shape or weight through to six exit points. Each exit is cushioned to protect against damage and the sorted crop can then be easily moved on to another handling process or to the supermarket shelf, thanks to the machine's exceptionally low error rate.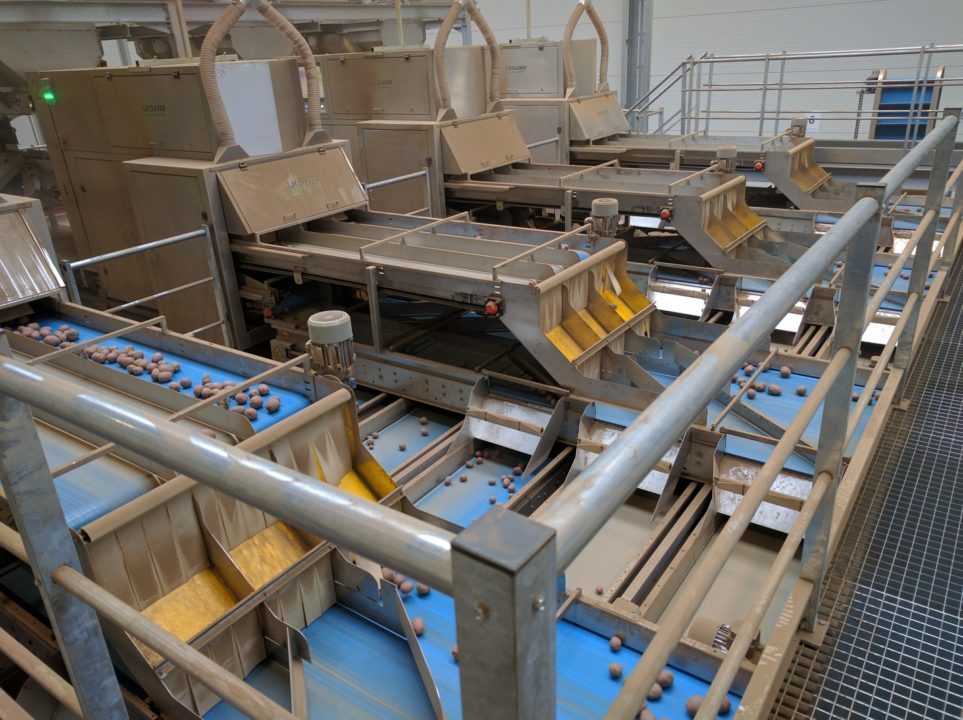 "By detecting crop defaults in a split-second, it allows customers to increase the volumes deemed fit for sale by at least five per cent compared to manual sorting – an impressive increase in a sector where small improvements can make a big difference. With an increase in saleable crop and a noticeable reduction in waste, alongside significant savings in manual labour requirements and costs, the can offer a very quick return on investment" adds Edward.
Optical sorting for unwashed crop can now also be specified on selected mobile grading machines on the market. The Tong Caretaker mobile grader can be fitted with the option of an integrated optical sorter in place of a standard inspection table, for automatic separation of foreign material from crop.
Using the latest camera technology, the optical sorter within the Caretaker, scans all items whilst in-flight to identify and separate crop from clod, stones and foreign objects including wood, plastic, glass, bone, rubber, metal and more. The machine offers effective separation for a wide range of potato varieties, including main, seed and processing crop.
"This trend towards integrating automated equipment within the potato handling process to improve consistency, increase productivity and reduce labour costs, is something we are working on continuously with our customers on new projects," says Edward. "Equipment advances are not limited to developments in sorting and grading; there are many ways in which potato growers and packers can use the latest innovations to increase efficiency and minimise the need for manual processes."
Other examples include the addition of an effective separator at the start of the dirty crop handling process, like Tong's EasyClean separator. This allows much of the soil and debris that is lifted with crop during harvest to be effectively removed at the beginning of the handling process, resulting in more effective grading and washing results, as well as reduced requirements for inspection staff. When fitted with the latest touch-screen control systems, soil separators like the EasyClean, can be easily adjusted to suit different crop types and cleaning conditions for maximum effect.
When specifying new potato washing equipment, integrating a destoner within a washing system to automate the stone removal process, offers much greater reliability and requires much less labour than removing stones manually.
"In summary, despite the challenges faced this year and the prospect that they may be a foretaste of climate change, it is important that growers and processors look at the benefits that the latest handling equipment innovations bring to help minimise the impact of variable market conditions and maintain strong crop revenue," says Edward.
"Whilst it is important, when yields are low, that supply chains continue to work closely together to keep crop specifications achievable, advanced and gentle handling processes that maximise the level of saleable crop, reduce costs and increase productivity are more important than ever."