As part of our new Spotlight blog feature, we grab 15 minutes with a valued member of team Tong to highlight the invaluable role they play in ensuring we build relationships and equipment that lasts for generations to come.
We're very proud of our friendly and forward-thinking culture here at Tong Engineering, and it is fuelled by the talented and experienced people we are proud to have as part of our workforce. We thrive on the commitment we share together at Tong; where it's not just a job, it's a shared passion to achieve the best for our company and our customers.
So, this week we've been chatting with Luke Taylor, who you will find in our buzzing Design department. We're a family-run business here at Tong, and there's more than one Taylor family member in our team; Luke's father Ian heads-up our final assembly department, and Luke worked closely with his dad in the factory when he first joined the company. Luke's time in final assembly has proved priceless in his deep understanding of how attention to detail at every stage of the design and manufacturing process is critical to the success of each and every piece of equipment that leaves the Tong factory. So let's find out a little bit more about Luke…
Job Role: Design Engineer
Number of years worked at Tong: 2 years
What does your day-to-day at Tong involve? Primarily I spend my day 3D modelling using Solidworks 3D design software. I also create production drawings that go to the factory for fabrication. Liaising with the sales department and the customer is an integral part of my job to ensure the final design is perfected prior to production, and that everything we do meets our customer's needs.
Describe Tong in 3 words: Customer comes first!
What makes you proud to work at Tong? It's amazing to think that projects I've worked on are exported all over the world.
What's your favourite project you have worked on at Tong? I can't say I have a particular favourite, I think every job is as important as the next. My satisfaction comes from seeing projects progressing smoothly from design through each stage of manufacture, and then seeing it working in full time operation.
What's the best thing you have learned on the job? You never stop learning! The most important thing for me as a design engineer is to always think outside of the box.
If you weren't living your dream at Tong, what would your dream job be?! I always wanted to get into design engineering, I enjoy the creativity and problem solving.
Sounds like you're in your dream job then Luke!…
Do you have any secret talents or hobbies? 3D printing, my latest project was a fully 3D printed RC plane.
What's your favourite vegetable? Can't beat broccoli, got to love your greens!
One word to describe our home county of Lincolnshire? Green!
Favourite place to holiday? The best place I have been has got to be Australia, we travelled from Cairns to Brisbane stopping along the way to enjoy the sights, from walking through thick jungle to scuba diving on the great barrier reef.
Finally, let's get some pictures of you with that huge 3D-printed plane you mention!…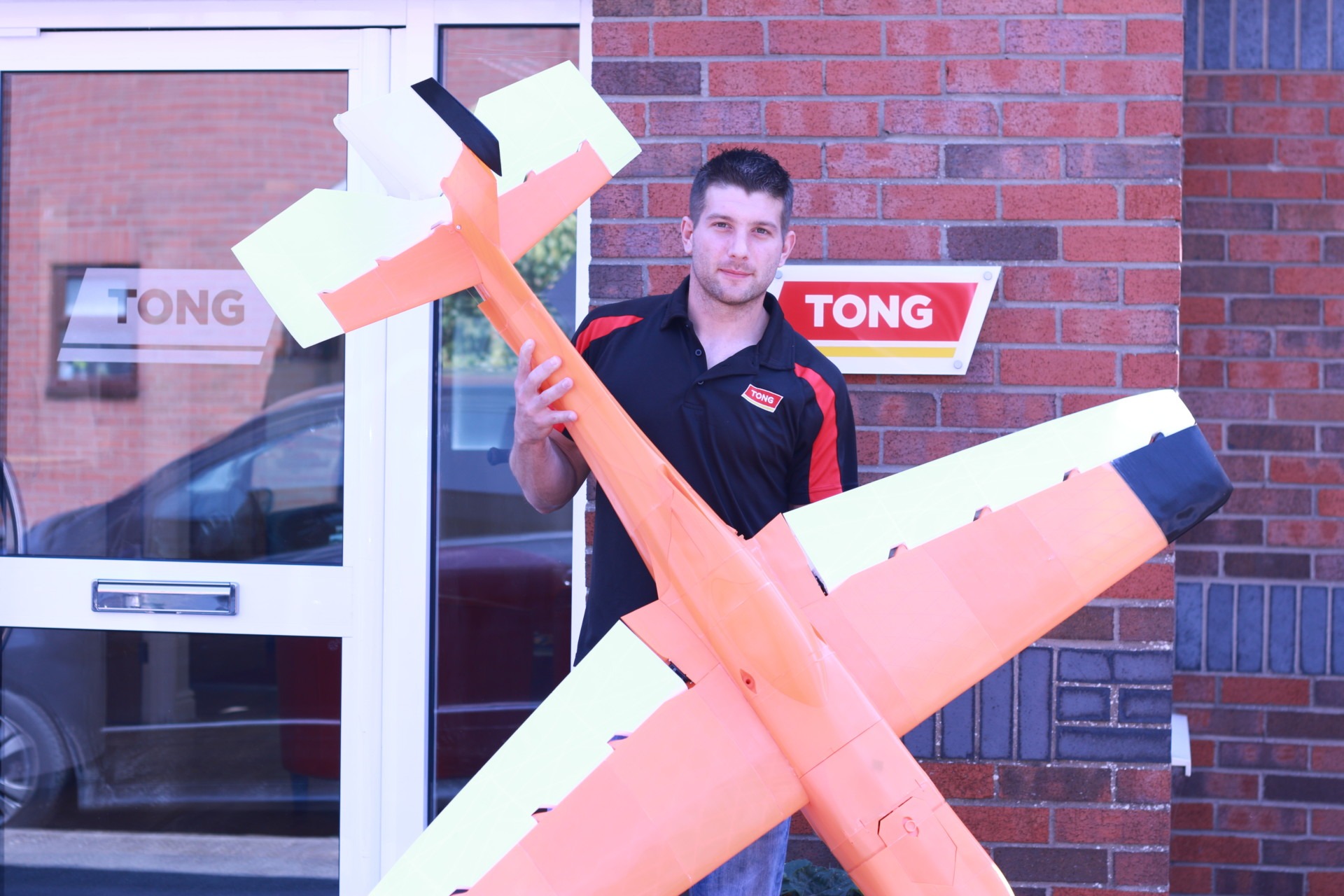 Blimey – that's huge Luke! And just amazing that this has been made by a 3D printer… any chance of a Caretaker next time?
And now a couple of pictures of you at work…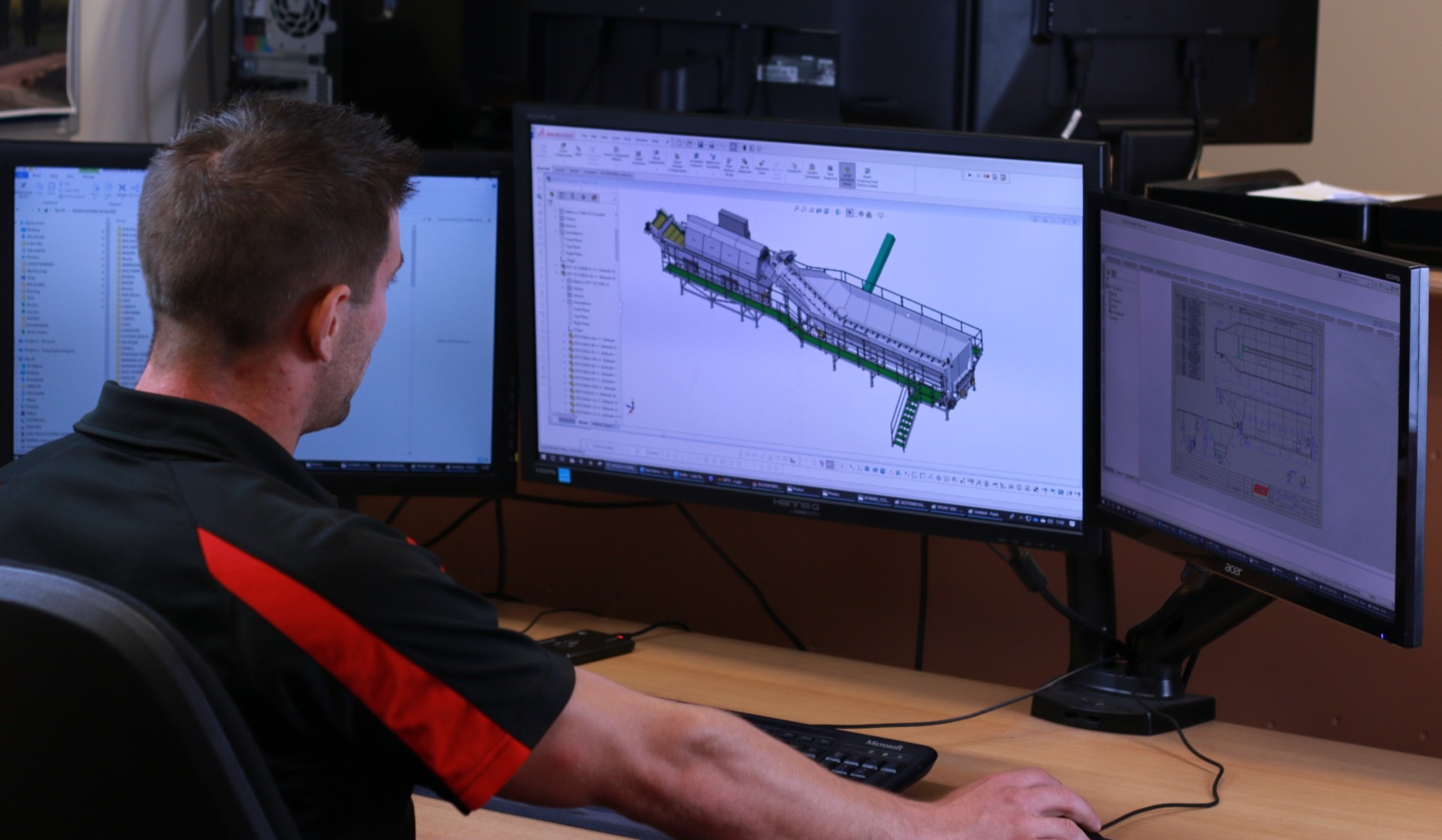 From design… to actually standing in front of that same great big pre-soak tank in production!…