Tong Engineering has announced its next generation Barrel Washer as the company continues to advance its complete range of vegetable washing solutions.
Contents
1. The all-new barrel washer
2. Greater control of crop flow
3. Standalone unit or integrated to existing handling line
The all-new barrel washer
Built with efficiency, reliability and ease of maintenance in mind, Tong's proven barrel washer design has been enhanced with a number of new and advanced features as standard. Suitable for washing a wide range of root crops, Tong's potato and vegetable barrel washer is most popularly used for efficient and gentle potato and carrot washing, as well as effective washing of parsnips, celeriac, sugar beet, swedes and more.
Tong's Blue Inverter Technology continues to play a pivotal role in ensuring maximum energy efficiency and minimal maintenance on Tong barrel washers. One of the key advances in the new barrel washer design is a new direct-drive, inverter-controlled barrel drive shaft with heavy duty coupling.
"By replacing the chain and sprocket drive system with a new direct-driven shaft, we have really made a significant development in the simplicity, and ultimately longevity, of the barrel washer's drive system," explains Edward. "Our Blue Inverter technology direct drive systems mean power from the motor is being used efficiently, with no reductions and fewer moving parts, resulting in a very energy efficient and low maintenance machine."
Greater control of crop flow
An all-new washer door will now bring users even greater control of crop flow from the washer, with a unique split-door design that is easily and fully adjustable via electric actuators. Like the new barrel shaft drive system, this new door design also ensures a chain and sprocket-free mechanism that is exceptionally efficient and very low maintenance.
The next generation Tong barrel washer also features a new, thicker stainless steel barrel drum. As standard, all new Tong barrel washers will be fitted with the new stainless steel drum, which is uniquely perforated for the gentlest handling of crop.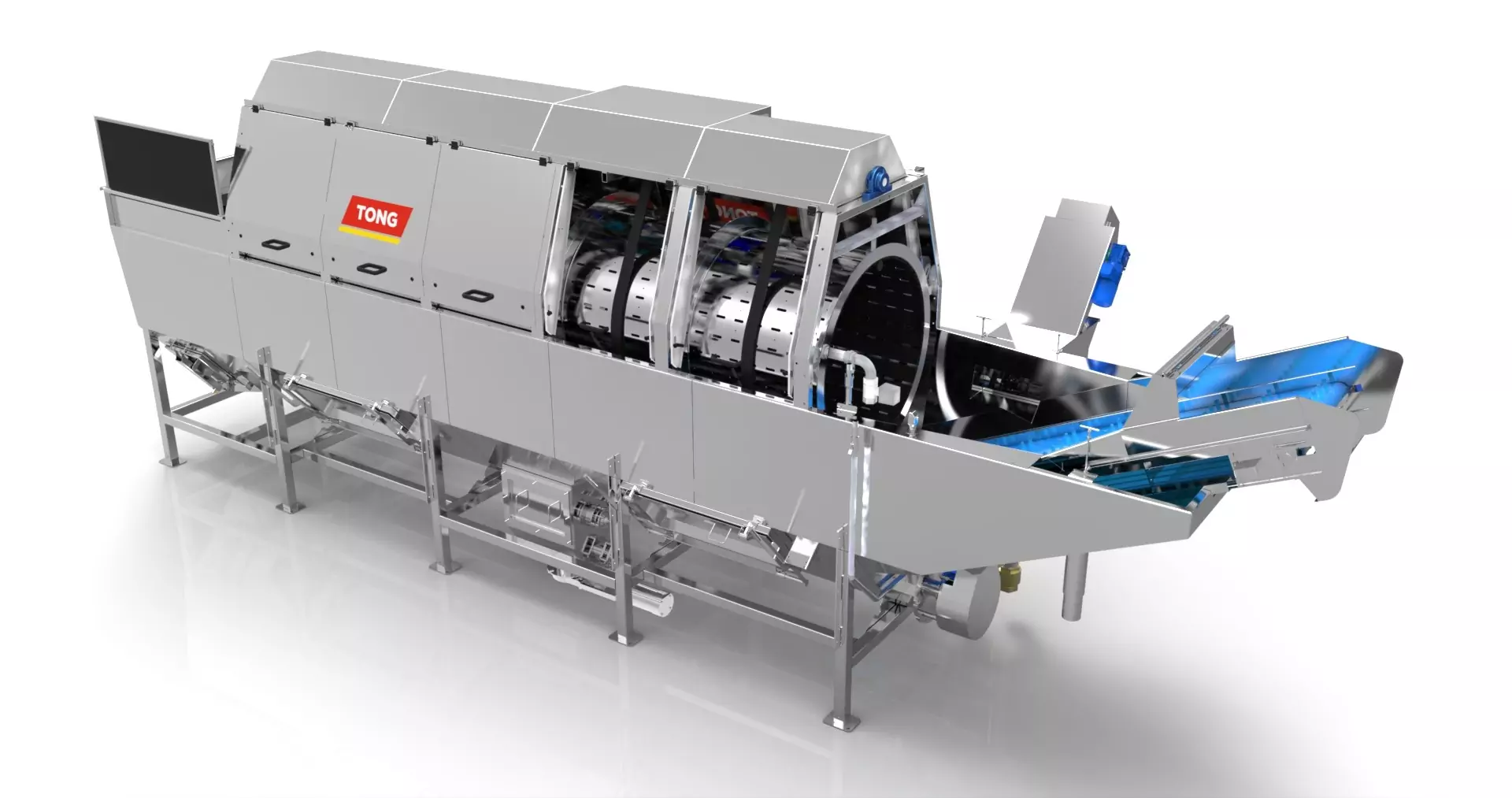 Alongside the introduction of the above features as standard, Tong's new barrel washer will also be available to order with a number of new and advanced options to further-increase the specification of the washer to suit specific requirements. A simplified top-shaft design incorporating Cooper split bearings will now be available as an option to eliminate the need for shaft removal when changing bearings, making maintenance even easier. Other new features include the option of a new heavy-duty direct-driven auger, a newly designed floating-debris remover, and centralised greasing point; all with minimal maintenance and maximum performance in mind.
Standalone unit or integrated to existing handling line
Manufactured in barrel lengths ranging from 1.2m – 5m and barrel widths from 600mm – 1500mm, the Tong Barrel Washer can be specified as a stand-alone unit or integrated into a new or existing handling line. The washer is available in a wide range of specifications as standard, or can be fully customised to suit exact washing requirements to suit all throughputs, however large or small.
"The new design developments on Tong barrel washers are bringing users an unrivalled washing solution that is even more advanced than ever before," says Edward. "Our next generation Barrel Washer design, alongside our proven Auto-Touch HMI controls which include intelligent diagnostics and safety modules, mean when our customers choose a Tong washer, they can be sure of a high-performance, low maintenance machine that brings optimum washing results."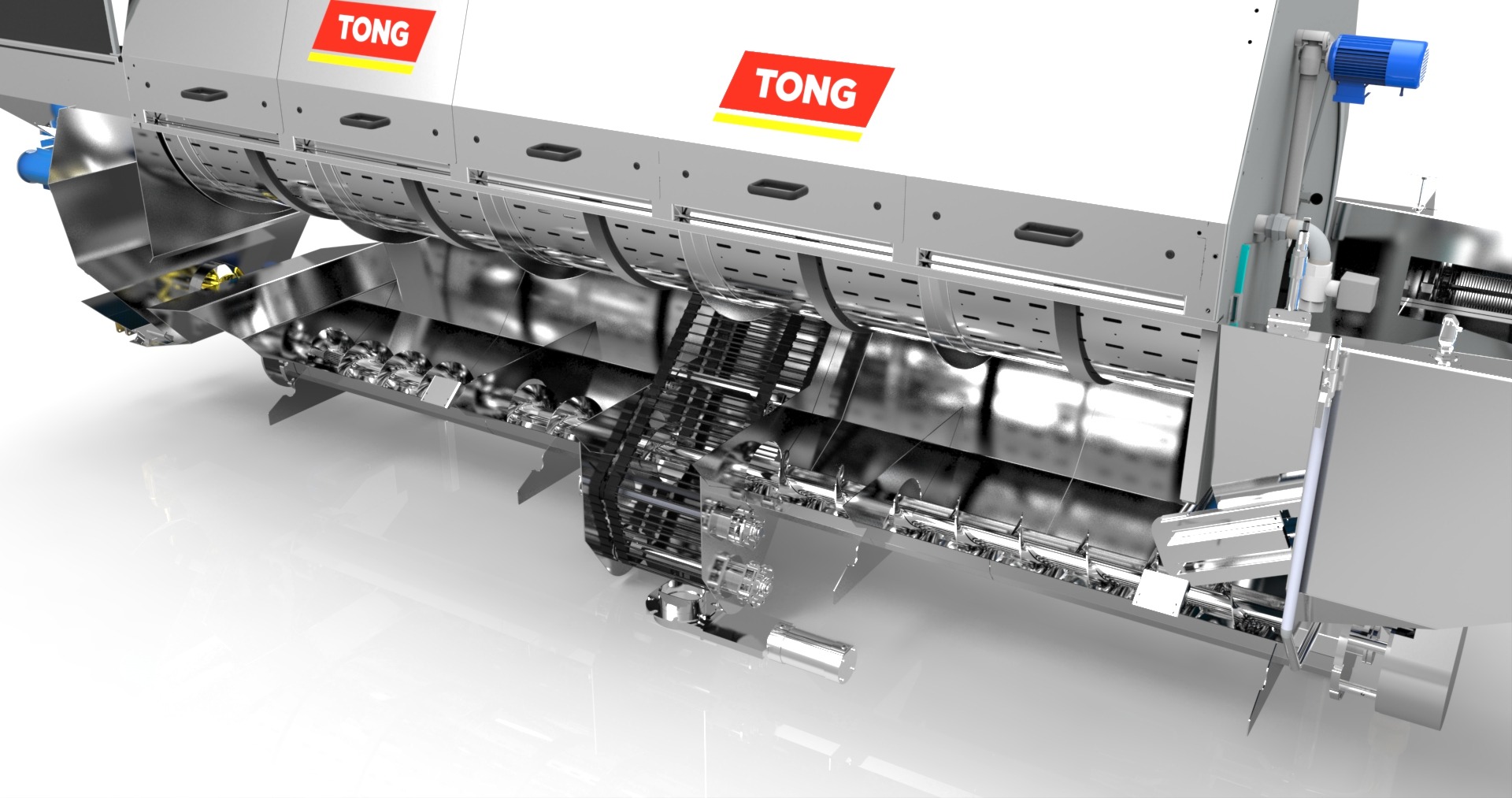 For more information on Tong's wide range of potato and vegetable washing equipment, click here.