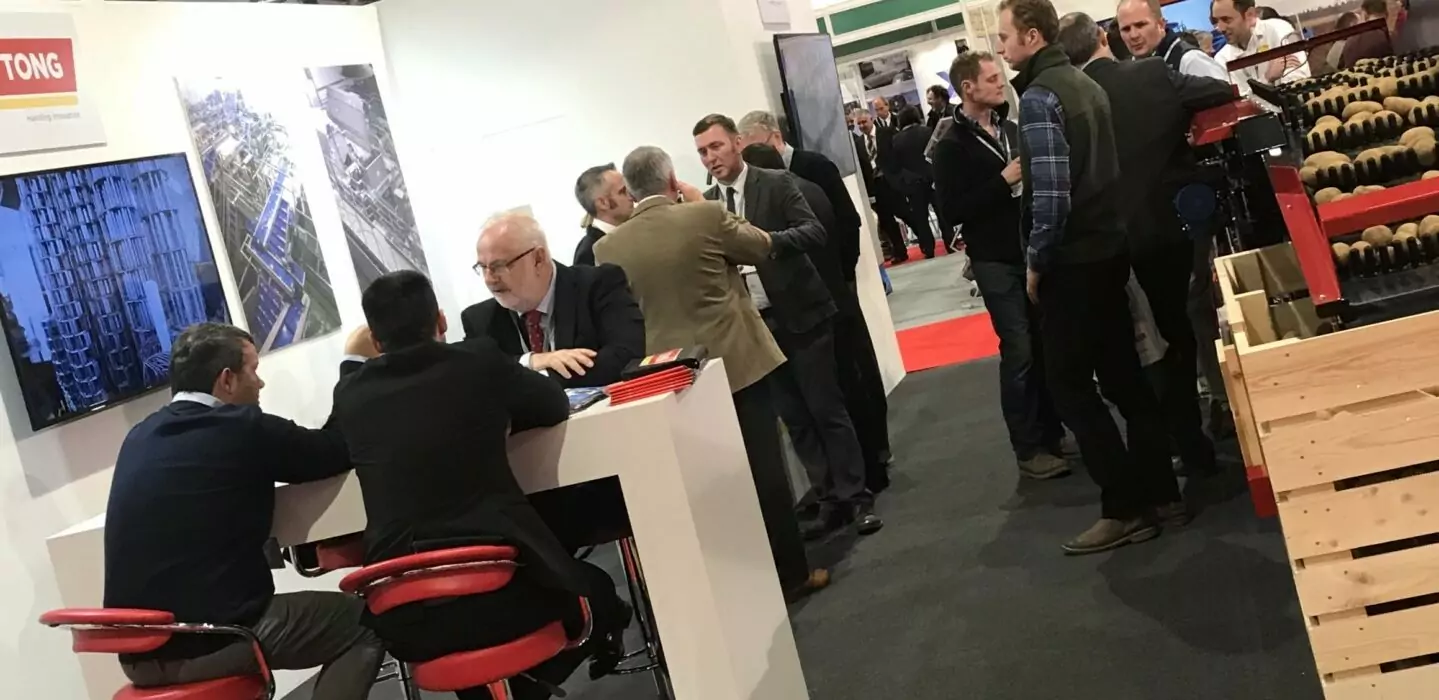 Leading potato and vegetable handling equipment manufacturer, and sponsor of the BP2019 British Potato exhibition, Tong Engineering, will be kickstarting its 90th Anniversary celebrations at the UK's largest biannual potato event in November.
Exhibiting in Hall 2 at the Yorkshire Event Centre in Harrogate, Tong is welcoming visitors to the event to visit their stand to discuss the latest developments in advanced potato handling solutions, whilst joining them in launching their milestone anniversary celebrations, which will continue throughout 2020.
With engineering roots dating back to 1930, the company has grown into an Internationally renowned manufacturer of high-quality grading, washing, polishing, processing and box handling equipment, with more than 165 employees and a new state-of-the-art production facility scheduled for completion in Spring 2020.
"We are very grateful to our customers in the UK and overseas for the opportunities over the years to design and manufacture some of the most advanced vegetable handling systems," says Edward Tong, Managing Director at Tong Engineering. "Our company's development, reputation and track record has been built upon our close working relationships with growers and processors of all sizes, which has allowed us to continuously underpin the ongoing demands of the potato and vegetable industry to design solutions that address challenges, minimise costs and add value."
Tong Engineering Chairman Charles Tong explains "Our anniversary celebrations highlight our ongoing commitment to the industry to invest in the latest technological advancements; whether that is in progressive equipment controls or modern drive systems that have become indispensable in meeting the demands of both our customers, their customers, and the end consumer."
"Over the past 90 years, equipment developments have shaped the quality of the potato and vegetable handling process. This great tradition also represents our dedication and direction for the future, to ensure modern handling systems remain both productive and profitable for our customers, with their current and future requirements in mind," says Charles.
"We have launched several new products in 2019," adds Edward. "We have made some key developments in our range of washing equipment, including our next generation Barrel Washer and new Pre-Soak tank with integrated destoner, which has resulted in a record number of sales of our Barrel Washer this year. Our new Fieldloader machine, the FieldLoad PRO, and our new high capacity MonstaFill box filler are already proving to dramatically increase efficiency for growers in our UK and export markets. These new additions and developments to our range, alongside our ongoing relationships with other best-in-class manufacturers in the industry, ensure that we continue to offer growers and processors the complete vegetable handling solution, from field to pack."
"The British Potato Exhibition is always a very well-attended event and gives us the perfect opportunity to meet with our customers and discuss our equipment advances with those looking to maximise the performance of their handling processes in 2020. We very much welcome all of our customers old and new to join us over the two-day event, on our stand 209, to kickstart our 90th Anniversary celebrations and chat about their upcoming projects over a selection of tasteful appetisers and refreshments."
For more information on BP2019, or to register for the event, click here. Registration for the event is free. We look forward to seeing you there.