We must admit we've been talking about it for some time now, and we've made it no secret how impressed we are by the capabilities of the award-winning Visar Sortop (of which we are UK distributor), but now one of the UK's leading National newspapers, The Daily Mail, has published an article on the market's leading optical sorter, claiming it to be 'Strangely mesmerizing!'.
Written by Rachael Burford for MailOnline, you can read the full Daily Mail article here. It seems that those outside of our vital vegetable handling industry are quite literally 'mesmerized' by some of the latest vegetable processing and sorting techniques that take place prior to them seeing the end product on the supermarket shelves. To see the 'oddly satisfying' video of the Visar potato sorter in action, hit play on the video below!
As the article's editor suggests in her comment that the potato sorter works at 'lightning speed', the Visar Sortop is indeed very quick at determining the quality, weight and grade of each potato or carrot. The 360 degree mirror system within the Visar's optical sorting system means that every carrot and potato is entirely analysed at an impressive rate of 12 to 15 carrots per second. And to allay any concerns over crop bruising or damage, Visar has placed gentle handling as top priority; each potato or carrot passing through the optical sorter is handled exceptionally gently with no drops. Soft-lined output areas ensure the highest quality crop with no damage or breakages.  These are just some of the reasons for considering an advanced optical sorting line; another topic on its own that you can read more about here!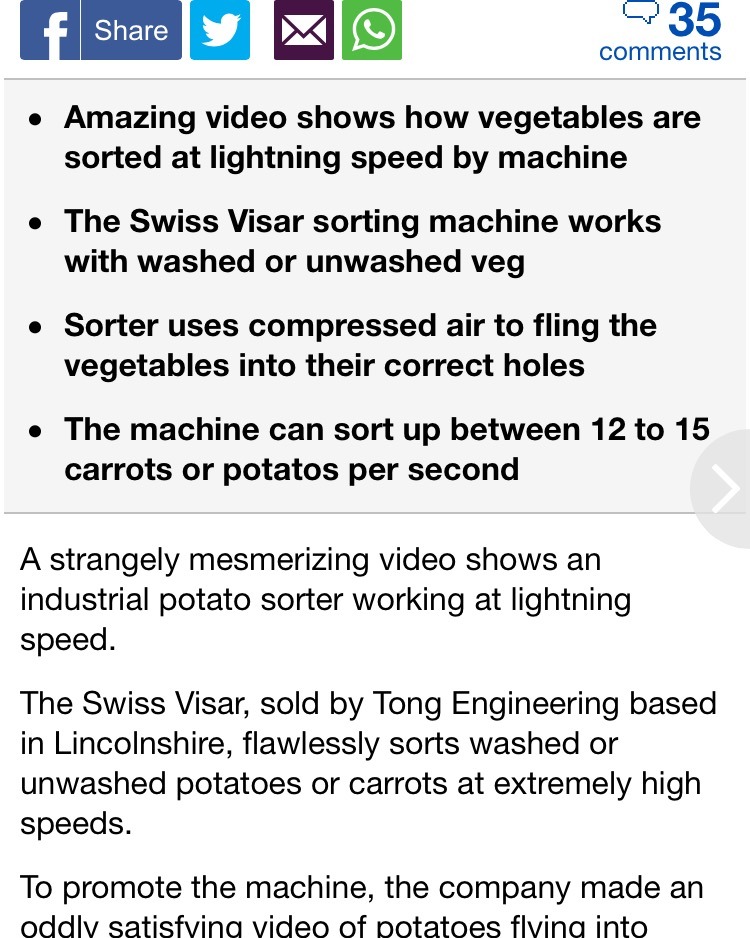 One forward-thinking vegetable grower and processor who quickly recognised the potential savings that the Visar Sortop has to offer was Guy Poskitt, Managing Director of the East-Yorkshire family farming business M H Poskitt Ltd. Mr Poskitt invested in a complete Visar optical carrot sorting line from Tong in 2016, and you can read more about the company's advanced Visar sorting facility here.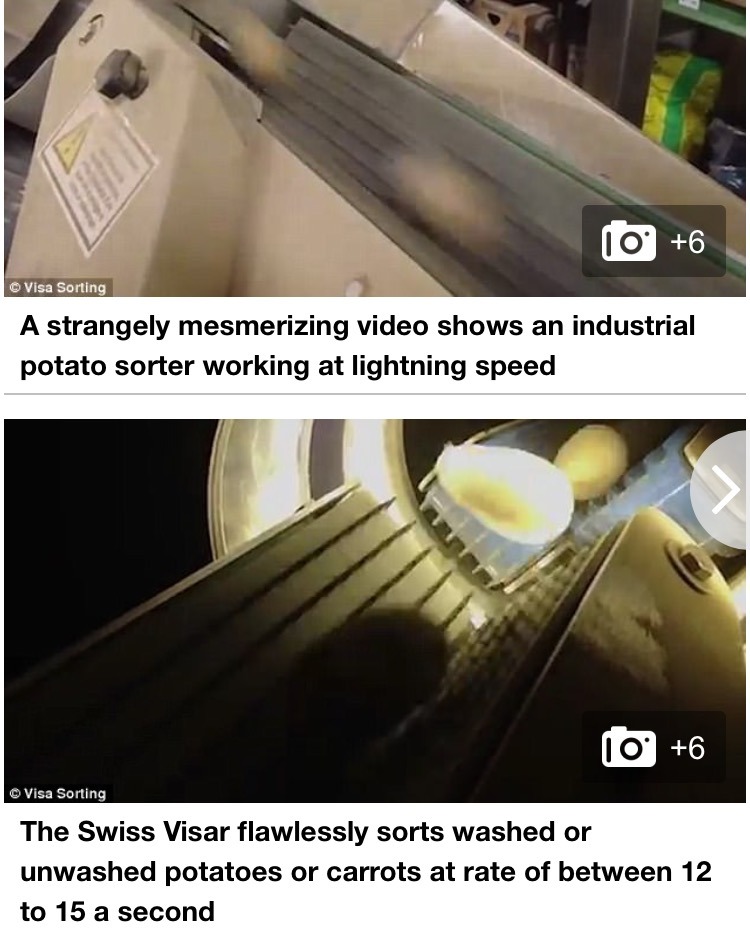 So, when it comes to seeing our name, and Visar's, in the national news, as you can imagine, although we were dazzled by the Visar's efficiencies from day one, we were quite literally mesmerized ourselves at their interest in how technology is shaping our vital yet humble industry…  It's always nice to be recognised by the national media!
If you find the Visar's potato sorting capabilities 'oddly satisfying' here's another video showing one of the latest Visar optical potato sorting installations in action, just for your satisfaction… Enjoy!