Vegetable Washing Brochure
Vegetable Washing Brochure
Custom Built
From concept through design and manufacture, to installation and after sales support, Tong specialises in producing technically advanced, custom built machinery. Suitable for grading, washing and handling a wide range of crop in the most efficient and gentle way.
Robust, reliable and expertly engineered, Tong vegetable washers offer an advanced and efficient washing solution for all types of root crops. Built to suit exact specification, a Tong barrel washer will ensure your produce is the 'clean of the crop'.
Crop Washing
Tong's range of effective and reliable crop destoning equipment ensures all stones are removed from crop prior to the washing process. This ensures crop and equipment damage caused by stones is kept to an absolute minimum.
As an invaluable part of any crop washing system, when you choose a Tong destoner you can be sure it is built to last, bringing increased equipment longevity, and minimal maintenance.
Vegetable Washing
Tong vegetable dryers ensure optimum crop finish by gently and efficiently removing surplus water and residue from crop after washing. Built to incorporate the latest advancements in equipment design,
Tong offers two drive models to suit your requirements; a standard driven sponge dryer and an industrial specification dryer which features all electric inverter direct drive motors on every shaft, for additional energy efficiency, refined control and minimal maintenance.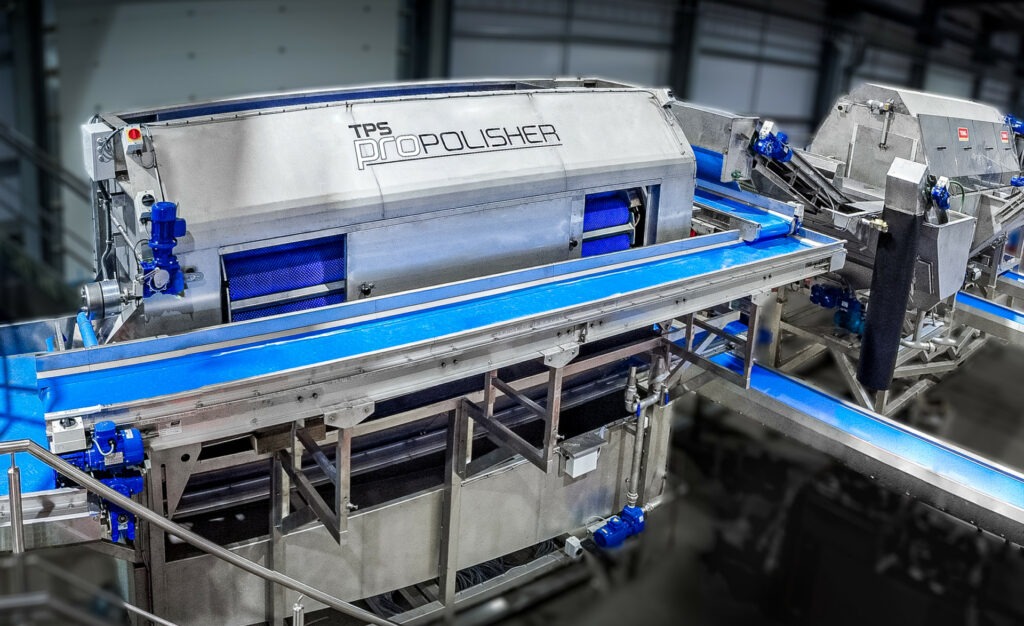 TPS-Pro polisher
Designed with the latest technological advances, the TPS-Pro polisher is Tong's next generation vegetable polisher, featuring an electric direct drive motor inside every shaft.
The self-contained stainless steel motors are sealed within their own oil baths, with waterproof sealed bearings. These key features ensure exceptionally low maintenance operation, for maximum results and optimum labour efficiency.