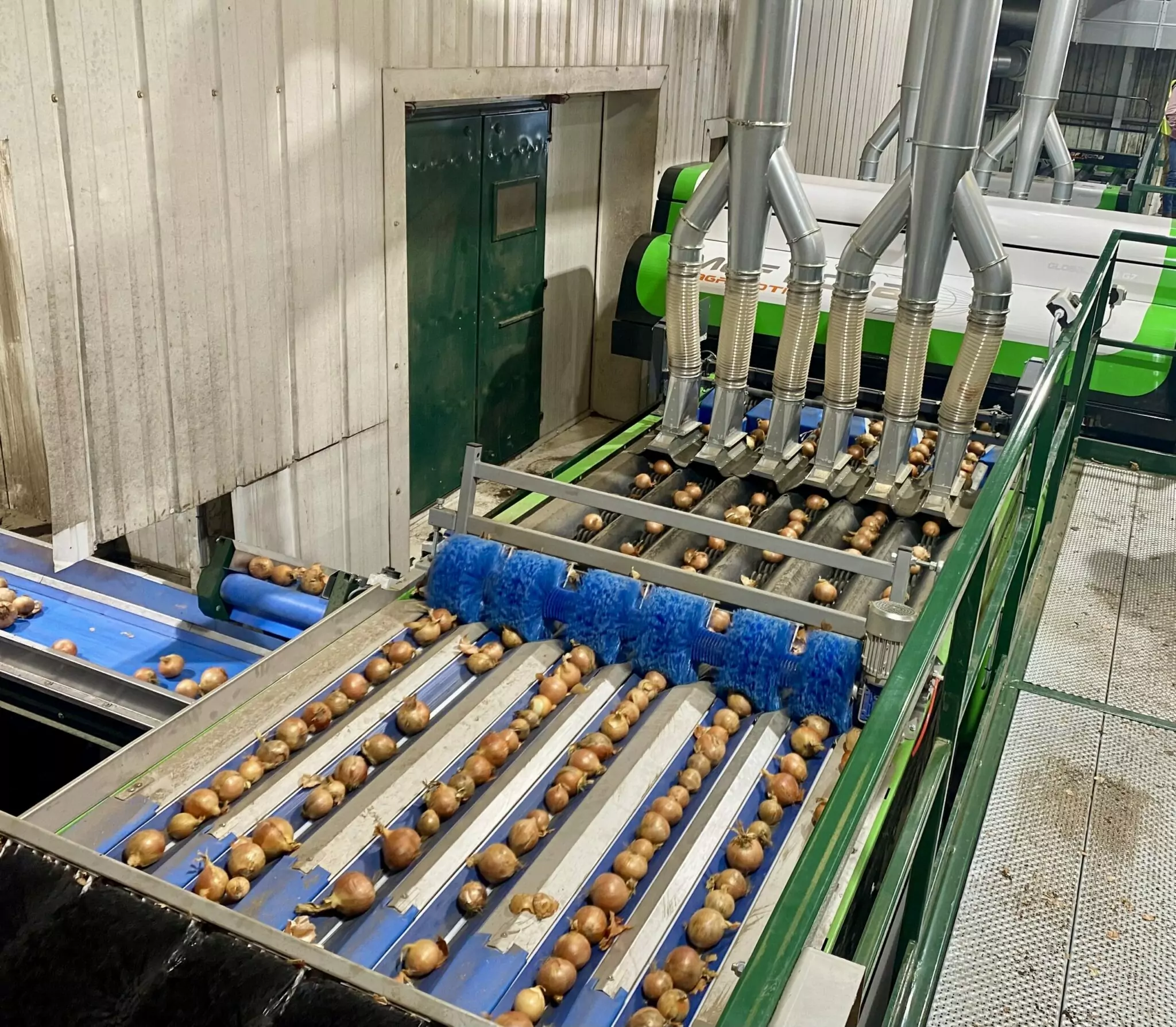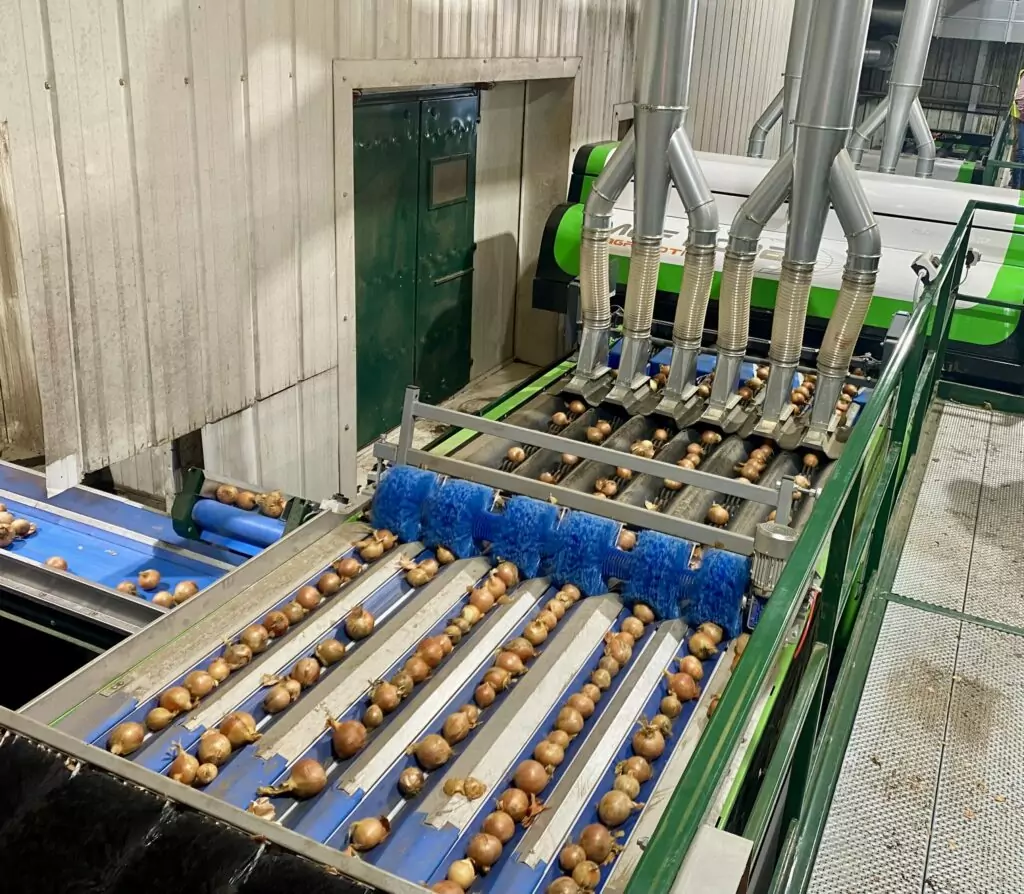 Onion Optical sorting, MAF RODA
Advanced Optical Onion Sorting
One of the UK's most advanced onion handling lines is ensuring first-class quality onions for Peterborough-based onion packer and wholesaler Quality Fruit and Veg Ltd (QFV).
Designed by leading UK manufacturer Tong Engineering, the new optical onion sorting solution at QFV has been custom-built to utilise the company's existing infeed equipment and replace traditional grading facilities with high-performance optical sorting technology from French machinery manufacturer MAF Agrobotic. These new upgrades combined are significantly reducing labour requirements whilst increasing capacity and yield across the company's onion processing operations.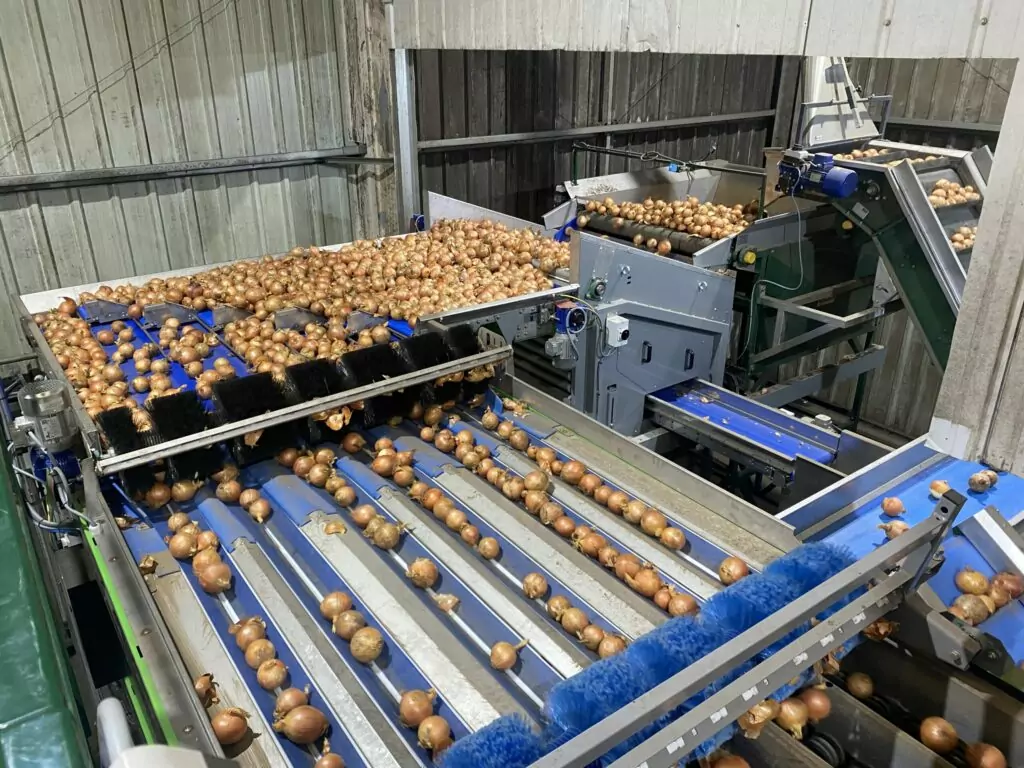 FRUIT AND VEG SORTING
With annual onion processing totalling over 20,000 tons of crop, Quality Fruit & Veg Ltd works closely with its dedicated growers to ensure only the highest quality produce. "The new optical onion sorting facility from Tong is a big investment for QFV," says Muzzafar Ali, company director at Quality Fruit & Veg Ltd. "The availability of suitable labour continues to be a big challenge in our industry, whilst demand for our produce continues to grow. We needed a more automated handling line which allows us to guarantee the quality and availability of our produce. By optically sorting crop, we are able to achieve much more consistent sorting and production."
The new system at QFV is fed by infeed equipment which receives onions transported fresh from the field to QFV via bulker lorries. Once onions are received onto the line, onions are topped with QFV's existing fan topper to ensure the best presentation of crop to the MAF sorter, for optimum sizing and defect sorting.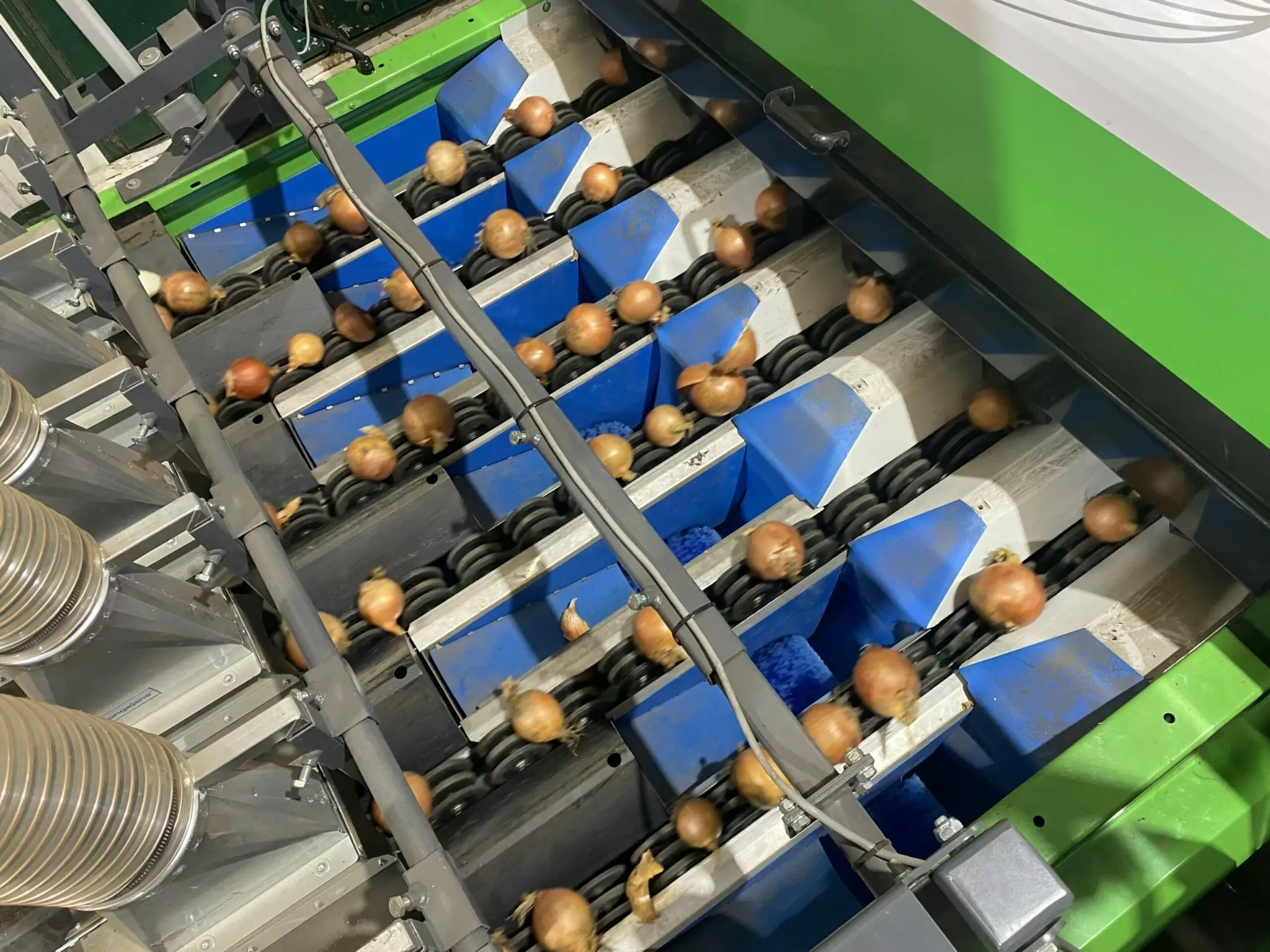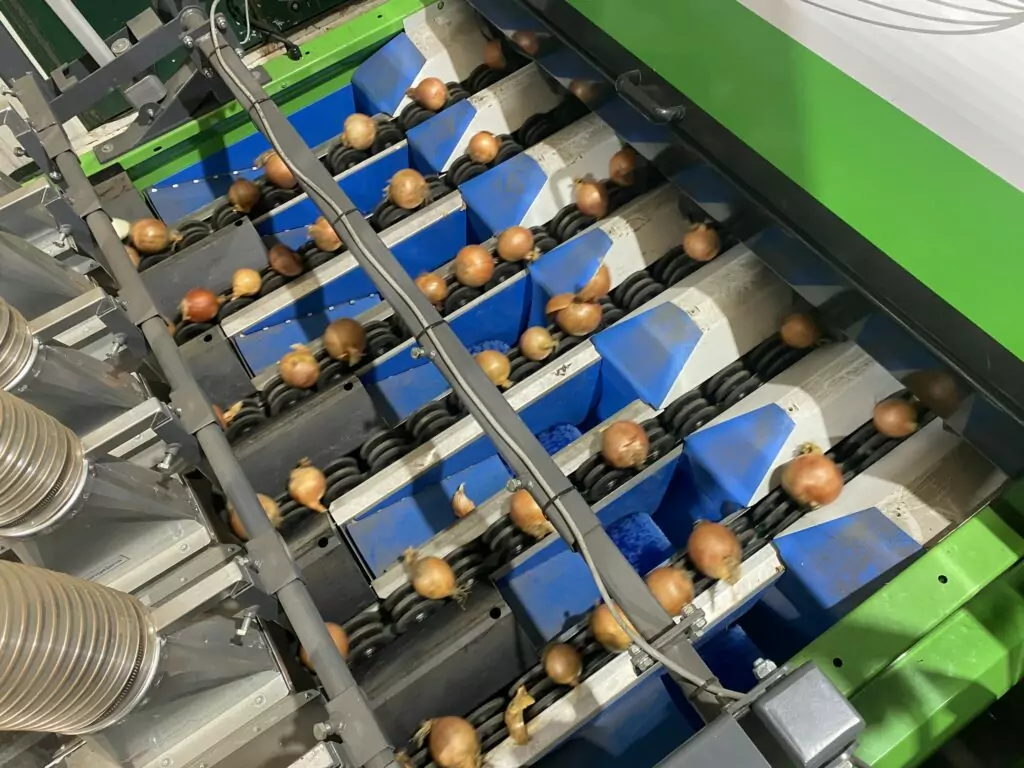 weight-graded crop
The new system sees topped onions now being transferred to MAF's flagship optical sorting machine, the Pomone, which weight-grades crop as well as externally and internally sorting with an advanced camera system which is fine-tuned to suit the exact specification of QFV's range of wholesale customers. The 6-lane model of the Pomone at QFV is sorting crop at an average capacity of 18 tons per hour with an average onion weight of 130 grams. The machine is capable of capacities over 18 tons per hour and larger models can be specified for processing over 30 tons per hour.
MAF's exclusive 'G7' external optical sorting system uses cutting-edge imagery to detect any blemishes or defects to the onion's skin finish, taking 120 images of each onion. Its ability to identify blemishes on both white and red onions is a unique, unrivalled attribute of the MAF machine. Even more impressive are the internal defect detection capabilities of the MAF-designed and patented internal defect technology 'IDD8' which effectively identifies internal defects within the onions including accurate detection of translucents, base rot, neck rot, fusarium rotten core and several other internal issues.
In addition to this advanced MAF-exclusive internal and external optical sorting technology, the MAF Pomone also uses Insight 2, which is a halogen, near infra-red optical sorting system like those more commonly known and utilised throughout the industry.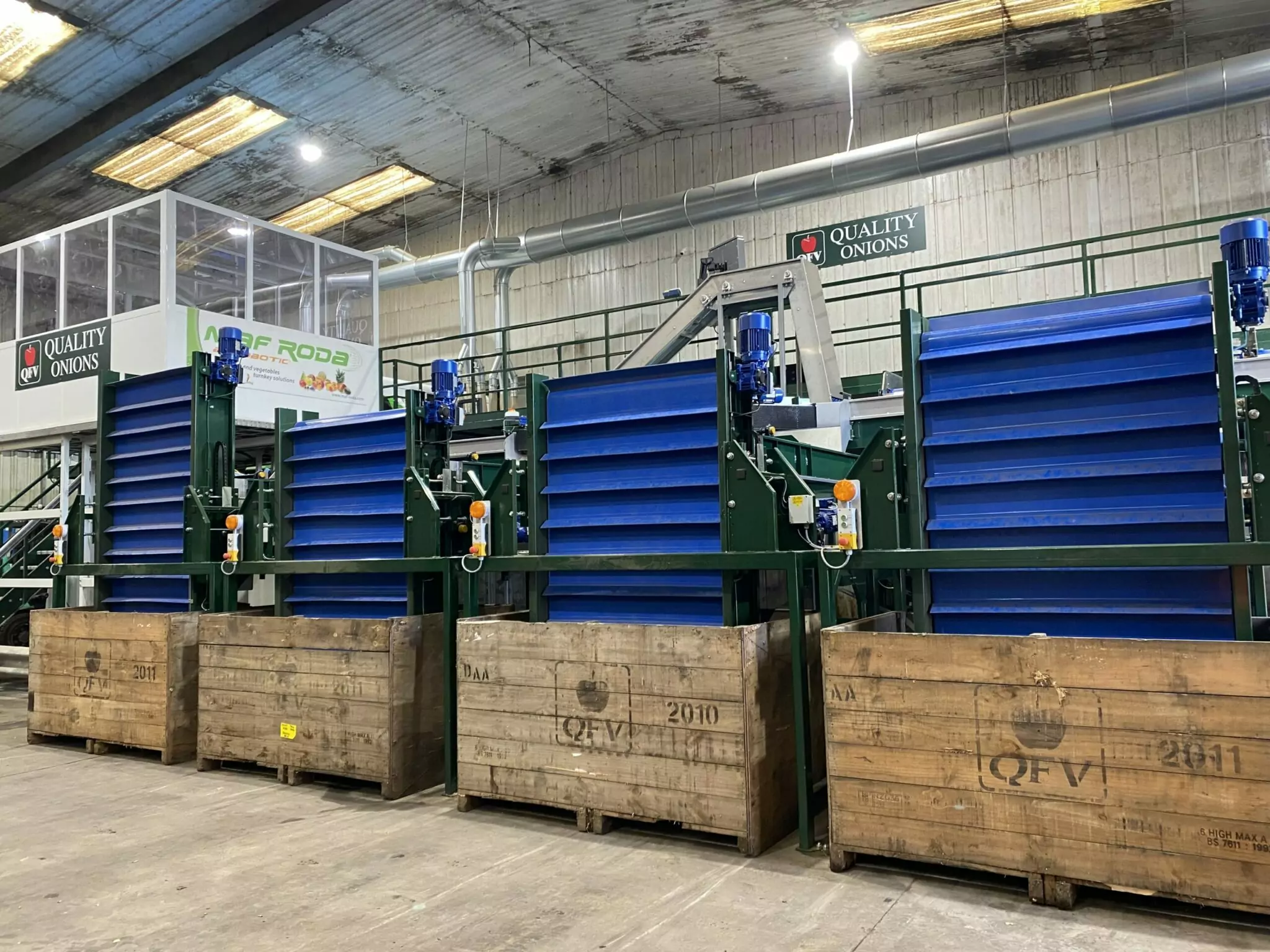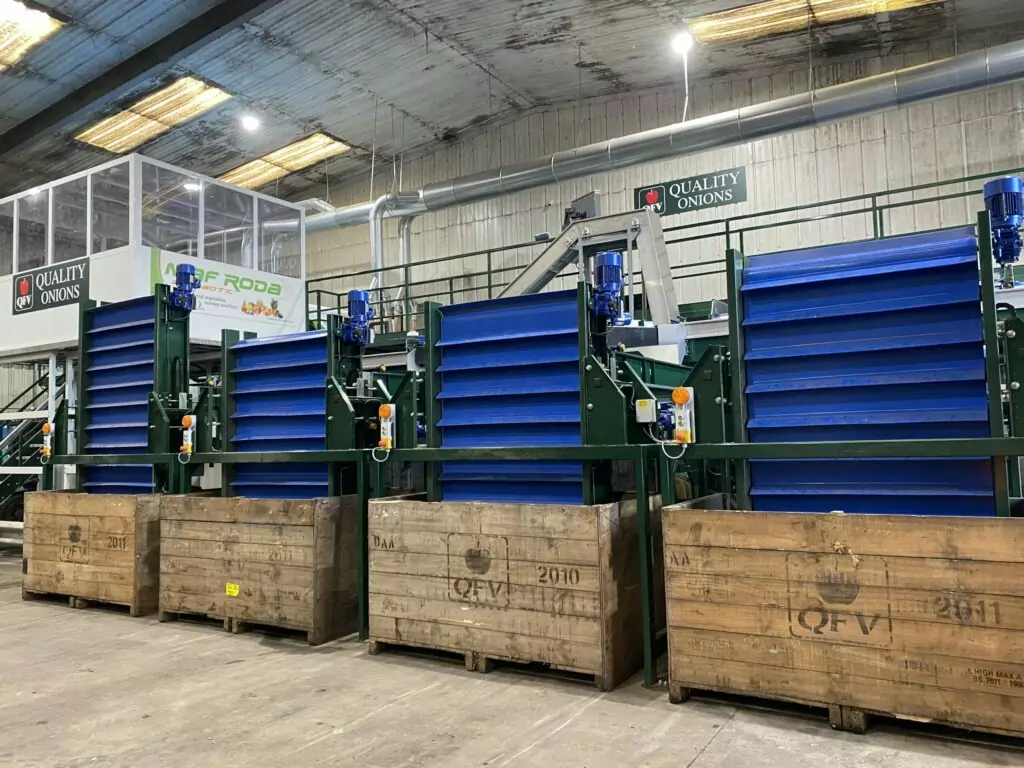 ongoing service
"We have worked with Tong for many years and have built a very good relationship with Charles Tong and the rest of the Tong team through sales and design, to Tong service and installation engineers. Their understanding of our business requirements and ongoing service is second to none and has enabled us to continue to develop our handling facilities in line with customer demand," explains Mr Ali.
"We worked closely with Tong's design team to create a new bespoke solution that allowed us to keep the existing systems that work well whilst achieving great efficiencies by integrating the latest camera technologies," said Mr Ali. "We have significantly reduced the number of staff required to process our onion crop, and the MAF sorter has noticeably increased our throughput and yield. The whole onion handling process at QFV is more efficient than ever before and we look forward to expanding our customer base even further with the advanced capabilities that the new optical sorting
WATCH THE MAF AND TONG ONION OPTICAL SORTING LINE IN ACTION!