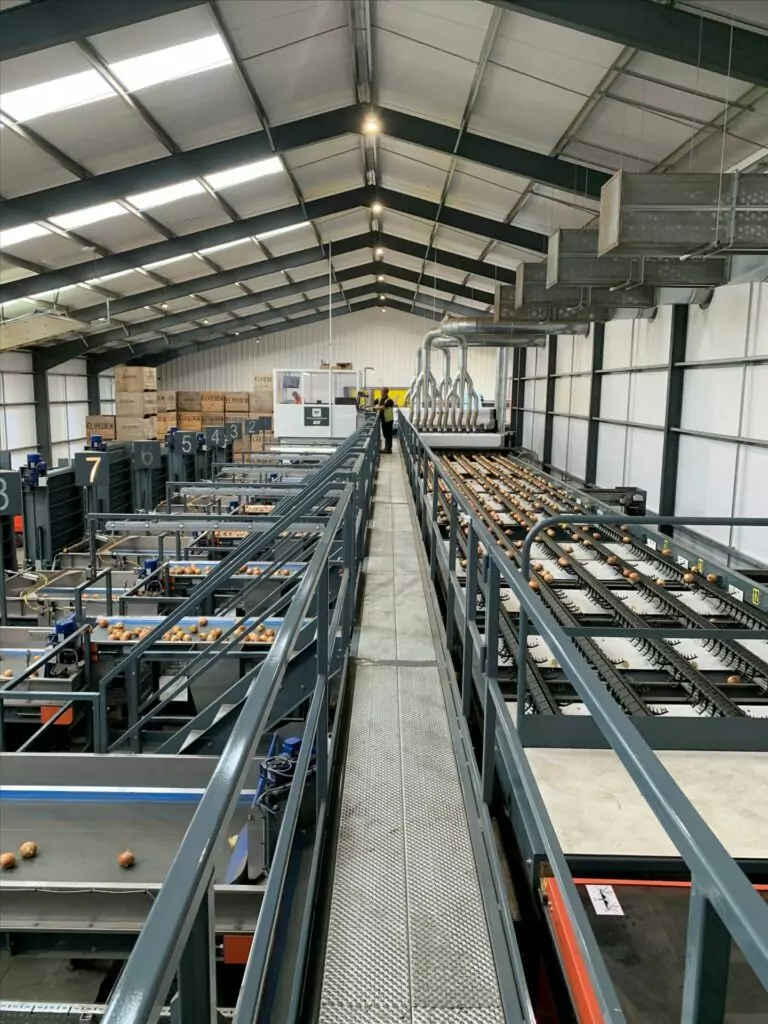 Grading Products
MAF Roda Vegetable Sorting & Grading
Specialist fruit & vegetable grading solutions
Advanced weight, size & optical sorting
Supplied as turnkey solution from Tong
A grading solution for all throughputs
Make an enquiry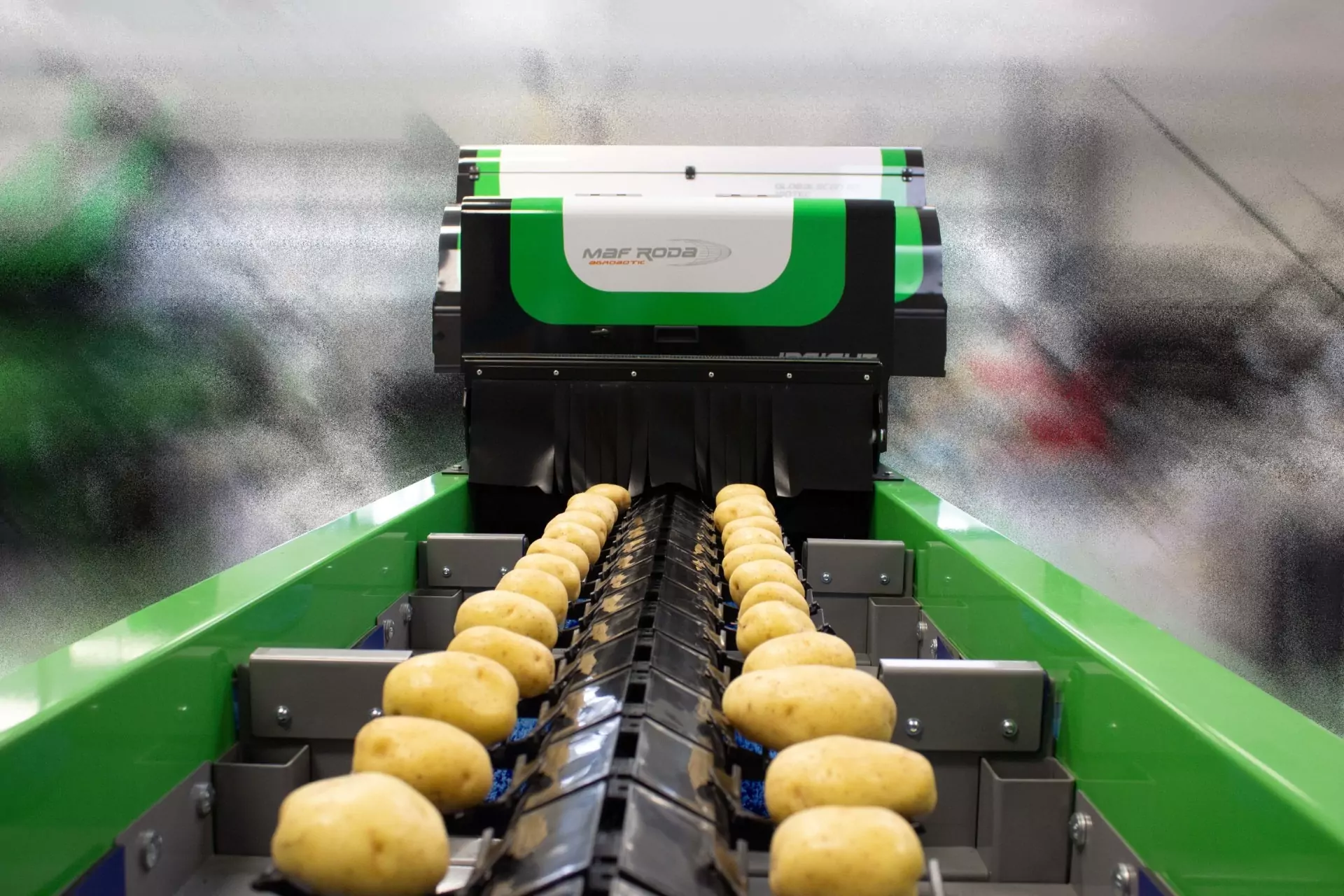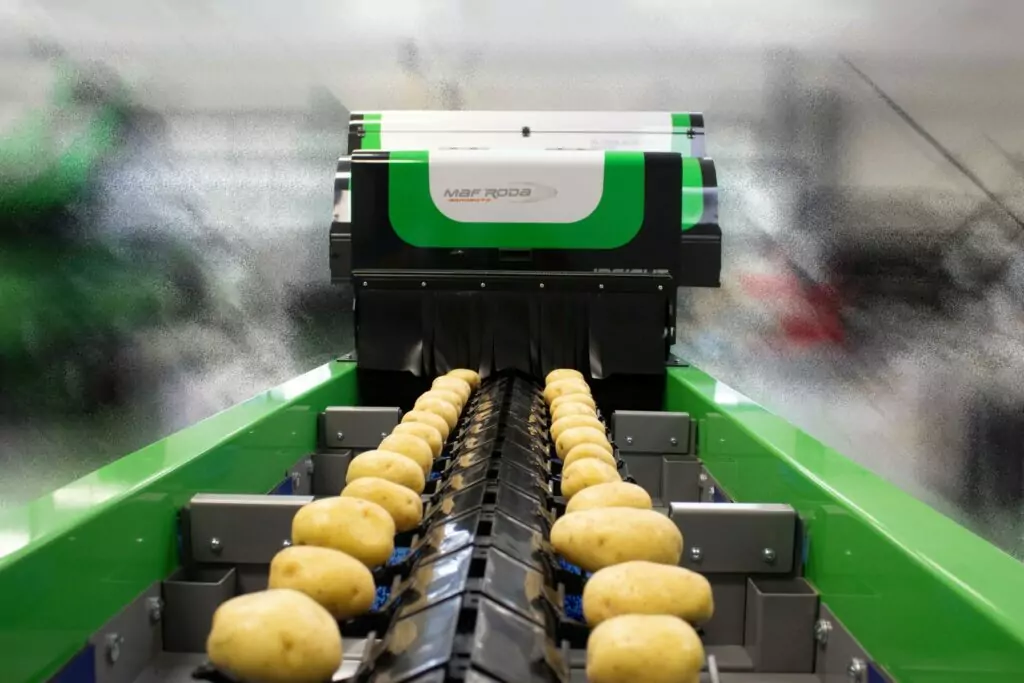 ADVANCED SIZE, WEIGHT & OPTICAL GRADING & SORTING
French machinery manufacturer, MAF Roda Agrobotic, design and mnufacture technically advanced fruit and vegetable sorting machine worldwide. Tong is proud to be the UK's sole distributor of MAF Roda vegetable sorting machines from accurate weight grading of potatoes to high quality optical sorting of onions.
MAF Roda Vegetable Sorting equipment is capable of grading crop by weight and size in seconds. With expertise in handling a wide range of fruit and vegetables, as well as offering a comprehensive range of accurate potato grading & weighing equipment. MAF Roda Vegetable Sorting & Grading also offers high-end, advanced solution optical sorting system which offers high throughputs in sorting crop based on quality and colouring.
ACCURATE
OPTICAL GRADING
Designed to both weight grade, and quality sort individual tubers at high capacities, the MAF Pomone potato grader offers accuracy and flexibility.
CONSISTENT
WEIGHT GRADING
The MAF OneWay potato weight grader singulates crop and grades based on the weight of each tuber. Offering exceptionally consistent grading results.
ALL THROUGHPUTS
FROM 5-60 TONS
Built to suit the most demanding grading requirements, the MAF Roda Vegetable Sorting equipment effectively grades crop with capacities up to 60 tons of crop per hour.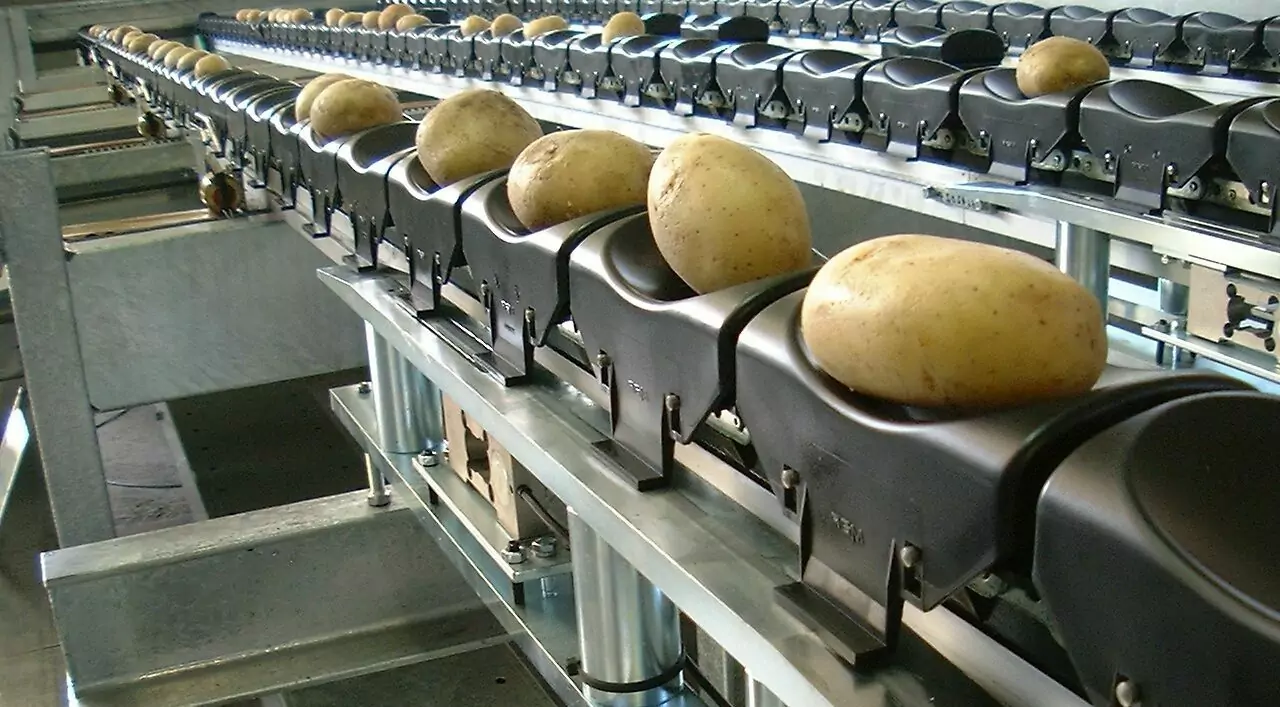 GENTLE HANDLING
ACCURATE RESULTS
With world-class expertise in combining accurate weight and optical sorting of a wide variety of vegetables, MAF Roda vegetable grading equipment not only delivers high quality and extremely consistent crop sizing and sorting results, but it is also designed to ensure the gentlest handling too.
features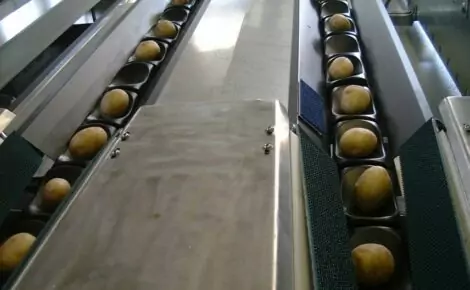 MAF ONEWAY
The MAF OneWay potato weight grader is a cup sizing grading machine that singulates crop and grades based on the weight of each tuber. A roller presentation conveyor orientates tubers in-line before they pass over a V-belt singulating section which has variable belt speeds which separate the tubers which are then transferred into individual cups. After passing over load cells they are distributed onto predetermined outlet belts for packing.
Available with two, three, four, five or six lanes, the MAF OneWay potato grader can be specified with any number of outlet belts for weight graded crop. With crop cups also programmable to tip either side of the machine for a more compact machine length. When packing into cartons, two alternating belts per category are used to give high capacity non-stop operation.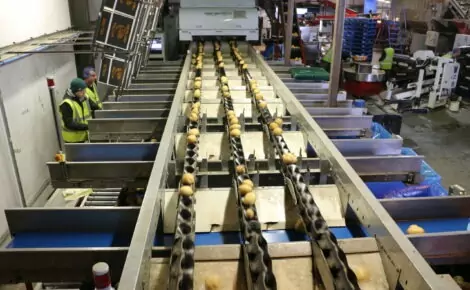 HIGH CAPACITY WEIGHT GRADING
With the new generation MAF OneWay weight grader, users can achieve over 40% more capacity than previous models. With each cup clipped in place on top of the lane chain, support rods are no longer necessary, allowing much higher grading speeds and minimal maintenance. The average working speed of the MAF OneWay is an efficient 400 cups per minute, per lane, with the ability to handle tubers up to 200mm in length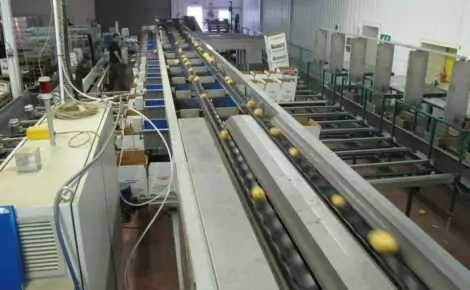 MAF POMONE
The MAF Pomone potato grading system utilises some of MAF Roda's most advanced potato handling technology. Designed to both weight grade, and quality sort individual tubers at high capacities, the MAF Pomone potato grader offers accuracy and flexibility. Giving added value to the crop whilst significantly reducing labour by offering completely automatic potato weight grading and sorting.
The MAF Pomone is designed to handle potatoes with a diameter from 45mm to 90mm and effectively grades up to sixteen sizes, eight colour bands and four quality grades. All parameters are completely and freely adjustable, corresponding to any requirement. What's more, the Pomone potato grading machine self adjusts the singulator, roller rotation and vee belt pre-aligner speeds according to the average size of the crop. Ensuring complete rotation and maximum capacity are achieved.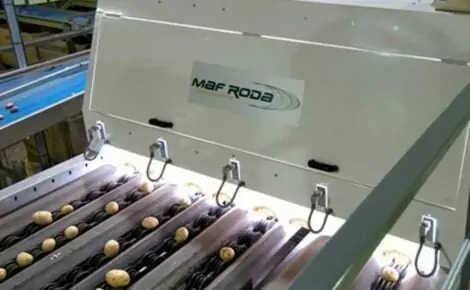 WEIGHT & OPTICAL GRADING
With an operating speed of up to ten tubers per second per lane, the MAF Pomone offers high capacity weight and optical sorting within one potato grading machine. Available with the option of 2, 4, 6, and 8 lanes, crop sizing with the MAF Pomone is by weight on electronic load cells. The MAF Pomone also optically grades by diameter, volume and shape, with camera sorting by colour and surface defects.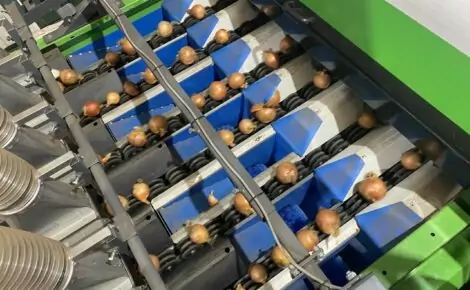 ADVANCED OPTICAL TECHNOLOGY
For the complete vegetable grading solution, the MAF Roda Vegetable Sorting machine can be integrated with vegetable grading machines, to combine internal and external defect sorting with accurate weight grading. This combination of optical and weight grading capabilities provides high quality and extremely consistent vegetable grading solution.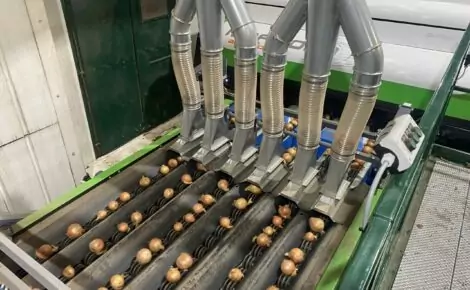 GENTLE HANDLING
Designed to handle delicate crop without any drops on transfer points, MAF Roda Vegetable Sorting offers the gentlest handling, with crop being lowered onto foam-covered chutes as they exit the grader for careful handling.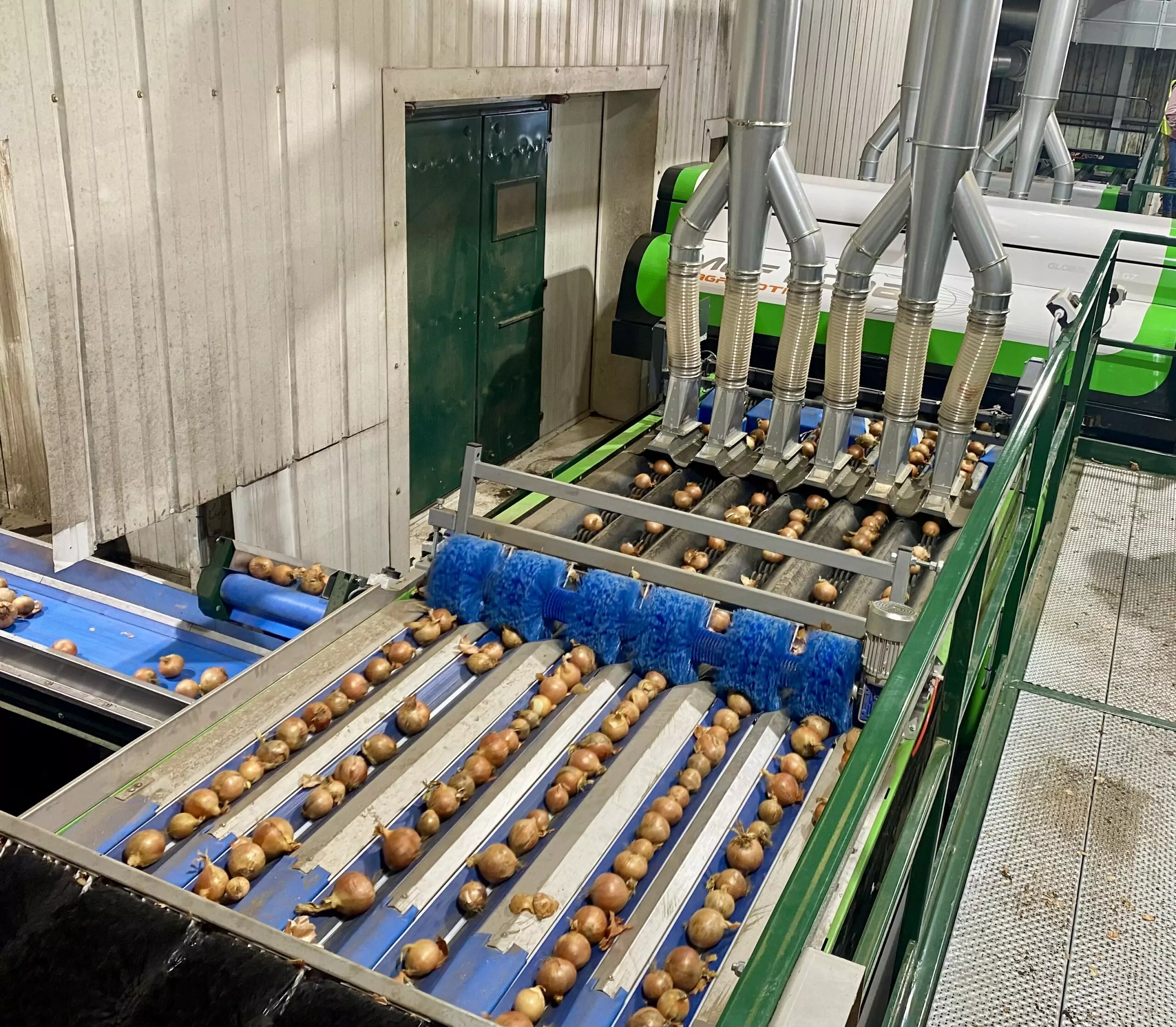 UNRIVALLED ONION OPTICAL SORTING
Unique external and internal defect detection with MAF Roda Vegetable Sorting exclusive technology for accurate detection for external skin finish defects as well as internal defects including translucents, base rot, neck rot, fusarium rotten core and several other internal issues.
WATCH MAF RODA SORTING & GRADING EQUIPMENT IN ACTION