CARROT WASHING, GRADING & PROCESSING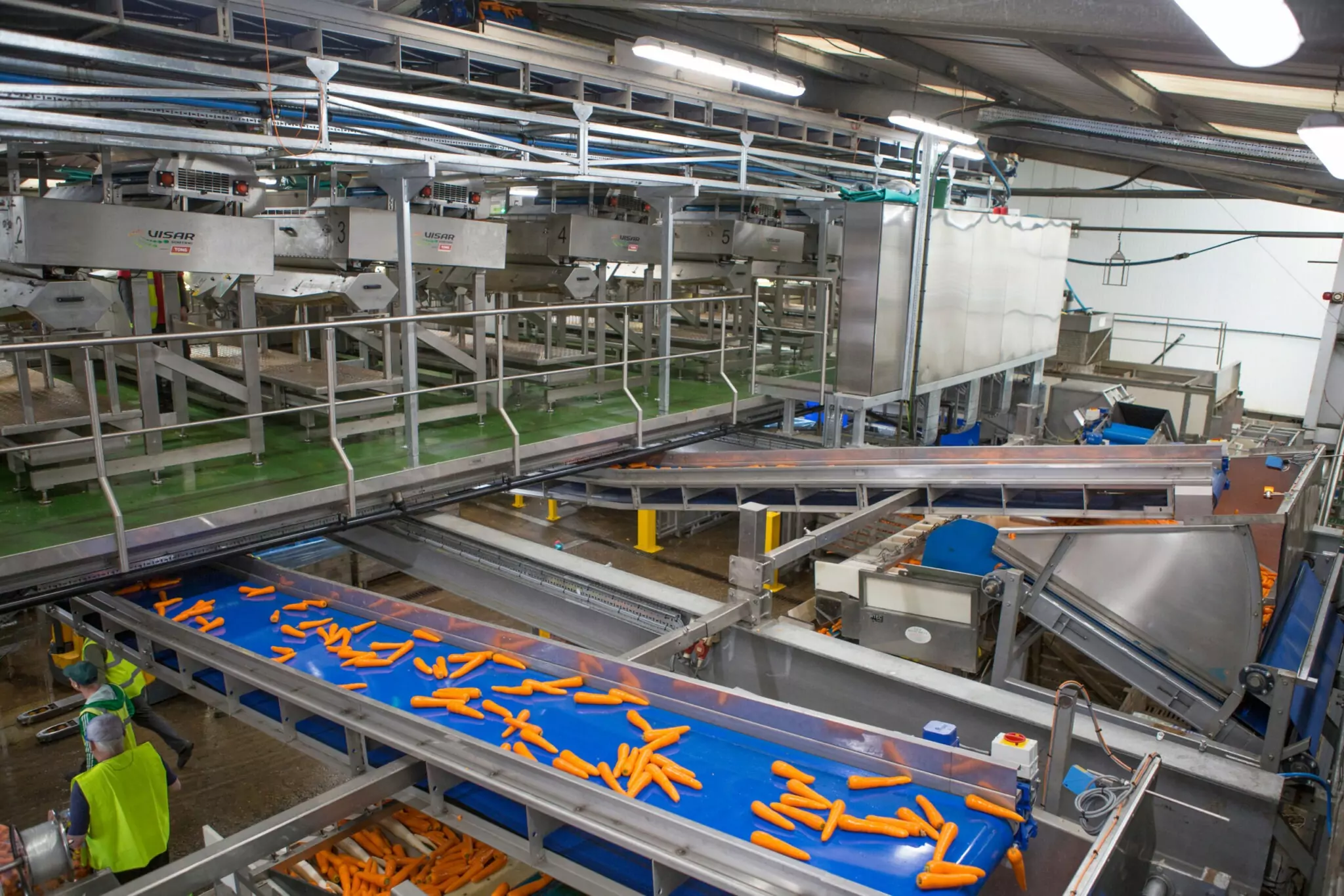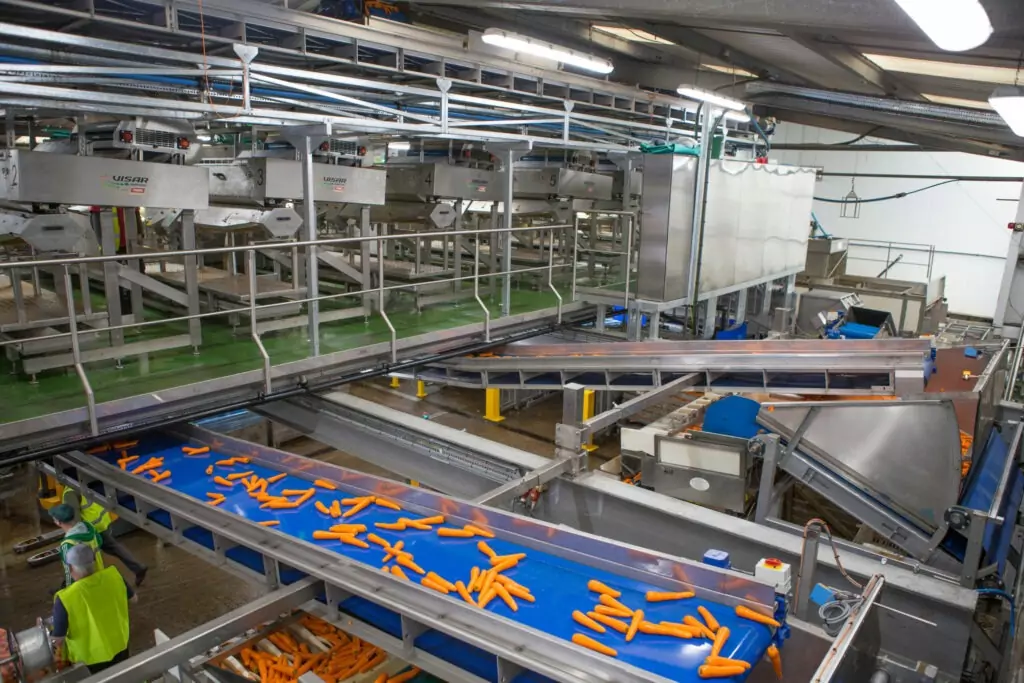 WORLD-CLASS design and manufacture of quality carrot grading, handling and carrot processing equipment
With over 90 years of experience in handling a wide variety of root crops, Tong Engineering's carrot processing expertise is second to none, manufacturing and supplying a wide range of gentle and advanced carrot grading, carrot washing and polishing machinery (including the Martin Maq vegetable polisher). When you choose Tong you can be sure to find a complete carrot handling system that suits your exact requirements.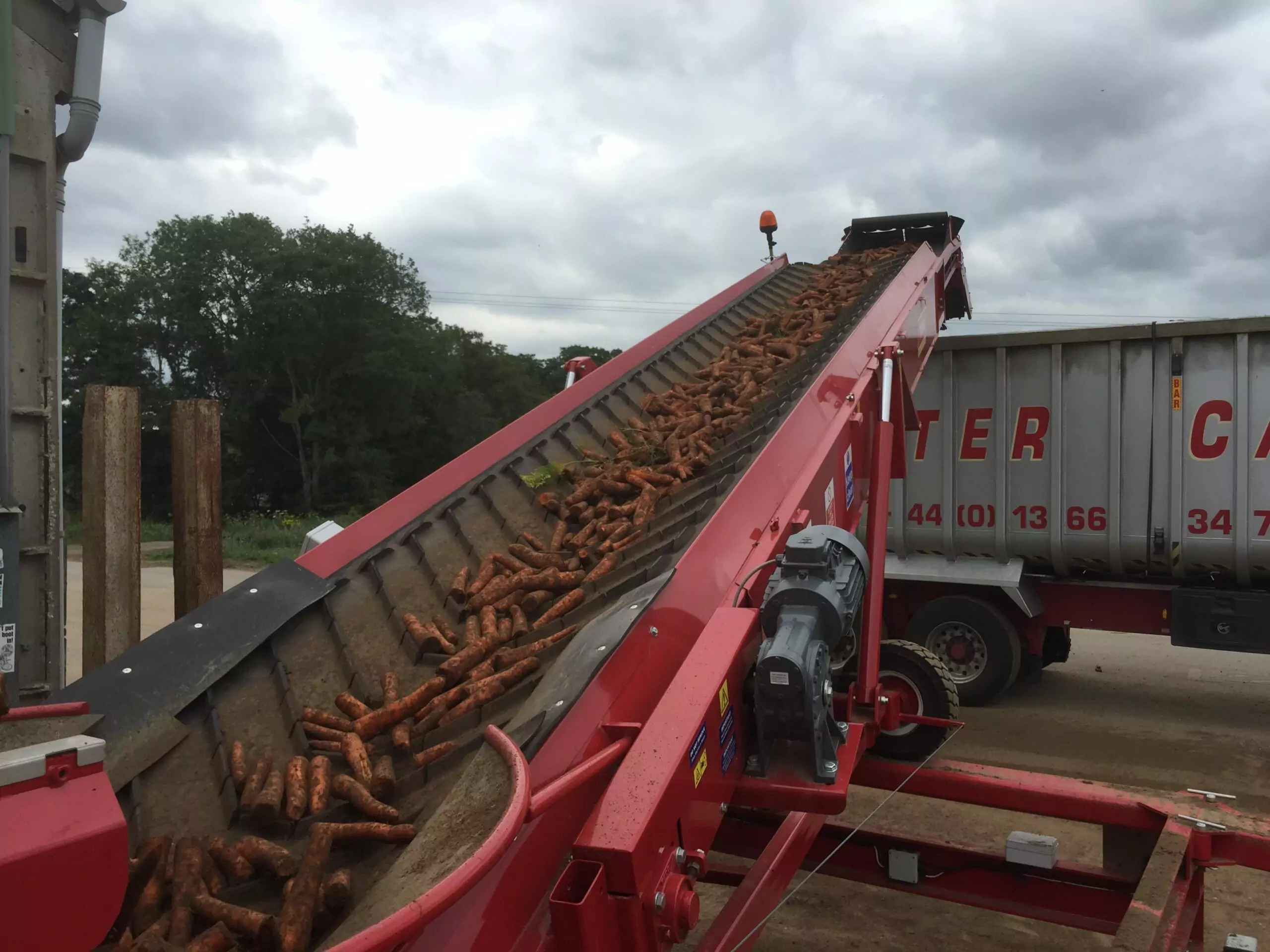 MOBILE & STATIC CARROT GRADING & PROCESSING EQUIPMENT
Working with carrot growers and carrot processors in the UK and worldwide, Tong supplies carrot grading & handling machinery ranging from single mobile carrot graders and Fieldloaders to be used on-farm, to large-scale carrot processing lines within the most advanced carrot packhouses. Some of Tong's most popular carrot handling equipment includes carrot infeed hoppers, carrot pre-soak tanks and high capacity carrot washers, polishers and graders as well as carrot weighers.
So, whether you need to effectively load carrots from the field to bulker lorries, or a reliable carrot grading line that gently sizes prior to carrot processing, Tong's expert engineers will work with you to achieve a carrot handling solution that saves time, labour and ultimately reduces costs.
Have you seen the new carrot handling facility that we built for M H Poskitt Ltd? With over 1000 tonnes of carrots being processed each week, advanced and automated carrot cleaning and grading equipment has dramatically increased efficiency at Poskitts.
why choose Tong?
experience
over 90 years
Tong Engineering has over 90 years of experience in manufacturing robust and reliable vegetable handling equipment, from single machines to full bespoke systems.
custom built
to your specification
With a wide range of standard carrot handling machines, as well as custom-designed turnkey carrot grading and washing solutions, Tong offers quality carrot handling systems to suit any requirement, however large or small.
all throughputs
from 1 to 100tph
Built to perform under the most demanding situations, Tong carrot handling equipment can be built to suit all throughput requirements, whether you are looking to process 10 or 100 tons of carrots per hour.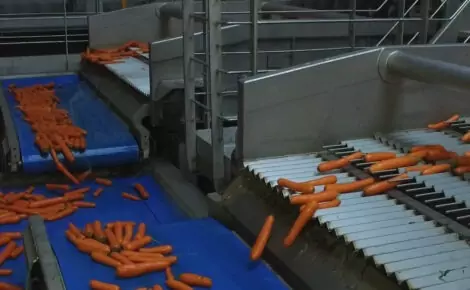 CARROT GRADING
Tong's range of carrot grading equipment ensures the crop is graded gently and effectively, integrated with the most advanced and easy-to-use intelligent controls. Built to provide a carrot grader that performs in the most demanding situations, a Tong grading machine is designed to your specification for optimum results.
Tong's vibrating carrot length grader offers an effective way of grading carrots by length. It provides an affordable carrot grading solution that will reliably perform in the most demanding carrot grading environments, a popular carrot grader for throughputs of up to 10 tonnes per hour. The vibrating length grader comes in standard widths from 1.2m to 1.8m, with a choice of up to 4 grading outlets.
Another popular carrot grader is the lift roller grader, which grades carrots by width and offers throughputs from 5 to 40 tonnes per hour. Manufactured to suit customer grade band requirements, Tong's lift roller carrot grader uses a series of forward-moving grade rollers. Standard models are available in a range of configurations from 1.2m wide with 3-grade bands and up to 2.4m wide with up to 6-grade bands. Manufactured in a choice of mild or stainless steel, the flexibility and versatility of the lift roller grader have made it one of Tong's most popular carrot grading machines. What's more, the lift roller grader is now available with Tong's Auto-Touch HMI touch screen controls, for quick and easy changing of the machine's grade bands, to suit a wide variety of carrot grading requirements and contract demands.
In addition, if you're looking for a more sophisticated optical carrot grader, Tong is the proud UK distributor for the Visar Sortop optical sorter. The Visar is the latest, fully automatic electronic carrot sorter that offers high-quality optical carrot sorting. With the capability of automatically sorting any batch of carrots, the Sortop optical carrot sorter offers the highest quality sorting. Increasing the percentage of crop sold by up to 5%, whilst removing the need for any manual carrot inspecting.
For more details of Tong's extensive carrot grading range, please click here.
View our products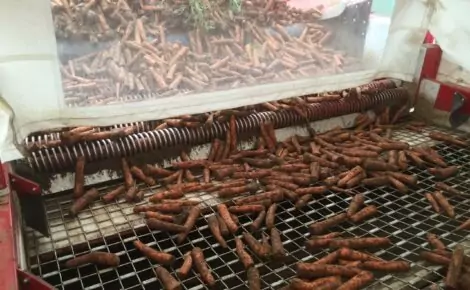 CARROT CLEANING
For effective carrot cleaning, and haulm removal from carrots post-harvest, the Tong EasyClean separator offers excellent cleaning in all conditions. A refined model of the new generation carrot cleaner originally launched almost 10 years ago, the EasyClean separator is manufactured with uprated heavy duty spiral shaft ensuring exceptional grip on leaf-matter and haulm. With such effective results in all soil conditions, the EasyClean Separator offers a very reliable way to remove haulm from carrots at high throughputs.
Tong's unique Auto-Touch HMI control makes the EasyClean one of the most easily controlled and maintained carrot cleaners on the market, with automatic adjustment of rollers to suit any crop type and soil condition. To find out more about the EasyClean carrot separator click here.
Other popular carrot cleaning units, particularly in dry or lighter soil conditions, include the Tong Star Vegetable Cleaner and steel and PU Coil Cleaners. Tong's adjustable carrot coil and star vegetable cleaner units offer effective removal of soil and debris prior for more effective carrot grading and washing. Click here to view Tong's complete range of carrot cleaners and haulm removers.
View our products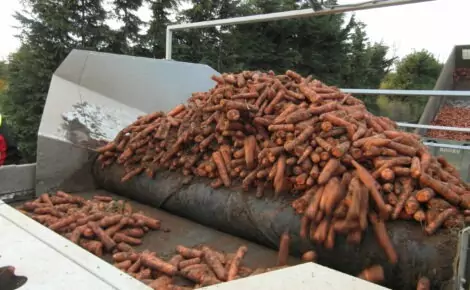 CARROT HOPPER
From a high capacity carrot hopper receiving carrots straight from the field to a stainless steel even flow infeed hopper to ensure a steady feed of carrots onto your carrot washing or grading line, Tong manufactures hopper to suit all applications.
Built with the strongest construction, and using the highest quality components, Tong manufactures a range of static and mobile carrot hoppers that can be designed to you exact specification.
From stainless steel wet hoppers at the infeed of high-care carrot packing lines, to a heavy duty carrot hopper with integrated cleaners for receiving carrots straight from the field, when you choose a Tong hopper you can be sure that it will perform in the most demanding carrot loading situations.
For more details on Tong's range of carrot hoppers click here.
View our products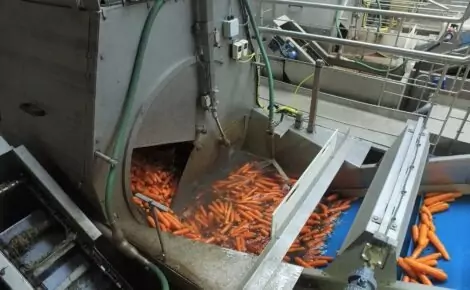 CARROT WASHING
Tong carrot washers offer an effective and reliable carrot washing solution for carrot growers and processors of all sizes. Suitable for throughputs of 1 – 30 tonnes per hour, Tong vegetable barrel washers are built to suit your specific carrot washing requirements, with a wide range of optional extras for enhanced washing results.
Manufactured in a choice of mild or stainless steel, Tong carrot washers feature a heavy duty stainless steel washing barrel and discharge elevator as standard. Optional extras for an enhanced washed carrot finish include brush pintle lining, a booster spray bar, a close coupled carrot destoner and more. All Tong carrot washers can be specified with a barrel length ranging from 1.2m to 5m long and can be supplied as an individual carrot washing unit, as part of a mobile carrot washer or integrated within a new or existing carrot washing line.
Alongside Tong's range of advanced and reliable carrot washers, Tong manufactures a variety of complementary carrot processing equipment including carrot pre-soak tanks, vegetable destoners, hydrocoolers and more.
From a sample carrot washer for washing small batches of carrots, to a high capacity carrot washer integrated within a large-scale carrot washing line, Tong works closely with clients to achieve a quality vegetable washing solution that meets your requirements today, whilst incorporating your needs for the future.
View Tong's complete range of carrot washing equipment.
View our products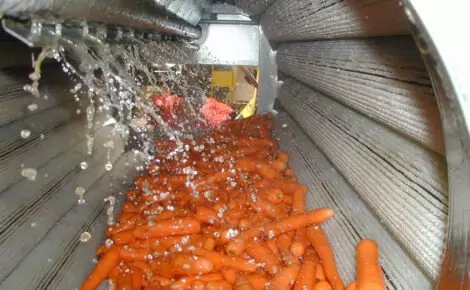 CARROT POLISHING
When it comes to carrot polishing, Tong offers a range of low maintenance carrot polishers to suit all throughput requirements. Ensuring gentle handling and high quality polished results, Tong carrot polishers leave carrots with a high value appearance prior to packing.
The TPS-Pro polisher is Tong's next generation carrot polisher, featuring electric direct drive motors inside every shaft, the carrot polisher is virtually maintenance-free. Designed with the latest technological advances, the direct drive motors within each brush shaft of the TPS-Pro carrot polisher are self-contained within their own oil baths, with waterproof sealed bearings. These unique features virtually remove the need for equipment maintenance or lubrication, providing exceptionally low maintenance carrot polishing. Suitable for throughputs between 15-30 tonnes per hour the TPS-Pro polisher is a high capacity carrot polishing machine.
The Martin Maq carrot polisher is also a popular option within a Tong carrot processing line and offers high quality polished results. Tong is the sole distributor of the Martin Maq U-Brush carrot polisher in the UK. The half-barrel potato polishing system features a unique pendulum brushing action, for throughputs up to 15 tonnes per hour. Manufactured with brush shafts configured in a 'U' formation, the Martin Maq carrot polisher features an independent motor on each brush shaft, allowing continuous and reliable performance and minimal maintenance for lower capacity carrot polishing. The Tong U-Brush polisher is manufactured in mild or stainless steel, built to a simple yet effective design. The U-Brush carrot polisher is a budget polishing machine that offers the high-value polished finish achieved with larger carrot polishers, but at a lower cost.
To view Tong's range of quality carrot polishing equipment, click here.
View our products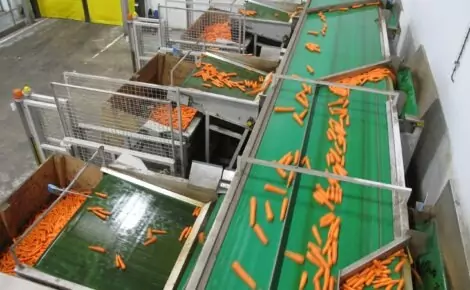 CARROT PROCESSING
With a range of carrot processing equipment that gently handles carrots from field to packing, Tong is the perfect engineering partner to ensure your carrot crop is maximised for the highest yield and returns.
From high capacity carrot pre-soak tanks to efficient carrot hydrocoolers, Tong also offers a wealth of expertise in the design and manufacture of complete carrot grading & handling facilities. Working closely with clients to incorporate the latest carrot grading, washing, polishing and packing equipment, a Tong carrot processing facility is designed to your exact specification and processing requirements.
Click here to view Tong's range of carrot processing equipment.
View our products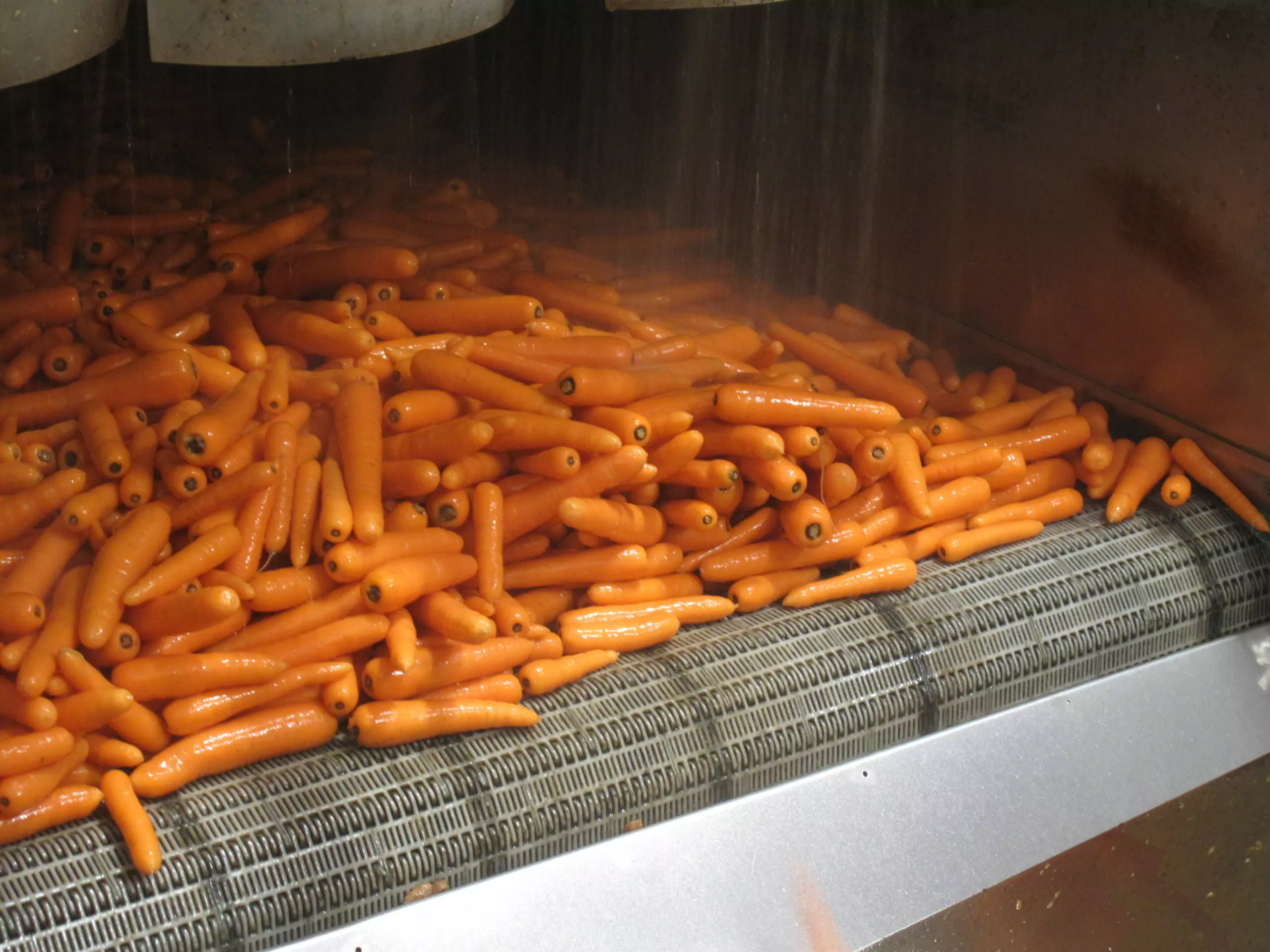 CARROT HYRDOCOOLING
Tong fruit and vegetable hydrocoolers offer an effective crop cooling solution for removing ambient temperature from carrots prior to packing, built to suit your specific carrot hydrocooling requirements, Tong hydrocoolers offer rapid cooling of carrots to ensure optimum shelf life and product freshness, with throughputs from 5 to 30 tonnes per hour.
Manufactured with a cold water recirculation system that drenches carrots with cooled water, Tong carrot hydrocooler systems can be built to handle bulk crop, or as a flexible way to cool carrots stored in bins, boxes or pallets.
To view Tong's range of carrot hydrocoolers click here.
watch our Carrot equipment in action