ONION GRADING & HANDLING EQUIPMENT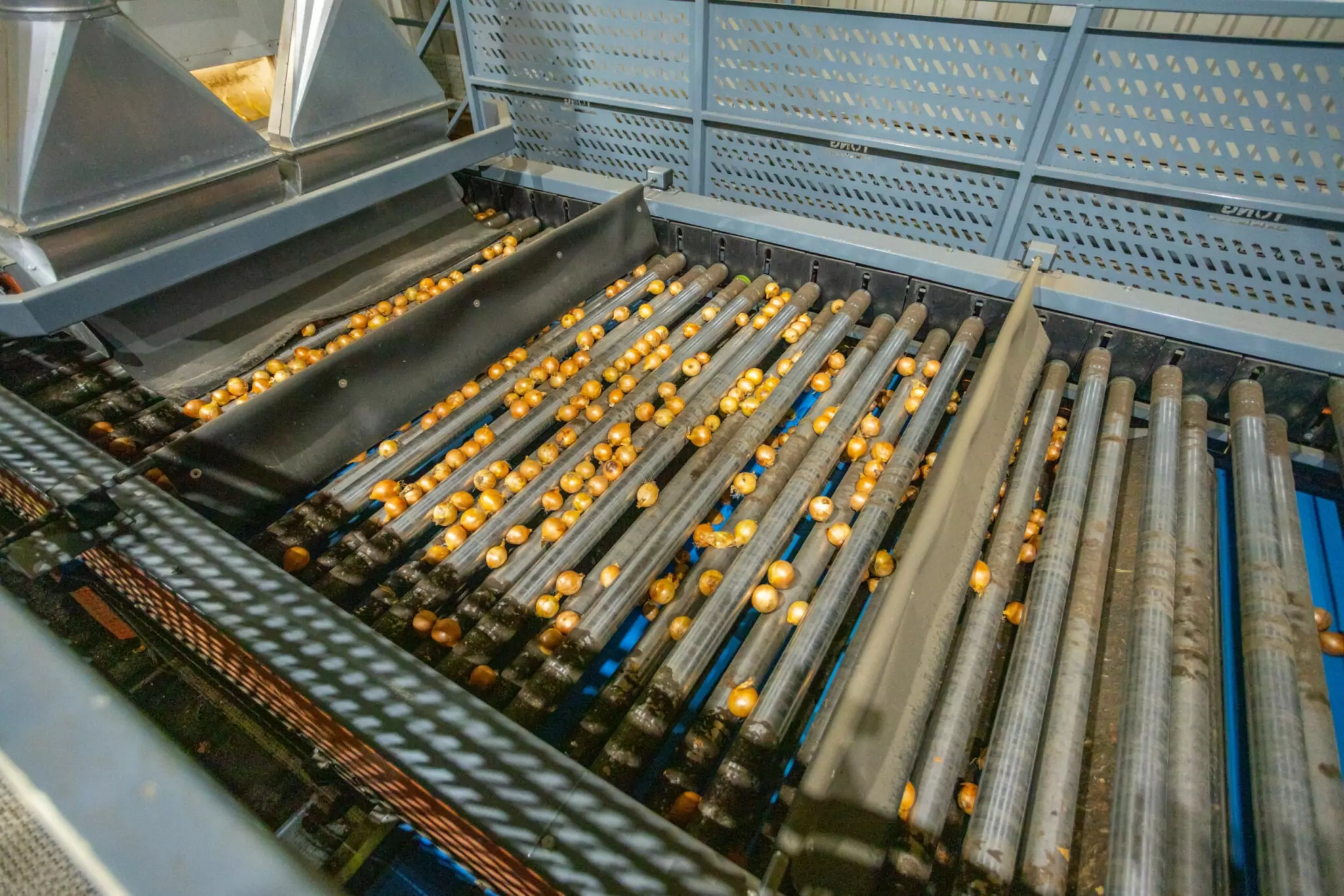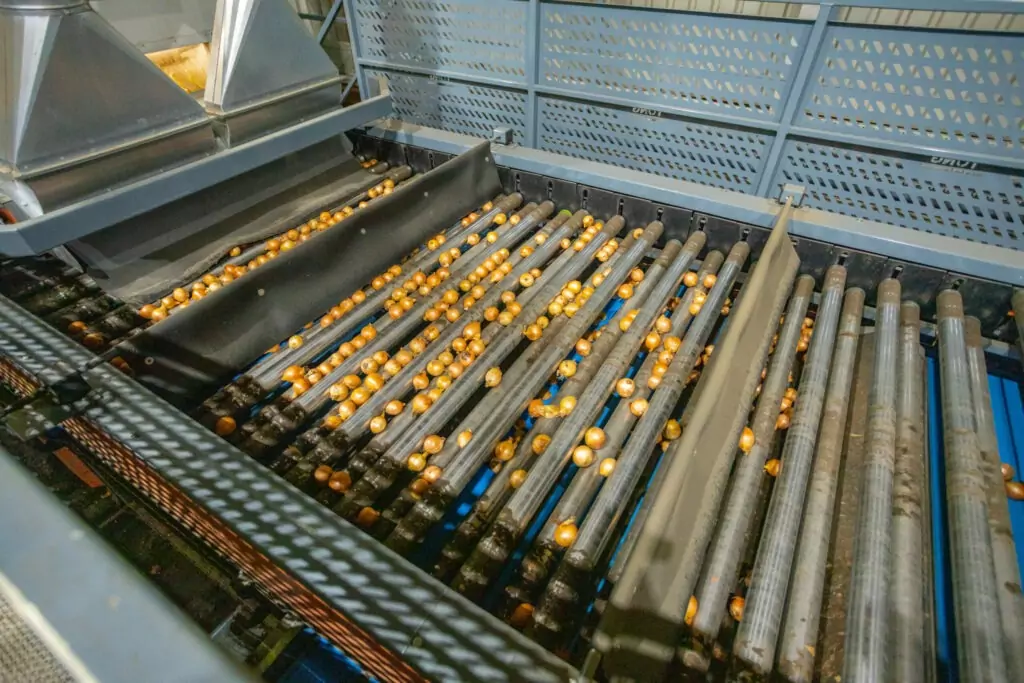 THE COMPLETE onion grading & sorting SOLUTIONS PROVIDER
With onion processing and grading lines capable of handling up to 80 tonnes of onions per hour, running all over the world from Russia to Chile and back to Lincolnshire!
Tong works closely with onion growers and processors to give unrivalled onion processing experience, manufacturing a wide range of onion grading equipment and onion grading screens specifically designed to accurately grade onions with hexagonal screen design. Get in touch if you require a bespoke onion grading machine from the world's leading specialists.
Tong's onion processing equipment is capable of grading all types of onions from shallots through to the main crop. As well as reliable onion grading machines, Tong also supplies a wide range of onion infeed hoppers and onion toppers, onion box tipping, filling and weighing equipment. Our extensive range of onion grading equipment provides the complete turnkey solution for your onion handling facility.
why choose tong?
experience
over 90 years
Tong Engineering has over 90 years of experience in manufacturing robust and reliable vegetable handling equipment, from single onion grading machines and onion processing machines to full bespoke systems.
custom built
to your specification
With a wide range of standard onion grading machines and models, as well as custom-designed solutions, Tong can offer a quality handling system that suits any requirement, however large or small.
all throughputs
from 1 to 100 tph
Built to perform under the most demanding situations, Tong onion handling equipment can be built to suit all throughput requirements, whether you are looking to process one or one hundred tons per hour.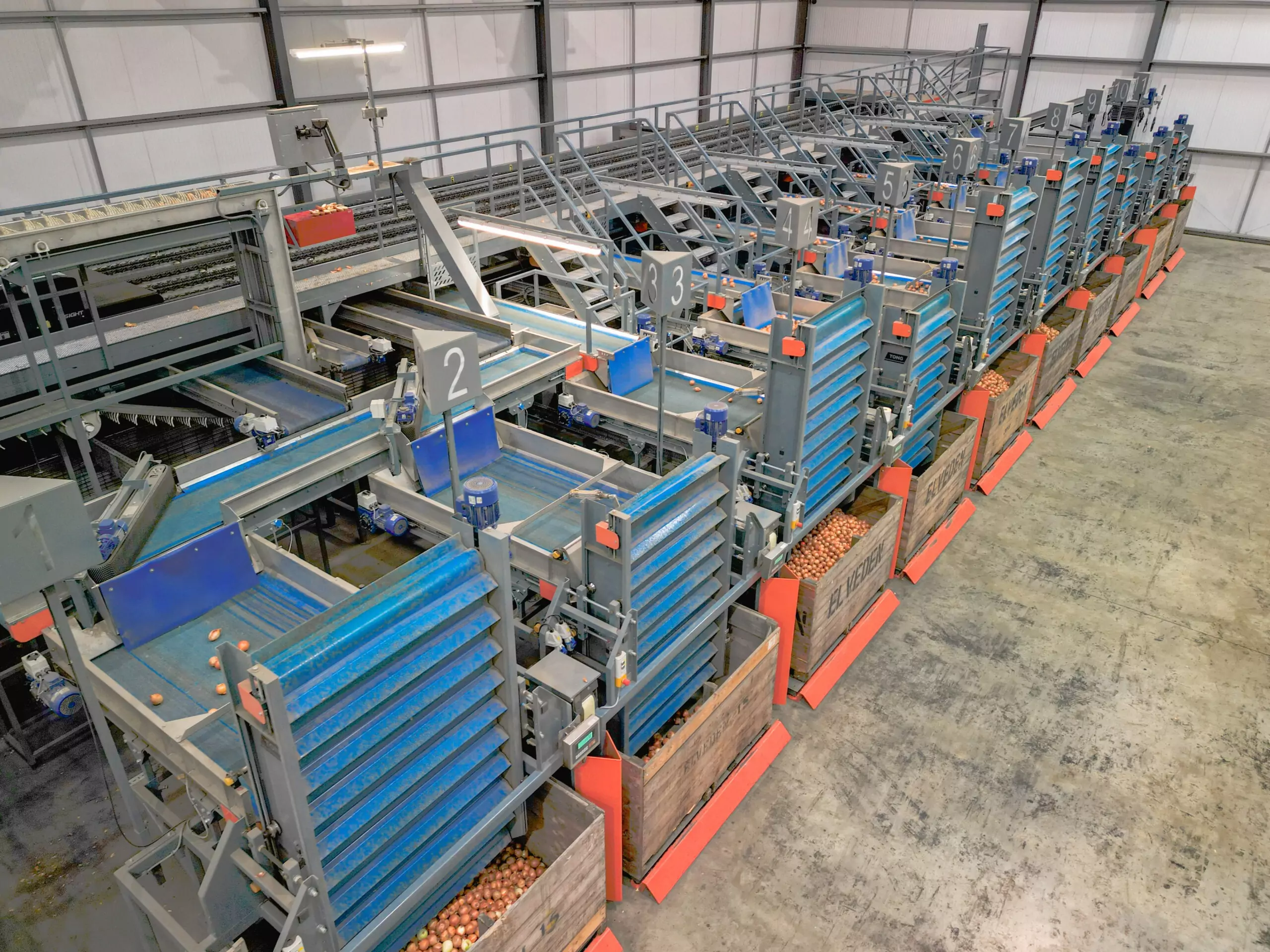 CUSTOM-BUILT ONION PROCESSING SOLUTIONS
With over 90 years of engineering expertise, you can be sure that whether you're grading onions in Australia, or closer to our home in the UK, Tong can offer a custom-built onion grading solution that incorporates the most advanced onion processing machines, to meet your current and future requirements.
Contact us today to discuss your onion grading processing requirements. When you chose Tong you can be sure of the most advanced onion sorting equipment on the market, designed with your exact onion handling requirements in mind.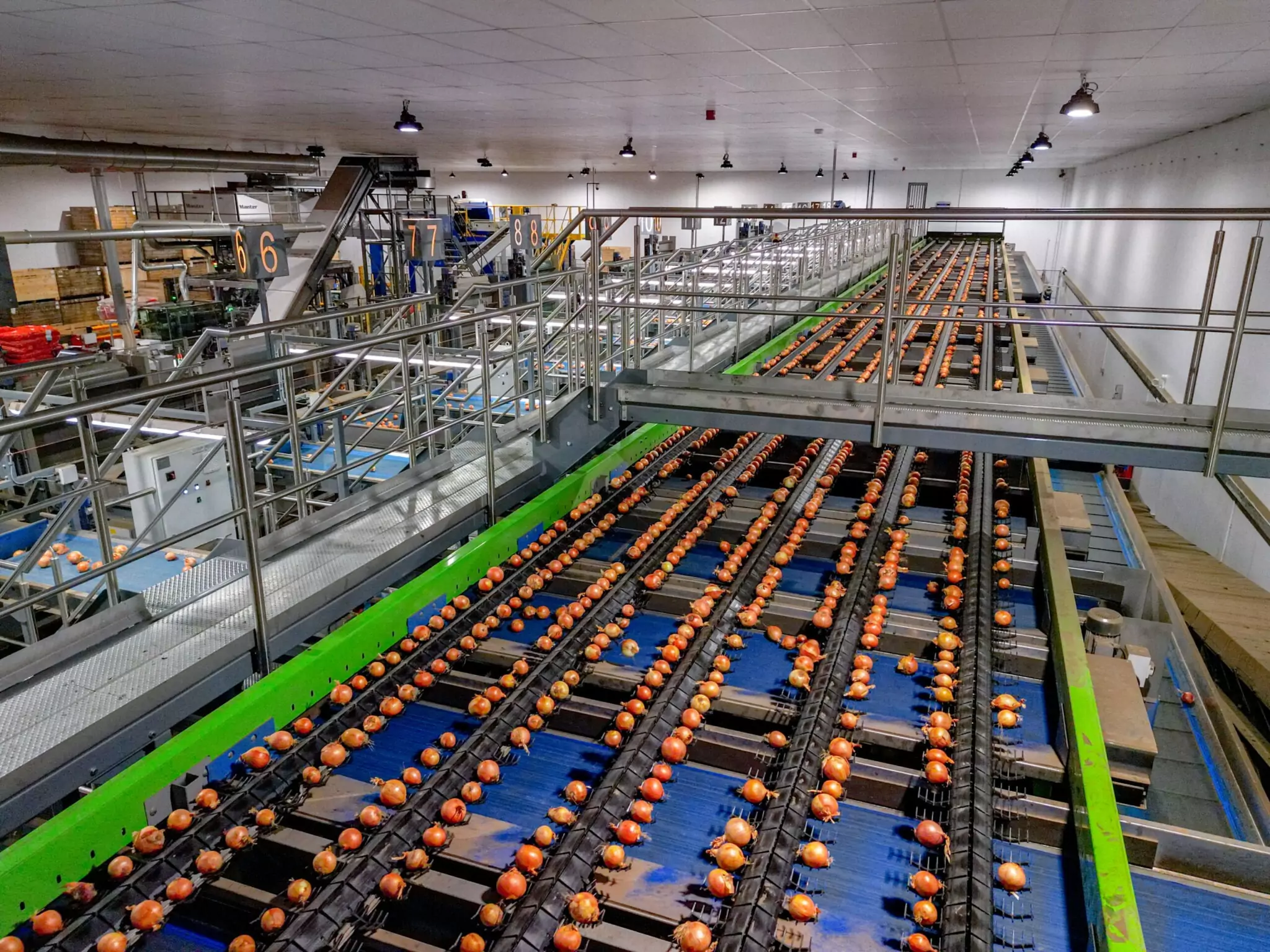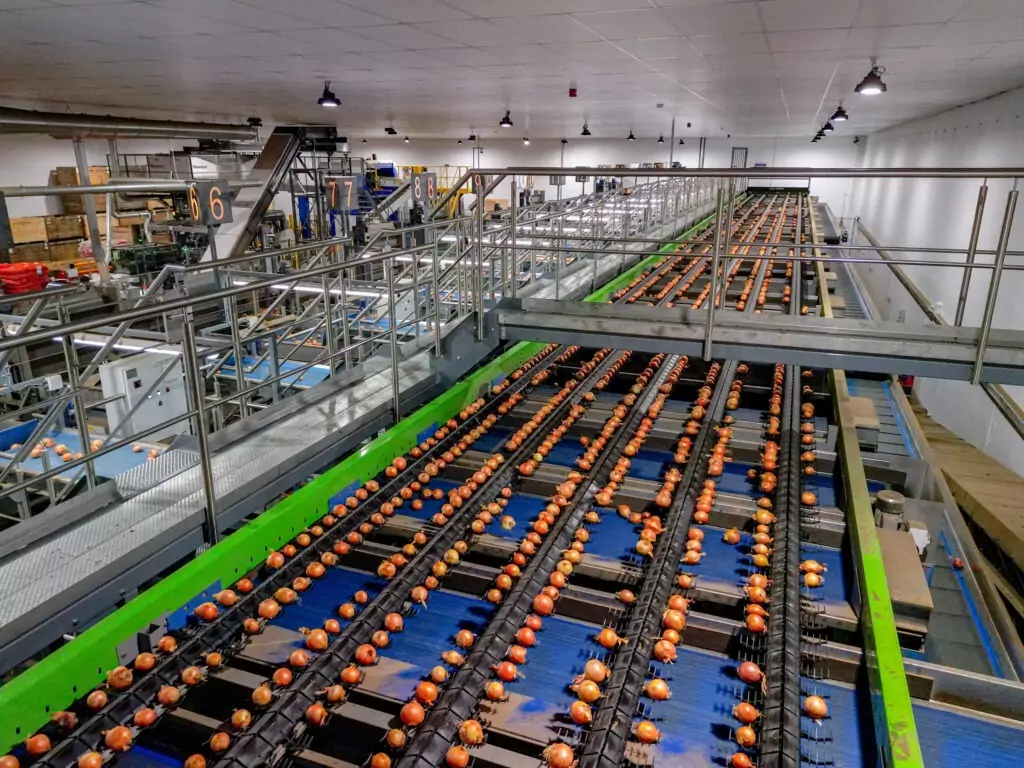 THE MOST ADVANCED ONION OPTICAL SORTING
Tong Engineering has a wealth of expertise in designing and building quality onion grading machines and onion handling equipment. With over 90 years of engineering experience, Tong specialises in onion processing equipment including onion grading screens and onion lift roller graders, however, technology is advancing all the time and optical sorting of onions is an increasingly popular way of grading onions accurately with full automation.
Tong is UK distributor of advanced MAF Roda optical onion sorting equipment, and alongside MAF, Tong has completed a number of turnkey optical onion sorting projects featuring the latest onion optical sorting machines for some of the world's largest onion producers.
The unique and intelligent MAF internal and external defect sorting technology really sets MAF Roda Onion optical sorters apart from other onion optical sorting machines on the market, for truly seamless and accurate sorting of onions, both internally and externally. Fore more details on the MAF Roda onion optical sorter click here.
In addition to advanced onion grading, Tong supplies a range of machinery for top and tailing onions, onion peeling, intake hoppers, box tippers and box fillers, all designed with the gentlest handling in mind. Talk to Tong for the complete onion handling solutionn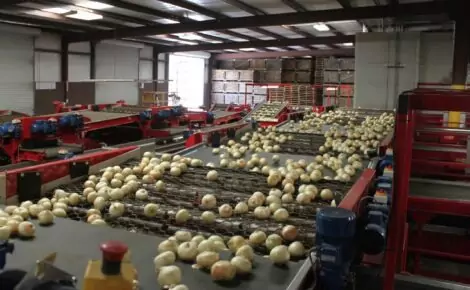 Onion Grading
Tong is one of the world's largest manufacturers of quality steel onion grading screens. With a vast choice of grading sizes available as standard, Tong's hexagonal onion grading screens are manufactured to suit all sizes and throughput requirements. The perfect onion grader equipment, designed bespoke to your onion processing requirements.
Onion screen grading is one of the most popular methods for accurately grading onions, and Tong's EasyGrade screen grading modules can be designed to create a complete onion grading line to accommodate all your grade size requirements. From a single EasyGrade screen module for sizing out a single onion grade, to a consecutive line of EasyGrade modules allowing you to achieve size grades from your onion crop, Tong onion screen graders are not only accurate and efficient, but they are also very gentle on crop.
Another popular option for gentle and accurate grading is the Tong lift roller grader. The lift roller onion grader works by grading onions by diameter, and is capable of grading up to 40 tonnes of onions per hour. Available with the option of Tong's market leading Auto-Touch HMI touch screen control, Tong lift roller graders offer the most advanced onion grading allowing grade bands to be adjusted at the touch of a button.
For more details of Tong's wide range of onion grading equipment, please click here.
View our products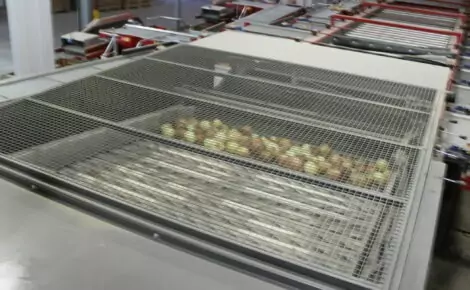 Onion Topping Machinery
With many years of experience in designing and manufacturing complete turnkey onion grading and handling equipment, Tong offers unrivalled expertise when it comes to integrating other specialist onion processing equipment within a Tong line. Tong is proud to offer effective, high capacity, onion topping machinery by working with renowned onion topper manufacturer, Nicholson machinery. The Nicholson onion topper and tailer offers effective removal of onion tops and tails prior to the grading process, making onion grading more accurate and effective. With Tong's range of onion conveyor equipment, we offer a complete onion grading line machinery service.
View our products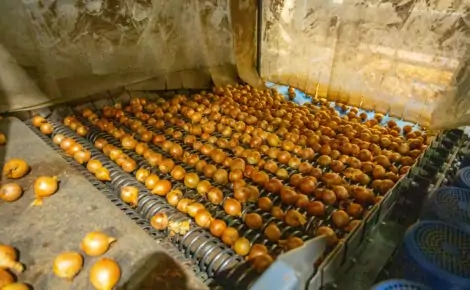 Onion Cleaning
Removal of loose skin and debris from onions can be achieved in a number of ways, most popularly using a onion coil cleaner or with Tong's market-leading EasyClean separator. The EasyClean is exclusive to Tong and offers effective onion cleaning in all conditions. Suitable for the removal of soil and debris from onions, the EasyClean separator offers gentle cleaning of onions in dry soil conditions, as well as effective yet gentle onion cleaning in heavy soil conditions.
Tong's unique Auto-Touch HMI control makes the EasyClean the most advanced onion cleaner of its type on the market, with automatic adjustment of rollers to suit any crop size and cleaning condition. To find out more about the EasyClean onion separator click here.
View our products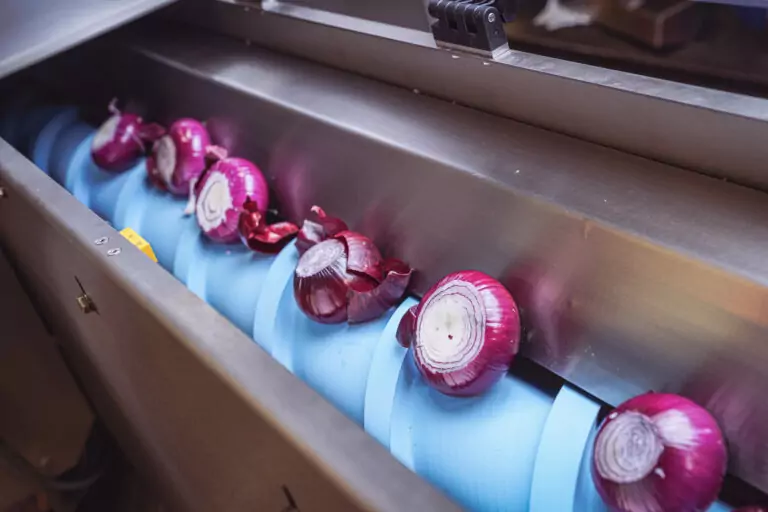 Onion Peeling
Alongside its range of quality onion grading and handling equipment, Tong offers reliable and efficient onion processing equipment, completing the onion handling process from field to packing.
From a high capacity onion peeler that effectively removes onion outer skin and shell, to onion cutting, halving and dicing machines to suit all onion processing requirements, Tong is dedicated to working with clients to incorporate the onion processes that they require today, whilst accommodating any future onion handling requirements that may be integrated to meet changing customer demands.
Click here to view Tong's range of onion processing equipment.
View our products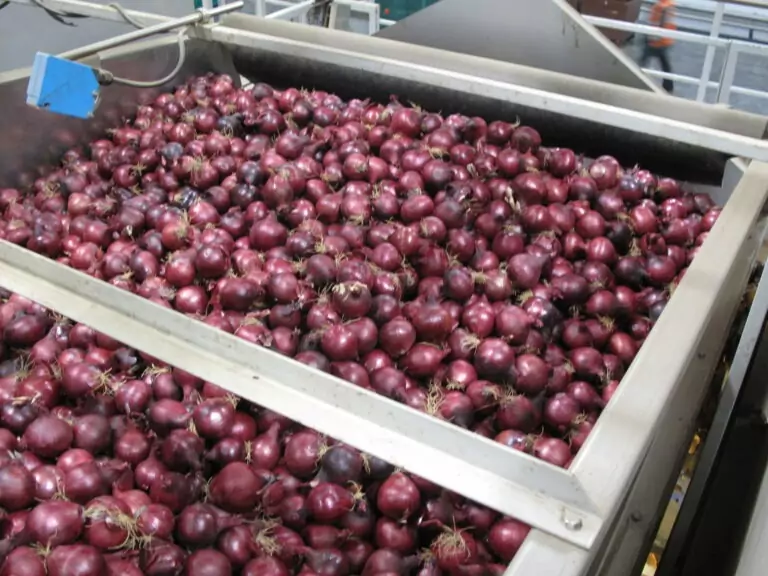 Onion Hoppers
Whether you're looking for a high capacity heavy duty onion hopper at the infeed of your online grading line or onion handling line, or a microprocessor controlled even flow infeed hoppers to give a continuous feed of onions to your onion packing line. Tong has unrivalled experience in building a robust and reliable hopper solution for all your onion loading requirements.
Manufactured with the strongest construction, and using the highest quality components, Tong manufactures a range of static and mobile onion hoppers that can be designed to you exact specification.
With options including stainless steel onion hoppers, to heavy duty mobile onion hoppers with integrated onion cleaners for receiving onions straight from the harvester, when you choose a Tong hopper you can be sure that it will perform in the most demanding onion handling situations.
For more details on Tong's range of onion hoppers click here.
View our products
watch our onion equipment in action!